Libertarian Lucy Brenton Polling at 8 Percent in Toss-up Indiana Senate Race
This time the Libertarian Party seems to be hurting the Democrat, who's trying to run out the clock on confirming Brett Kavanaugh.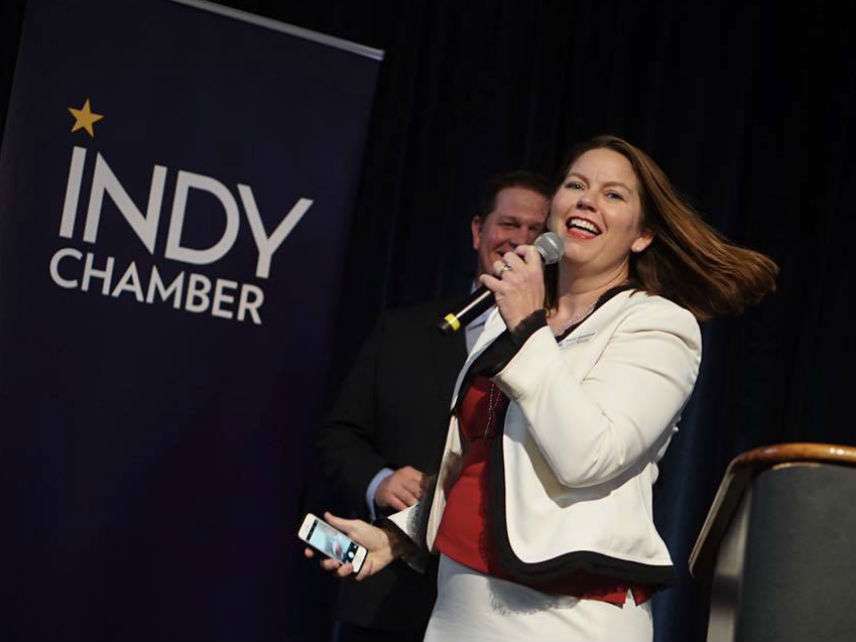 According to the very useful Wikipedia page on 2018's U.S. Senate elections, exactly four races are currently deemed by all nine campaign forecasters as tossups: Arizona, Florida, Missouri, and Indiana. As we saw last week, the Libertarian Party's Japheth Campbell is pulling a respectable 6 percent in Missouri, and his inclusion in the one poll so far appears to be bumping the race from a dead heat to a four-point lead for incumbent Democrat Claire McCaskill.
Something closer to the opposite appears to be happening in Indiana.
In an August 26–29 Marist College survey of 576 likely Indiana voters, Libertarian Lucy Brenton, who received 5.5 percent of the vote running for Senate in 2016, polled at 8 percent, compared to incumbent Democrat Joe Donnelly's 44 percent and Republican Mike Braun's 41 ("other" was 1 percent, "undecided" 6). What happens when you take Brenton's name off the poll? It's 48–42 for Donnelly, with other at 2 percent and undecided at 9.
At a glance—and one should always be careful about extrapolating too much from a single poll—it would seem that Brenton is pulling support from people who are not inclined to vote Republican. This is not what I would have predicted a few months ago, given Brenton's pro-life emphasis in this Trump +19 state. But a closer look suggests some possible explanations.
For one, Donnelly himself is anti-abortion, making him one of the last such Democrats on Capitol Hill. Relatedly, the senator, like other red-state Dems, is busy tying himself up in knots over the confirmation vote for Supreme Court nominee Brett Kavanaugh. "Donnelly faces pressure from both sides on Kavanaugh vote," ran a recent headline in the Indianapolis Star.
The longer that pro-choice Republican Sens. Lisa Murkowski of Alaska and Susan Collins of Vermont keep playing Hamlet, the longer Donnelly twists in the wind, to the great irritation of motivated Democratic activists. You can see the sweat beads appear on liberal foreheads when the pages of both The New York Times and New York magazine fill up with people trying to talk progressives out of punishing red-state Democrats for their future pro-Kavanaugh votes.
But let's not sleep on the other half of Brenton support, which appears to be coming from the other/undecided camp. Indiana is just a good state for the Libertarian Party—Gary Johnson received 4.9 percent of the vote there in 2016, and Donnelly's race in 2012 saw Libertarian Andy Horning receive 5.7 percent. Brenton will also participate in both Senate debates next month.
Perhaps the more that "Libertarian" hardens as a political identity, the less those voters will be tempted to vote for the other two parties. That theory will certainly be tested seven weeks from now.
EVENT ANNOUNCEMENT: I will be interviewing Lucy Brenton, along with Libertarian Party National Chair (and Phoenix mayoral candidate) Nicholas Sarwark, as well as Texas gubernatorial candidate Mark Tippetts, at the Texas Tribune Festival September 28. Details at this link.