Food Freedom and the First Amendment: Is Feeding the Homeless a Constitutional Right?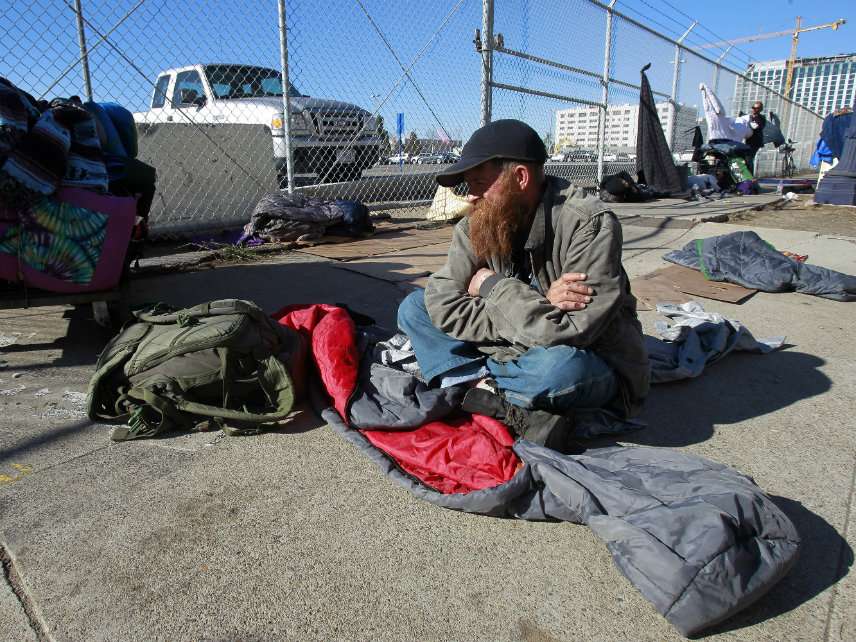 Last week a federal appeals court ruled that a Ft. Lauderdale, Florida, ban on sharing food with the homeless is probably unconstitutional because it prohibits "expressive conduct protected by the First Amendment." The Eleventh Circuit Court of Appeals remanded the case to the U.S. District Court for the Southern District of Florida with orders for that court to reconsider its earlier ruling, which had upheld the city's ordinance.
The case stems from efforts by a local chapter of Food Not Bombs to share vegetarian and vegan food with the needy in a Ft. Lauderdale park. The city passed an ordinance in 2014 to crack down on this practice. The law limited hours of operation, established food safety requirements, and required those who want to share food to obtain a conditional use permit. The city arrested several Food Not Bombs members for violating the ordinance.
That spurred the Food Not Bombs chapter to sue, arguing, inter alia, that its outdoor food sharing is expressive conduct protected by the First Amendment. The District Court disagreed and, in 2016, granted the city's summary judgment request.
In his 2016 ruling, U.S. District Court Judge William Zloch wrote that the Ft. Lauderdale law imposed no First Amendment obstacles but "simply require[d Food Not Bombs] to obtain a permit and follow a detailed protocol."
Food Not Bombs says the opposite is true: It shares food not just to provide sustenance to those in need but "to communicate its message 'that…society can end hunger and poverty if we redirect our collective resources from the military and war and that food is a human right, not a privilege, which society has a responsibility to provide for all." The requirements imposed by the city erected impermissible barriers to the group's messaging activities.
In an interesting 20-page ruling that references an eclectic mix of sources and events—including Shakespeare, the first Thanksgiving, Cass Sunstein, the Bible, and the Boston Tea Party—the appeals court embraced the Food Not Bombs chapter's view.
What's next for the law? Hopefully nothing. Ft. Lauderdale's new mayor says he wants the city to repeal it, according to a South Florida ABC affiliate.
"I'm upset we spent all these resources and all this time trying to defeat the homeless," says Mayor Dean Trantalis, who took office earlier this year. "I think that the ordinance does not help the city or the homeless. I think we need to reverse the ordinance and we need to restructure our whole approach to working with this population."
Good for Trantalis. But will other cities see the light? Ft. Lauderdale's awful ban is hardly unique. Many cities around the country have (or recently had) similar bans in place, including Houston, Las Vegas, New York City, Philadelphia, Dallas, Birmingham, and San Antonio. In 2011, I wrote in support of the Orlando chapter of Food Not Bombs, who'd been arrested for sharing food with the homeless in violation of a city ordinance. I've devoted many columns to these crackdowns in the years since, and I spend several pages of my recent book, Biting the Hands that Feed Us, deriding these laws as the lowest form of regulation.
One person I quote in the book is Jay Hamburger, who's been sharing food with the needy in Houston for decades—and who's seen such activities targeted by the city's mayor, several members of the city council, and developers. "No government has a right to interfere with or intercede in my otherwise legal right to express myself through my generosity," he said.
It's great that courts are beginning to agree. But we're a long way from having these awful and unconstitutional laws disappear.