Surprise! The Ban on Digital Sex Ads Didn't Work
Plus: digital privacy concerns down 11 percent since 2015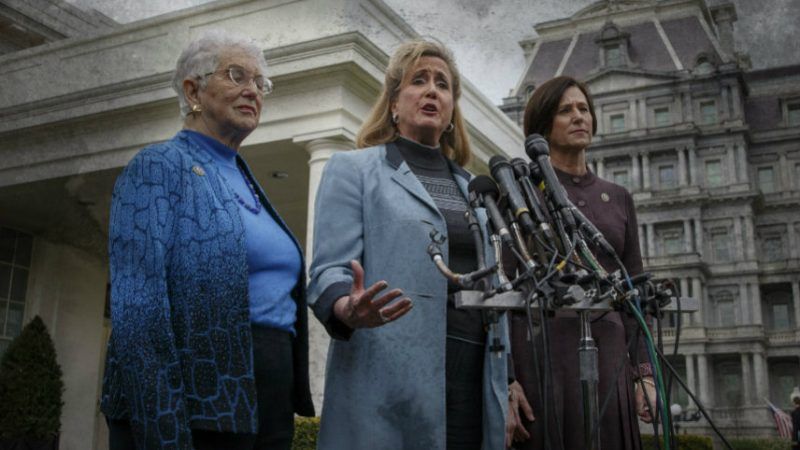 (modified from Alex Endelman/SIPA/Newscom)
"We have shut down nearly 90 percent of the online sex trafficking business and ads." So claimed Rep. Ann Wagner (R-Mo.) in a piece of House Judiciary Committee propaganda posted to YouTube last month. In the video, Wagner and other U.S. lawmakers sing their own praises over the passage of FOSTA, the law that makes "facilitating prostitution" online a federal crime. Many politicians and journalists erroneously portrayed the law as a way to punish "child sex traffickers."
In a new Washington Post Fact Checker column, Glenn Kessler tears apart Wagner's claim to have "shut down nearly 90 percent of the online sex-trafficking business." Even if the extent of "online sex trafficking" could be measured by simply counting the number of adult-oriented online advertisements, Wagner's assertion would still be what her GOP colleagues like to call fake news.
"When asked for evidence, Wagner's office sent a chart that tracked all sex-related advertising, saying that it showed weekly global ad volume dropped 87 percent from January to April," writes Kessler. The chart came from Memex, a Defense Advanced Research Projects Agency (DARPA) project that tracks and archives all sorts of sex-work advertising. ("DARPA Memex has since evolved into Tellfinder, managed by Uncharted Software," notes Kessler.)
But Wagner's chart shows that "the biggest drop in ads came after the shutdown of Backpage" by the federal government in April—before FOSTA became law. And "what happened after April?" asks Kessler. Wagner's office wouldn't share any more data, so the Post turned to DARPA and Uncharted Software for answers.
"It turns out that after that initial drop, advertising for the sex trade appears to have rebounded, such as on new websites that mimic Backpage with names like 'Bedpage,'" Kessler reports. He gave Wagner's claims "Three Pinocchios" out of a possible four.
Worldwide ads had a daily average of about 105,000 when [FOSTA] passed on March 21 and had dropped 28 percent by the time Backpage was closed on April 5. It then plunged another 75 percent and reached a low of 19,456 on April 17, for a total decline of about 82 percent.

But on the day the Judiciary Committee posted the video, sex-trade ads were back at about 50 percent of the daily volume before the law had passed; as of Aug. 11, they were at almost 75 percent.
Unchartered Software's director of research engineering tells the Post that "the volume of ads dropped dramatically after the shutdown of Backpage but has been climbing since. There is now a volume approaching what we observed before."
Previous Fact Checker columns at The Washington Post have tackled other whoppers politicians tell about sex trafficking, including some false claims made by Wagner:
Wagner, for instance, had claimed that the Justice Department estimated that 300,000 girls in the United States were at risk of being sex trafficked. But it turned out it was not a Justice Department figure but a number plucked out of a stale, decades-old study that had not been peer-reviewed and was largely discredited. We were pleased when many lawmakers stopped using such phony statistics—and anti-trafficking organizations scrubbed them from their websites.

A 2016 study funded by the Justice Department concluded that the total number of juveniles in the sex trade in the United States was about 9,000 to 10,000. The study also found that only about 15 percent of the children relied on pimps and that the average age of entry into the sex trade was 15.8 years.
FREE MINDS
Digital privacy concerns down 11 percent since 2015. Recent political concern for digital privacy has more to do with whipping up concern over scary Russians, the Trump administration, tech companies, and a host of other tangential targets than it does with some newfound committment to allowing the populace to keep secrets or an organic response to the demands of social media users. That last bit gets a boost from a new poll from the National Telecommunications and Information Administration, a part of the Commerce Department. The research shows that Americans were quite a bit less concerned about online privacy in 2017 than they were two years ago. In 2015, 84 percent of those surveyed said they worried about online privacy and security. In last year's poll, released today, only 73 percent had privacy and security concerns. The percentage who said privacy concerns kept them from certain online activities dropped from 45 percent in 2015 to 33 percent last year.
FREE MARKETS
Will Congress let small businesses be? The U.S. Supreme Court's recent decision in Wayfair v. South Dakota opened the way for states to demand that solo entrepreneurs and small businesses start collecting state sales tax for online sales, even when the business has no physical presence in that state.
"Because Congress has the constitutional authority to regulate interstate commerce, it is now considering ways to address this newfound taxing authority," writes Jason Pye at The Hill, suggesting that Congress take the opportunity "to protect small businesses from these taxes….The strength of the American economy depends on it."
The Wayfair ruling paves the way for states to reach outside of their own borders when they collect taxes. This means that a small business in Texas with just a handful of single customers in New Jersey may soon have to comply with the Garden State's taxes—and many small business owners regard this development with concern. The fear for many of us is that the power to tax outside of [a] state's border will only be the beginning, and will be followed by the power to regulate businesses outside [its] jurisdiction.
More here.
QUICK HITS
A slew of suits accuse U.S. Customs and Border Protection agents of invasive and unconstitutional searches of female detainees.
Iran is turning to cryptocurrencies to get around U.S. sanctions, and this could serve as an excuse for all sorts of new U.S.-government meddling in cryptocurrency markets.
Incontrovertible evidence that the government directly facilitated the aerial bombardment of 40 children is an obvious national scandal, but won't be treated as such unless Omarosa or Mueller weigh in https://t.co/b0qTMcLjAT

— Michael Tracey (@mtracey) August 18, 2018
Interested in opinions on what platforms ought to do (not what the law should force them to do). Feel free to elaborate below…

Ideally, platforms (like Twitter) would censor:

— Alex Frell Levy (@alexflevy) August 20, 2018