Man Sues Police Department After Video of His Tasing Goes Viral
Sean Williams is suing the Lancaster Police Department after he says a tasing violated the Fourth, Eighth, and Fourteenth Amendments.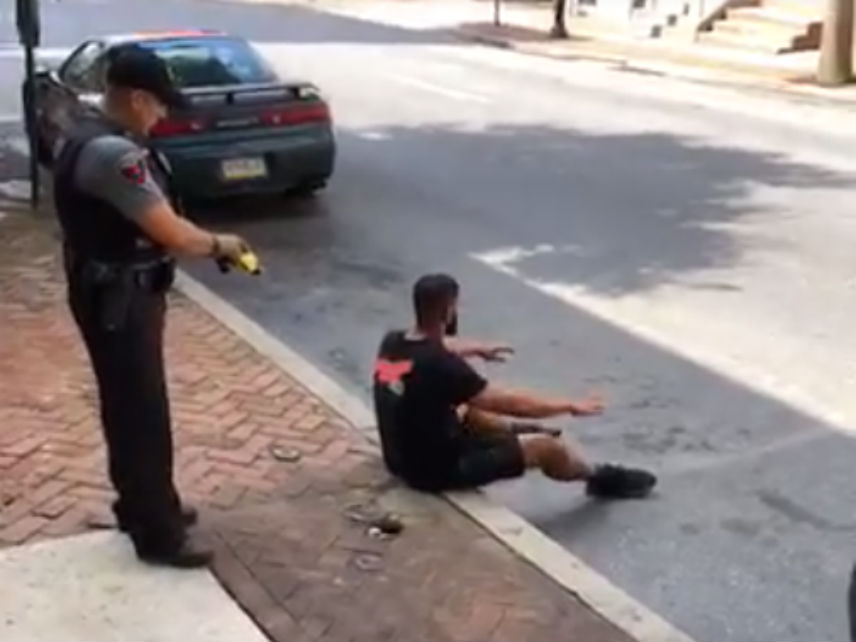 A Pennsylvania man is suing the Lancaster Police Department and one of its officers after a video of him being tased from behind went viral. As Reason previously reported, Officer Philip Bernot instructed a seated Sean Williams to put his legs "straight out," which he did. Bernot then told Williams to cross his ankles. When Williams tried to, Bernot shocked him with an Electronic Control Device (ECD).
Williams' lawsuit, which seeks $75,000, alleges that Bernot told Williams to keep his legs "straight out or you're getting tased." It then states that Bernot tased Williams even though he complied "without resistance."
The Lancaster Police Department is also accused of violating Williams' civil rights by using excessive force and discriminating against Williams because of his race. The lawsuit claims the nature of the tasing was a violation of Williams' Fourth, Eighth, and Fourteenth Amendment rights. The lawsuit also cites Lancaster County arrest statistics to establish "a history and pattern of intentionally discriminating against African Americans and other minorities."
According to a police report, the incident began when someone called about a disturbance involving Williams. The caller accused Williams of going after them on the street. The first officer to respond to the call instructed Williams to sit down "several times" as Williams demanded his Social Security card from one of the females in the group.
Bernot eventually took over. The subsequent events were captured on video by a bystander and posted on Facebook.
Following the initial incident, the Lancaster District Attorney tweeted that an investigation by the police department was underway. The office later announced that it was involved with the investigation "in a limited capacity" and would discuss the findings with the public.