Trump's Proposal To Reform Federal Food Regulations Is Long Overdue
Our current system of federal food regulation is expensive and dangerous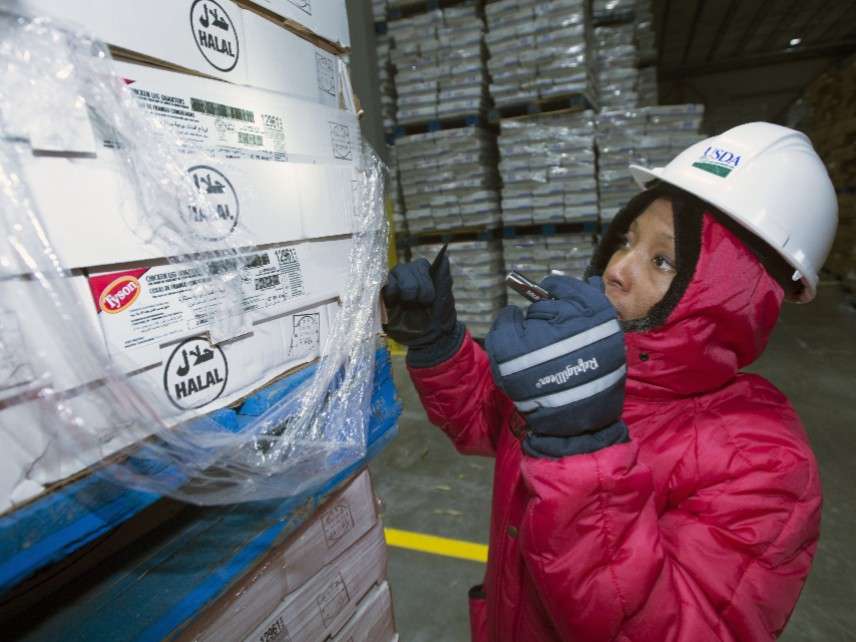 Last week, the Trump administration proposed to significantly overhaul several federal regulatory agencies. Food-safety oversight is one of the key elements of the proposal.
"Food safety programs, now overseen by the U.S. Department of Agriculture (USDA) and the Food and Drug Administration (FDA), would be consolidated into a new Federal Food Safety Agency," Politico reported. That agency would become part of the USDA.
The Trump administration says the food-safety proposal, part of its larger plan to consolidate various agency responsibilities, would shift thousands of current FDA and USDA employees and billions of dollars into a new Federal Food Safety Agency.
The need for reform is real. The USDA and FDA currently operate under completely different food-safety laws and regulations. When it comes to food safety, which agency oversees what foods (and what the agency's process is for regulating those foods) has long seemed arbitrary. One classic example is that frozen cheese pizzas sold at your local grocer are regulated by the FDA, while frozen pepperoni pizzas are regulated by the USDA.
That's a charming distinction. But, as I wrote in a piece for the New Food Economy last year, overlapping USDA and FDA jurisdiction, responsibilities, staff, and duties can help spur dangerous delays and other problems that have real-world consequences.
In the piece, I presented the results of a FOIA request I'd made that revealed the USDA and FDA had bickered and stalled over which agency should take charge of a critical food recall—batches of potentially deadly (thanks to undeclared allergens) egg rolls—to the extent that I argued the ineptitude clearly called into question the fitness of both agencies.
"In fact, records I obtained through my FOIA request show it took at least six days of foot dragging and back-and-forth emails for the agencies to determine which one would even announce a recall," I wrote. "Considering, again, that this… recall was the most serious classification USDA can assign, that delay could have cost lives."
Would the Trump administration's plan prevent such potentially deadly errors? Maybe. Maybe not.
Critics were quick to pounce on the plans. Sarah Sorscher, deputy director of regulatory affairs for the Center for Science in the Public Interest, told GovExec.com that she was skeptical of the proposal largely because of the messenger, rather than the message.
"Such changes should be done by an 'administration that is thoughtful, good at managing details, respectful of the important job federal regulators do, and capable of working collaboratively with Congress and agencies to make it successful,'" Sorscher said.
Marion Nestle suggested the Trump administration proposal was perhaps "just another attempt to distract us from more pressing matters."
Interestingly, similar proposals to consolidate food-safety oversight have been kicking around for decades. In 2015, for example, the Obama administration proposed to shift most food-safety oversight to the Department of Health & Human Services (HHS), a cabinet-level agency that houses the FDA.
Nestle greeted the 2015 proposal with slightly different language than she did the Trump administration's plans. "Wow!" she wrote. "Food safety advocates in and out of government have been pushing for something like this since the early 1990s."
Georgia State University Law School Professor Timothy Lytton—with whom I serve on the board of the nonprofit Academy of Food Law & Policy—wrote this week in an excellent piece for the scholarly website The Conversation that, whether the Trump administration proposal is a good one or not, the idea is unlikely to come to fruition for a variety of reasons. Lytton lists political obstacles, industry opposition, costs, and uncertainty over the benefits of the proposal as likely hurdles.
Lytton's skepticism is well placed. Politico agriculture reporter Helena Bottemiller Evich tweeted this week that she asked Sen. Pat Roberts (R–Kan.), who heads the Senate Agriculture Committee, about the prospects for moving authority over SNAP (formerly food stamps) benefits from the USDA to HHS. That, too, is part of the Trump administration plan, and Roberts immediately labeled it dead in the water.
"I haven't looked at it because we're not going to do it," Roberts told Bottemiller Evich. "Is that succinct enough for you?"
Lytton says the plan won't work. Nestle says it doesn't go far enough. Roberts says it's dead (at least in part). All three might be right.
Regardless of whether a proposal to streamline federal food-safety regulation comes from the left or the right, the key questions remain the same under Trump's proposal as under Obama's: Will a new federal food-safety agency help eliminate redundancies, inefficiencies, needless regulatory burdens, and inconsistencies? Will it improve food safety?
If it would do all those things, then I'd be happy to support the proposal. Until that's all confirmed, though, I'm not going to hold my breath.