As Markets Tank and Opposition to Tariffs Grow, Trump Stays the Course. Where is Congress?
"It's all working out great," Trump said in South Carolina. Few people seem to agree with that assessment.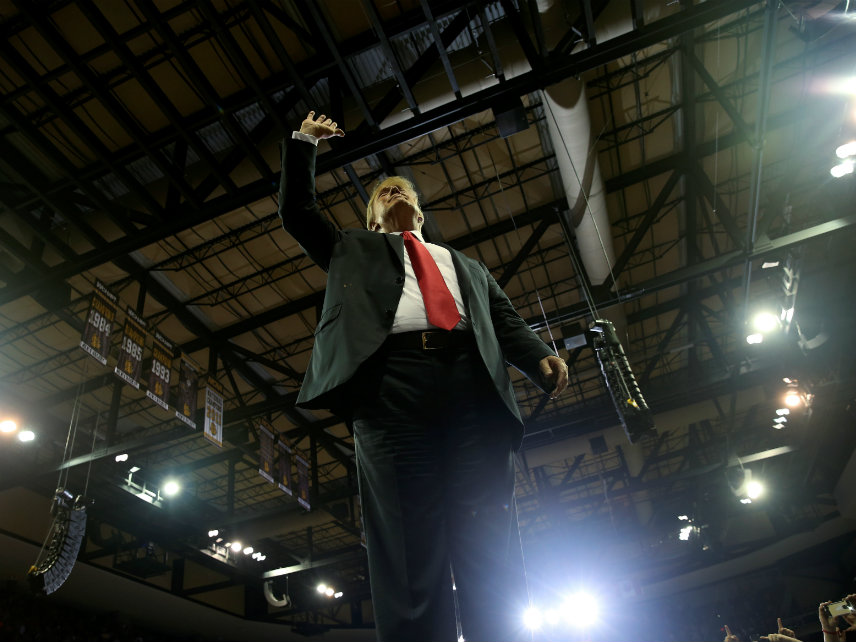 Just hours after the stock market absorbed a big hit on Monday—major indices dropped by more than a full percentage point—President Donald Trump took to the stage in South Carolina to assure everyone that his trade policies were not to blame.
"It's all working out great," Trump told thousands of his supporters at a campaign rally for Gov. Henry McMaster (R).
That assessment is not widely shared. If the signals from the stock market were not strong enough, more than 200 state and local Chamber of Commerce chapters sent a letter to senators on Tuesday condemning the White House's anti-trade policies. Meanwhile, Republican lawmakers in Congress are signaling that they might be ready to limit Trump's ability to unilaterally impose new trade barriers.
None of that, though, seems to be giving Trump pause. On Monday, the president took the opportunity to threaten a further escalation of his trade dispute with the European Union. In response to the Trump administration's decision to hit steel and aluminum exports from the E.U. with tariffs, the European government slapped a number of iconic American products like motorcycles and whiskey with retaliatory tariffs. The consequences of these tit-for-tat tariffs are becoming obvious, with Harley-Davidson announcing on Monday that it would shift some manufacturing jobs to Europe.
On Monday, Trump suggested once again that his administration could slap tariffs on cars and trucks imported from Europe. The Commerce Department is already engaged in an investigation of such a policy.
"They send the Mercedes, they send BMWs, they send everything. We tax them practically nothing," Trump said. "I told them, 'here's what we're gonna do. We're gonna charge a tariff on steel until such time as you straighten out your act.'"
Someone should probably have told Trump that BMW's largest manufacturing facility in the world is right there in South Carolina. The automaker's Spartenburg plant employs more than 9,000 people and produces more than 40,000 vehicles every year.
Fact-checking aside, Trump's determination to press forward with an unnecessary, counter-productive trade dispute is now facing greater headwinds from the markets, special interests, and from Republican members of Congress.
If Congress needs another reason to act, Trump gave it to them last night. The president's promise to "charge a tariff on steel until such time as you straighten out your act" belies the White House's claim that steel and aluminum tariffs are a matter of national security. This isn't just semantics. Under the terms of the Trade Expansion Act of 1962—the federal law that Trump has invoked to impose steel and aluminum tariffs—the president has the authority to impose tariffs without congressional approval, but only for national security purposes.
Trump's comments on Monday night reveal (again) that the president clearly sees the tariffs not as a national security matter, but as a means of gaining leverage over America's trading partners.
In a letter to the White House on Tuesday, more than 200 state and local Chamber of Commerce chapters said they were "deeply concerned" by Trump's use of those unilateral trade powers. Such actions, they warned, "may not be in the national interest."
"It is now also increasingly clear that the way the steel and aluminum tariffs have been used will result in retaliatory tariffs from our largest trading partners and closest allies, and that retaliation will have serious negative economic impacts on the United States," the letter states.
These groups are urging lawmakers to back a proposal by Sen. Bob Corker (R-Tenn.) that would require congressional approval of all tariffs—including those imposed on supposedly national security grounds. Corker tried unsuccessfully to get that proposal attached to the National Defense Authorization Act earlier this month, and now is trying to rally support for including it as an amendment to the Farm Bill, Politico reported.
He might have a better shot at it this time, as opposition to the tariffs is mounting.
"We've crossed the Rubicon," Sen. Pat Toomey (R-Pa.) told Politico earlier this week. "It's going to do and is already doing real damage, so I think we've got a responsibility to stand up and push back."
Trump clearly is not going to back down from a misguided trade policy that risks American jobs and prosperity. Getting to 60 votes in the Senate is never an easy task, but it might be the best hope for stopping the administration's ill-informed protectionism.