Rand Paul Is Suing the Neighbor Who Assaulted Him
In a civil suit, Paul's attorney claims the senator has been the victim of "physical pain and mental suffering."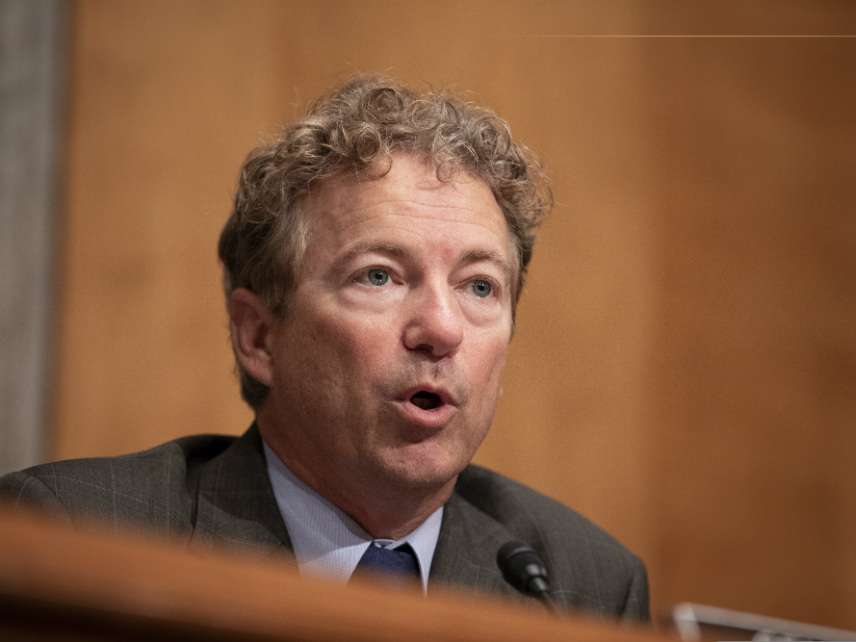 Sen. Rand Paul (R–Ky.), who was assaulted by his neighbor in November and suffered several fractured ribs, has filed a civil suit against the man who attacked him.
Citing "physical pain and mental suffering," Paul is seeking punitive and compensatory damages from Rene Boucher, according to a civil complaint filed Friday in Kentucky's Warren County Circuit Court by Paul's attorney, Kyle Bumgarner.
It wasn't immediately clear exactly how much money Paul is asking for, but the senator does want Boucher to pay his medical and legal bills.
Boucher was arrested by state police following the attack. He later pleaded guilty to the federal charge of assaulting a member of Congress. In addition to being sentenced to 30 days in jail, he was slapped with a $10,000 fine.
Though Boucher admitted committing the assault, he has claimed he only attacked Paul because the Kentucky senator was stacking yard debris near the boundary between their properties.
In Friday's court filing, however, Bumgarner claimed Boucher has engaged in a "pattern of stalking and harassment" of Paul and his family. Without a court injunction keeping Boucher from contacting the senator and his family, Paul is worried this alleged pattern will continue.
The filing also had some harsh words for Boucher's motives, saying he acted in a way that was "unnecessarily cruel" and "malicious" and displayed "a total reckless disregard for [Paul's] rights, life and liberties."
Aside from the fractured ribs, Paul has dealt with pneumonia following the attack, according to the Bowling Green Daily News.
The civil complaint alleged that due to Boucher's attack, Paul has suffered "increased likelihood of, and susceptibility to, injury and disease." Moreover, the suit says, Paul "has been deprived of his enjoyment of life."
But Boucher's attorney, Matt Baker, does not believe Paul has a civil case.
"To the best of my knowledge, Sen. Paul has not suffered any loss of any income and doesn't appear that he will in the future," Baker told the Bowling Green Daily News. "It was established at the sentencing hearing that he does not have any out-of-pocket medical expenses in this case, and at some point after the incident he told Fox News in an on-camera interview that he has not taken any prescription pain medication, and so all that is to say we're going to defend this civil suit just like we would any other and see if we can get it resolved as efficiently as possible."
According to the suit, Paul is seeking a trial by jury.