Jack Daniel's Says It Will Raise Whiskey Prices in Europe Due to E.U. Tariffs
The E.U. retaliated against Trump's steel and aluminum tariffs. Now, whiskey drinkers will pay the price.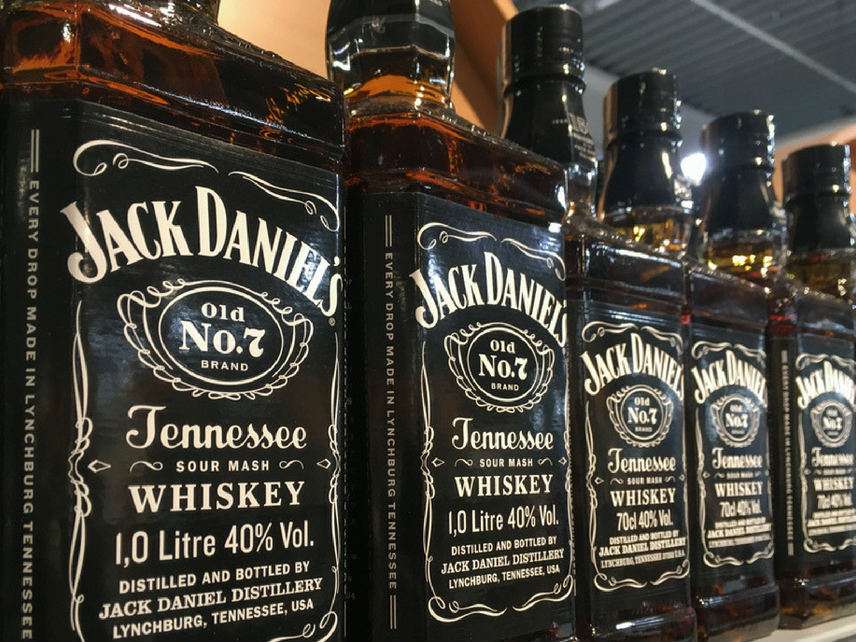 In retaliation against President Donald Trump's tariffs on steel and aluminum imports, the European Union has imposed tariffs on a number of U.S. goods. Now whiskey drinkers will pay the price.
On Monday, as Reason's Eric Boehm reported, iconic American motorcycle brand Harley-Davidson announced it would shift some of its manufacturing overseas so as to avoid the 25 percent tariffs imposed by E.U. officials on American made goods.
Now, the latest major American company to take action in response to those tariffs is the Brown-Forman Corporation, which makes Jack Daniel's Tennessee Whiskey.
Brown-Forman spokesperson Phil Lynch told the Associated Press on Monday that E.U. consumers should expect to see a price hike of roughly 10 percent on Jack Daniel's products. The increases are set to go into effect over the next several months, and prices will vary as local sellers decide how much they plan to charge, Lynch said.
About one-fourth of Brown-Forman's sales come from Europe, so the E.U. tariffs have the potential to significantly hurt the company's bottom line.
The E.U. was not alone in imposing 25 percent tariffs on American goods. Mexico did the same, but since Brown-Forman recently opted to raise the price of Jack Daniel's in that country, another price hike is not imminent, Lynch said.
These new trade barriers, which affect goods like bourbon, orange juice, and motorcycles, were a response to tariffs imposed by Trump on steel and aluminum imported into the U.S.
Trump justified the new tariffs by saying that he was looking to bring jobs back to the U.S., but his actions have made many American CEOs wary of a trade war. As a result, some domestic employers are reportedly looking to scale back on hiring, according to CNN.
However, Trump has defended his hardline stance on trade and even criticized Harley-Davidson on Tuesday for moving some of its production outside the U.S.
On Twitter, Trump accused the company of "using Tariffs/Trade War as an excuse" to move jobs out of the country.
Early this year Harley-Davidson said they would move much of their plant operations in Kansas City to Thailand. That was long before Tariffs were announced. Hence, they were just using Tariffs/Trade War as an excuse. Shows how unbalanced & unfair trade is, but we will fix it…..

— Donald J. Trump (@realDonaldTrump) June 26, 2018
He also warned the company that "they won't be able to sell back into U.S. without paying a big tax!"
….When I had Harley-Davidson officials over to the White House, I chided them about tariffs in other countries, like India, being too high. Companies are now coming back to America. Harley must know that they won't be able to sell back into U.S. without paying a big tax!

— Donald J. Trump (@realDonaldTrump) June 26, 2018