Federal Judge Dismisses Climate Change Damage Lawsuits Against Big Oil
Is it really fair for we who benefited from fossil fuels to blame for global warming on those who supplied what we demanded?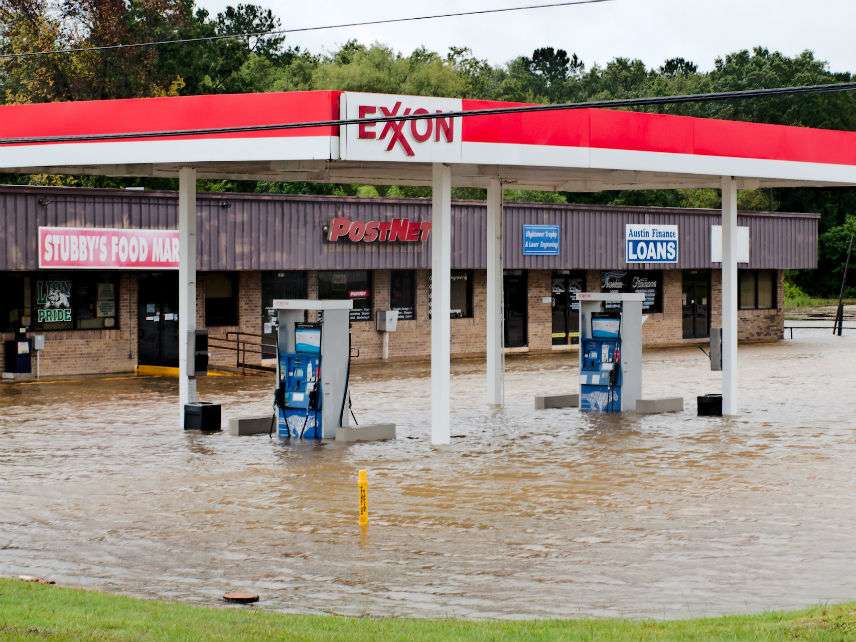 A federal district court has dismissed the nuisance lawsuit filed by the California cities of Oakland and San Francisco against five major private oil companies seeking to obtain climate change damages. As I argued earlier, the court made the right decision.
The five companies—BP, Chevron, Conoco-Phillips, ExxonMobil, and Royal Dutch Shell—collectively are responsible "for over 11 percent of the carbon dioxide and methane pollution that has accumulated in the atmosphere since the industrial revolution." The cities asserted that they were entitled to billions of dollars in compensation on the grounds that companies knew that their sales of fossil fuels were damaging the climate. As a result of rising global temperatures, municipalities argued that they will be forced to pay for changes in infrastructure required to adapt to consequences of this warming, such as rising sea levels.
Judge William Alsup of the United States District Court for the Northern District of California had earlier ordered both the plaintiff cities and defendant oil companies to brief him on the scientific background of man-made climate change as well as the costs and benefits of burning fossil fuels. In his opinion, Judge Alsup provides a succinct history of the evolution of science with regard to climate change and notes: "The issue is not over science. All parties agree that fossil fuels have led to global warming and ocean rise and will continue to do so, and that eventually the navigable waters of the United States will intrude upon Oakland and San Francisco. The issue is a legal one—whether these producers of fossil fuels should pay for anticipated harm that will eventually flow from a rise in sea level."
Alsup observes that the cities' claim "rests on the sweeping proposition that otherwise lawful and everyday sales of fossil fuels, combined with an awareness that greenhouse gas emissions lead to increased global temperatures, constitute a public nuisance." The judge then does a close analysis of federal public nuisance law and prior court decisions. In order to find that a defendant's activities amount to an actionable public nuisance under federal common law, courts must find they have engaged in an "unreasonable interference with a right common to the general public."
Judge Alsup noted that legal commentary on public nuisances requires that courts consider a balancing test aimed at "determining whether the gravity of the interference with the public right outweighs the utility of the actor's conduct." To conduct that test, "it is necessary to consider the extent and character of the interference, the social value that the law attaches to it, the character of the locality involved and the burden of avoiding the harm placed upon members of the public."
In his decision, Alsup observed:
With respect to balancing the social utility against the gravity of the anticipated harm, it is true that carbon dioxide released from fossil fuels has caused (and will continue to cause) global warming. But against that negative, we must weigh this positive: our industrial revolution and the development of our modern world has literally been fueled by oil and coal. Without those fuels, virtually all of our monumental progress would have been impossible. All of us have benefitted. Having reaped the benefit of that historic progress, would it really be fair to now ignore our own responsibility in the use of fossil fuels and place the blame for global warming on those who supplied what we demanded? Is it really fair, in light of those benefits, to say that the sale of fossil fuels was unreasonable?

This order recognizes but does not resolve these questions, for there is a more direct resolution from the Supreme Court and our court of appeals, next considered.
In his review of prior relevant Supreme Court and other federal court decisions, Alsup concludes that applying federal common law in this case is legally inappropriate. First, because Congress, through the Clean Air Act, has vested in the Environmental Protection Agency the problem of greenhouse gases and given it plenary authority to solve the problem at the point of emission. And second, because man-made climate change is a global problem, it necessarily involves foreign affairs which are properly under the purview of the Executive and Legislative branches of our government.
As Alsup writes:
This order fully accepts the vast scientific consensus that the combustion of fossil fuels has materially increased atmospheric carbon dioxide levels, which in turn has increased the median temperature of the planet and accelerated sea level rise. But questions of how to appropriately balance these worldwide negatives against the worldwide positives of the energy itself, and of how to allocate the pluses and minuses among the nations of the world, demand the expertise of our environmental agencies, our diplomats, our Executive, and at least the Senate. Nuisance suits in various United States judicial districts regarding conduct worldwide are far less likely to solve the problem and, indeed, could interfere with reaching a worldwide consensus.
Quite right.
The judge further noted that neither city has so far spent any money on building seawalls or other infrastructure to guard against rising sea levels.
John Coté, a spokesman for the San Francisco city attorney, told The New York Times: "This is obviously not the ruling we wanted, but this doesn't mean the case is over," he said. "We're reviewing the order and will decide on our next steps shortly." However, Mr. Coté added, "We're pleased that the court recognized that the science of global warming is no longer in dispute," he said. "Our litigation forced a public court proceeding on climate science, and now these companies can no longer deny it is real and valid. Our belief remains that these companies are liable for the harm they've caused."
Here's hoping that other judges who are hearing similar lawsuits against oil companies, brought by New York City among others, will heed this decision.