In the U.S., There Are 219,000 Women Behind Bars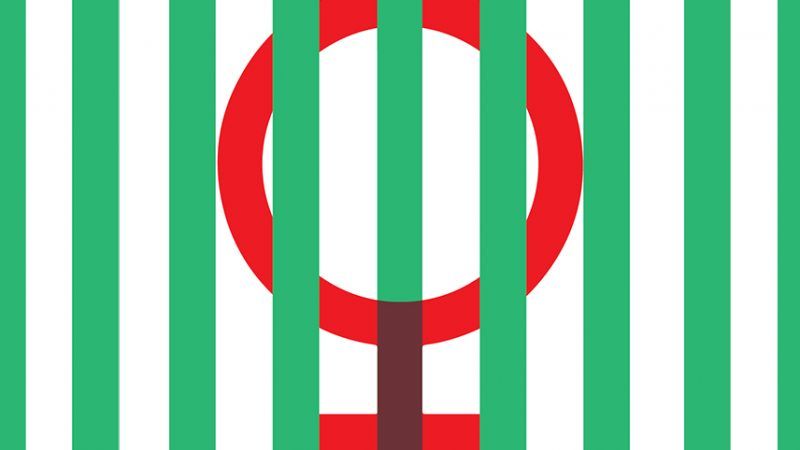 Chaining pregnant prisoners to hospital beds as they give birth and forcing female inmates to wear blood-soiled clothes after denying them menstrual products: These are just a couple of the unjustifiable conditions common in U.S. jails and prisons, where populations of women have been skyrocketing. Fortunately, a number of state legislatures have mobilized this year to push criminal justice reforms aimed at the unique needs of female prisoners.
In January, Arizona state Rep. Athena Salman introduced a measure requiring the free provision of tampons and menstrual pads to incarcerated women. It was blocked by the House Rules Committee chair, but this prompted an activist campaign (#LetItFlow) and ultimately a decision from the Arizona Department of Corrections to up the allowance of such products per inmate.
Connecticut started discussing reform after a woman gave birth in her jail cell in February. Gov. Dannel Malloy proposed legislation that would ban shackling pregnant women during labor and create friendlier kid visitation policies for incarcerated mothers.
Lawmakers in Kentucky—which now has the second-highest female incarceration rate in the U.S.—are also considering reforms. In March, the state Senate passed a bill that would both improve conditions for pregnant inmates and seek to send fewer women to prison in the first place, by directing pregnant women with drug problems to treatment rather than jail.
"The criminal justice system was built for men," said the bill's sponsor, Republican state Sen. Julie Raque Adams, but her bill prioritizes "the welfare of babies and the women who are carrying them."
More than half of all incarcerated women have children. It's past time that states stopped ignoring the needs of this group. But there's a dark side to the reforms as well: They're gaining ground because female prison populations are exploding, the result of ineffective government policies, particularly when it comes to policing drugs and sex.
Keeping nonviolent offenders locked up for not having bail money is also a culprit. More than 60 percent of women incarcerated in local jails have not been convicted of a crime, according to a 2017 report from the Prison Policy Initiative (PPI) and the American Civil Liberties Union.
There are now around 219,000 women behind bars throughout the U.S., with most in state prisons (45 percent) or local jails (43 percent). And while men still make up the vast majority of incarcerated people—about 93 percent in 2015—"women's prison populations have seen much higher relative growth than men's since 1978," PPI's Wendy Sawyer wrote.
In state prisons, the female inmate population grew 834 percent between 1978 and 2015, a rate more than double that of the male population. The number of women in federal prison has also grown since the 1970s, though not as quickly.
"States continue to 'widen the net' of criminal justice involvement by criminalizing women's responses to gender-based abuse and discrimination," Sawyer noted. "Policy changes have led to mandatory or 'dual' arrests for fighting back against domestic violence, increasing criminalization of school-aged girls' misbehavior—including survival efforts like running away—and the criminalization of women who support themselves through sex work."
Drug criminalization also played a role, particularly in the 1990s. These offenses contributed to the spike in female incarceration, though there has also been a significant rise in the number of women convicted of violent crimes.
Individual states show strong variation here, with Alabama, Idaho, Indiana, Iowa, Michigan, Texas, Wisconsin, and Washington seeing female prison populations rise even as male incarceration declined between 2009 and 2015. In Michigan, the men's rate shrank 8 percent while female incarceration grew 30 percent. Idaho added 25 percent more women to its prisons over this period. And a new report out of Texas found 8,500 fewer male inmates in 2016 compared to 2009, but 500 more women behind bars.
Kudos to some states for acknowledging the challenges these surging populations create and for working to meet the specific needs of female prisoners. Let's hope they're also committed to addressing what's putting so many women in jail and prison in the first place.
This article originally appeared in print under the headline "In the U.S., There Are 219,000 Women Behind Bars".