Colorado's Governor Will Decide Whether Cannabis Consumers Get 'Tasting Rooms'
A bill on John Hickenlooper's desk would begin to address the problem of finding legal places to use legal marijuana.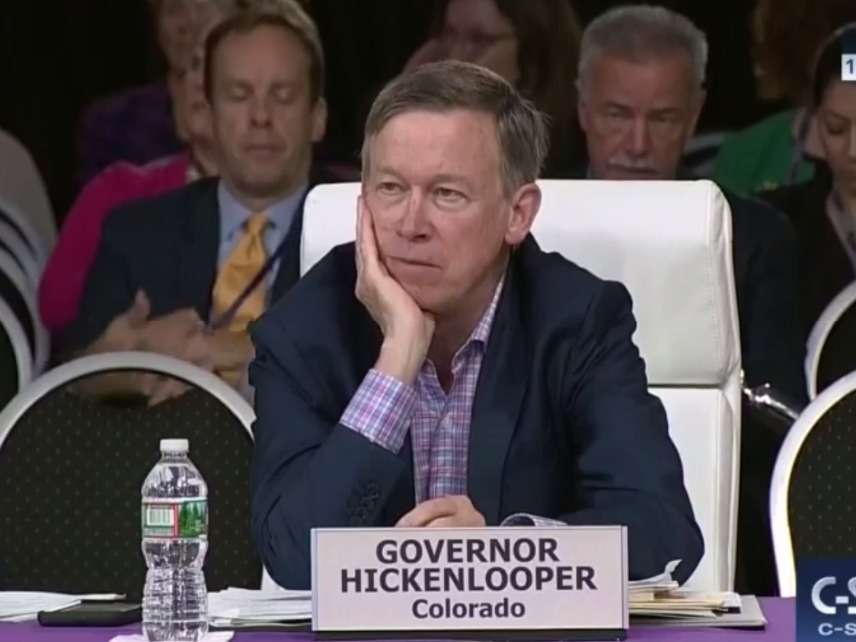 A bill the Colorado Assembly approved last week would for the first time explicitly allow cannabis consumption outside of private residences in that state. H.B. 18-1258 would legalize "accessory consumption establishments" where customers of marijuana merchants could enjoy their purchases.
The bill, which still needs Gov. John Hickenlooper's signature, would begin to address a problem that cannabis consumers in Colorado have faced since state-licensed marijuana stores began serving the recreational market in January 2014: There are plenty of places where adults can legally buy marijuana but almost none where they can legally use it. That situation is especially vexing for visitors and for residents whose landlords take a dim view of cannabis.
State law prohibits marijuana use that is "conducted openly and publicly," and many jurisdictions define the phrase broadly. Denver, the center of the retail marijuana trade, only recently began accepting applications for licenses to operate "cannabis consumption establishments," a business category created by a ballot initiative that voters approved in 2016.
Denver's law excludes marijuana merchants, allowing consumption only of cannabis that people bring with them. H.B. 18-1258 takes the opposite approach. It applies only to marijuana merchants and forbids their customers to consume cannabis purchased elsewhere.
The consumption establishments, which the bill's sponsors liken to tasting rooms at wineries, breweries, and distilleries, would require local approval. They would have to be "physically separate" from the stores and could not sell alcohol, tobacco, or much in the way of food. (The limits, which allow tea, coffee, pastries, and prepackaged snacks, are spelled out by the exceptions to the state's definition of a "retail food establishment.") The tasting rooms would have to exclude anyone younger than 21 and prohibit smoking, restricting the cannabis options to vaping and edibles. The sampling would be limited to a quarter of a gram for concentrates or 10 milligrams of THC for edibles.
Despite the restrictions, the bill would represent a significant improvement over the current situation. Whether Hicklenlooper will go along with it is another question. Last year his opposition helped doom a bill that would have legalized bring-your-own-cannabis clubs.
Hickenlooper said that bill was contrary to voters' intent in passing Amendment 64, Colorado's marijuana legalization initiative, which included the ban on open and public consumption but did not say what that meant. He also worried about how the feds might react to cannabis clubs, given Attorney General Jeff Sessions' hostility to legalization. That concern seems less pressing in light of Donald Trump's assurances that he will not interfere with Colorado's legal cannabis industry.
One of the new bill's main sponsors, Rep. Jonathan Singer (D-Longmont), hopes the idea of marijuana tasting rooms will make sense to Hickenlooper given his experience as cofounder of Denver's Wynkoop Brewing Company. "Since the governor has been in the liquor business, where on-site consumption is key, he hopes the governor will sign," says Susan Boucher, Singer's chief of staff. "On the other hand, based on long experience, he's learned never to count his chickens before they've hatched."
Of the nine states that have legalized marijuana for recreational use, four (Alaska, California, Massachusetts, and Nevada) either allow on-site consumption at businesses that sell cannabis or plan to do so. Maine's legalization initiative envisioned "marijuana social clubs," but state legislators recently eliminated that provision.