Mike Pence Calls Lawbreaking Ex-Sheriff Joe Arpaio a 'Champion of the Rule of Law'
Because nothings says "rule of law" like a sheriff held in contempt for refusing to follow a judge's orders.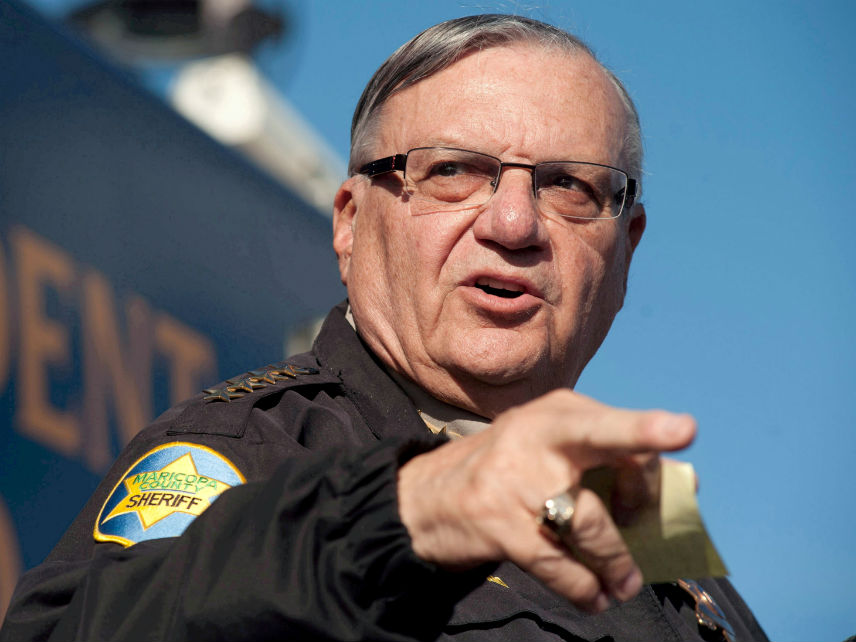 Vice President Mike Pence had kind words Tuesday night for former Maricopa County Sheriff Joe Arpaio, the self-styled "toughest sheriff in America," who was pardoned by President Donald Trump last year after a federal judge held him in criminal contempt.
At a rally in Arizona, Pence introduced Arpaio, now running for U.S. Senate, as "another favorite, a great friend of this president, a tireless champion of strong borders and the rule of law."
It was interesting choice of words, considering Arpaio was charged by federal prosecutors and convicted of contempt of court for refusing to stop his department's unconstitutional racial profiling of Latino residents.
Pence is usually thought of as the more sober straight man to Trump's bombast, but Republicans have a long history of pandering to Arpaio, who was first elected sheriff of Maricopa County, Arizona, in 1993. Arpaio gained national notoriety for holding inmates in a sweltering desert tent city and making them wear old-timey striped uniforms. He later raised his national profile by ordering large-scale sweeps of Latino neighborhoods to round up illegal immigrants. He also peddled birther conspiracy theories about Barack Obama.
But while he was a darling of the national conservative scene, Arpaio was sued more than 2,000 times over the years for the conditions inside his jail and for his unrepentant and habitual abuses of power.
In 2014, J.D. Tuccille noted in Reason that Arpaio's office "has also been guilty of a litany of shenanigans, including stealing documents from a defense attorney, arresting critical journalists, spying on political opponents—and maintaining such lousy jail conditions that they violate inmates' rights."
The Justice Department's Civil Rights Division probed the Maricopa County Sheriff's Office twice and sued it several times, once for refusing to cooperate with its investigation.
In 2007, the Maricopa County Board of Supervisors settled a lawsuit filed by the founders of the Phoenix New Times against Arpaio and the board for $3.5 million. The newspaper founders sued after Arpaio's deputies arrested them for publishing details of a grand jury subpoena for the paper's notes and sources for its coverage of the sheriff. The charges against the paper were quickly dropped.
In 2008, the board of supervisors approved another $1 million payout to a man who Arpaio framed in a staged murder plot against the sheriff. The 1999 stunt gained Arpaio sympathetic local media coverage in an election year, while the framed man spent four years in county jail awaiting trial before being acquitted of all charges.
In 2008, Arpaio's jail also lost its accreditation after investigators found jail officials had provided false information about conditions inside the facility. By that time Maricopa County had spent $43 million in lawsuit settlement payouts as a result of Arpaio's brand of law and order.
When the Justice Department's investigation finally wrapped up in 2012, it concluded that Arpaio's office had engaged in a pattern and practice of unconstitutional racial profiling and unlawful retaliation against those who complained about it.
For the next five years, Arpaio continued to flout orders by federal judges to improve the conditions inside his jails and cease its immigration sweeps.
A federal judge referred Arpaio to the U.S. Attorney's Office for potential prosecution in October 2016, concluding that he had ignored her orders. Federal prosecutors charged Arpaio and three of his aides with criminal contempt of court.
Amid the negative headlines, Arpaio, who had previously been politically untouchable for 24 years, lost his campaign for reelection in 2016.
In July of last year another federal judge found him guilty of criminal contempt, but Trump used the first pardon of his presidency to grant Arpaio reprieve. As I wrote at the time:
In pardoning Arpaio, Trump has given a free pass to an unrepentant and habitual abuser of power, a man with insufficient regard for the Constitution he swore to uphold or the separation of powers it enshrines. The move should come as no surprise. The two are kindred spirits.
Pence, it appears, can be added to that company.