Seattle Sued Over Law Banning Landlords From Conducting Criminal Background Checks
Violators are required to take classes to reduce racial bias.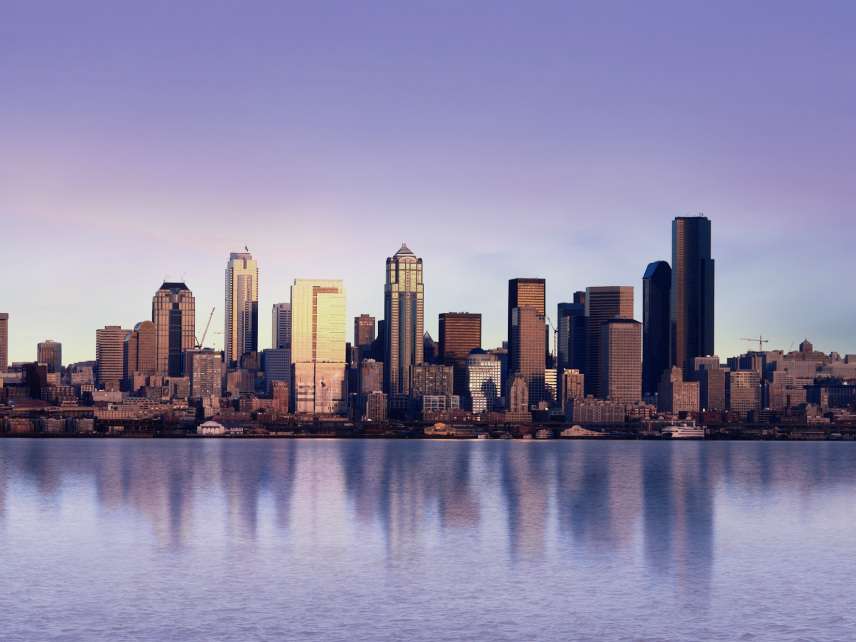 In August 2017, Seattle made it illegal for landlords to decline potential tenants because of their criminal history, or even to perform a criminal background check on people looking to rent their property. Now a collection of landlords is suing, claiming the so-called Fair Chance Housing Ordinance is unconstitutional.
On Tuesday, the Pacific Legal Foundation (PLF), a public interest law firm, filed suit on behalf of several small-time landlords who are concerned about the financial and personal safety risks of being unable to screen tenants for past wrongdoing.
The PLF's complaint claims that the Seattle law violates landlords' due process rights under the 14th Amendment by imposing an "unreasonable, overbroad, and unduly burdensome" regulation. The complaint also says the law runs afoul of the First Amendment by denying landlords access to publicly available records.
"The landlords we are representing are especially impacted by their inability to look at criminal history," says Ethan Blevins, an attorney with the PLF. "They have a lot of interest at stake, both personally and professionally."
The plaintiffs include Chong and MariLyn Yim, who live with their three children in one unit of a triplex; they rent out the other two units. The Yims share a yard with their tenants and occasionally leave their kids at home alone. They therefore place a lot of value on being able to vet people with whom they will be living in such close proximity.
The same goes for Kelly Lyles, another plaintiff, whose income comes almost entirely from renting out a west Seattle home she owns. Missing even one month's rent would be a disaster for Lyles, and she does not have the resources to pursue an eviction action if necessary, according to the complaint. Lyles consequently puts a lot of stock in being able to select reliable tenants.
Also party to the suit are Eileen, LLC—a husband and wife owned property management company—and the Rental Housing Association of Washington, a trade association for small landlords that offers its members criminal background check services.
Even before the passage of Seattle's Fair Chance Housing ordinance, landlords were already operating in a "very highly regulated area," says Blevins.
As of 2016, the Department of Housing and Urban Development (HUD) requires that landlords perform "individual assessments" of rental applicants, meaning they cannot categorically exclude applicants for past arrests or convictions. Washington state law also forbids criminal background checks from reporting convictions older than seven years.
But Seattle's law—the first of its kind—goes much further by prohibiting landlords from asking about any criminal conviction whatsoever, whether be it an old drug charge or a domestic violence conviction from last year.
The only exception is for registered sex offenders. Even here, however, a landlord would have to show a "legitimate business reason" to refuse to rent to the applicant, such as the severity of the crime and the time elapsed since it occurred. Concern for the landlord's personal safety is not considered a legitimate reason, and neither is the safety of other tenants.
The Seattle Office of Civil Rights is tasked with investigating any claim of "adverse action" taken by landlords against current or potential tenants because of their criminal history. Violators would be required to go through a "conciliation" process where they might be required to pay damages, provide rent credits, or reinstate tenancy. They would also have to attend training courses designed to reduce their "racial bias and biases against other protected classes in tenant selection."
Landlords who fail to accept these sanctions would be subject to civil penalties starting at $11,000 for a first offense, $27,500 for two within a five-year period, and $55,000 for more than two violations within seven years.
This puts landlords in an impossible bind, says Blevins, given that past Washington state court cases have held that landlords have a legal obligation "to take reasonable steps to protect tenants from foreseeable criminal conduct of third parties on the premises."
The PLF suit also cites a wrongful death lawsuit filed in Illinois against a property management company that failed to conduct a criminal background check on a tenant who later killed another tenant.
Interestingly, the Seattle Housing Authority—which manages housing projects in the city—still requires criminal background checks of its tenants, as required by HUD guidelines for recipients of federal housing assistance.
Since the Fair Chance Housing Ordinance went into effect in February, landlords have been scrambling to compensate for the risks they are no longer allowed to screen for. The Yims say they are raising their rents to absorb the risks of the new law. Other landlords are tightening credit score requirements and other screening mechanisms across the board.
William Shadbolt, president of the Rental Housing Association, said at a Tuesday press conference that landlords were selling their rental properties en masse in response to the new law. Rather than give a leg up to those with criminal convictions, Seattle's law may make it more difficult for convincts to find housing, by encouraging landlords to take units off the rental market.
Attempting to reintegrate people with criminal convictions into society is a laudable goal, particularly given our current justice system's propensity to unnecessarily tar citizens with arrest records and criminal histories.
That being said, landlords obviously have legitimate reasons to want to know about their tenants' criminal history. Denying them the chance to even inquire about the subject makes these property owners less able to make individual determinations about tenants and more risk-averse across the board.