Driverless Trucks Will Be Great for Consumers, Safety, and Truck Drivers
Don't buy the doom and gloom over autonomous big rigs.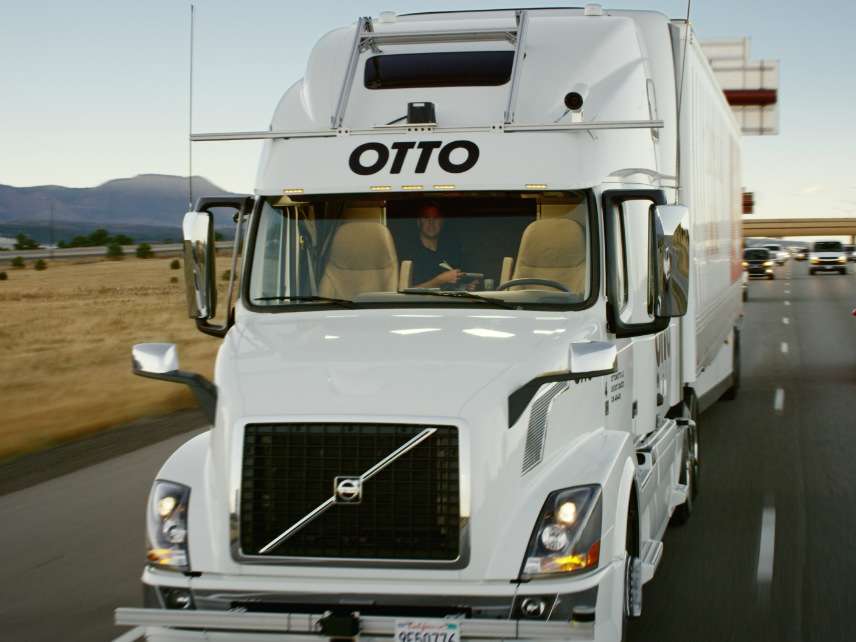 No longer content with merely killing off manufacturing and agriculture jobs, the looming specter of automation is now coming for the livelihood of truck drivers. At least that's what media and politicians are saying.
In January, Rolling Stone warned that "automated driving could offer a dark replay of the decline of factory work," while the Guardian fretted last year that "self-driving trucks are set to lay waste to one of the country's most beloved jobs."
Goldman Sachs predicts job losses of 25,000 per month for all professional drivers once automated vehicles hit their peak, and Republican Gov. Charlie Baker declared in February 2017 that self-driving trucks had the potential to cause "a tremendous amount of economic hardship."
Lurking behind all the doom and gloom predictions of yet another profession biting the dust thanks to technology is a surprising fact: The trucking industry is struggling to attract workers to this "beloved" blue collar profession.
The American Trucking Associations (ATA) estimates that at the end of 2017, the trucking industry was short by some 50,700 drivers. That number is expected to rise to 63,000 by the end of 2018. Should current trends continue, the ATA predicts the trucking industry will be down 174,000 drivers by the end of 2026.
With the nation's current crop of self-driving freight trucks only capable of the occasional beer run, automation certainly can't be to blame for this dearth of drivers. Instead a lot of what is dissuading potential new entrants are the inherent conditions of the job. The ATA's report identifies the lifestyle required of trucking, with long hours on the road away from home, as one of the major factors turning off potential new entrants to the field.
Individual drivers say much the same thing.
"I'm away from home for months at a time," says Ellie O'Daire, a driver for Jim Palmer Trucking. "When I do take time off, it's often nowhere near where I live."
For O'Daire, who describes herself as a "a loner," the solitude of the job is not too much of a burden. But for a lot of drivers, she says, "it can be very stressful on any kind of relationship, any kind of family, any pets that you can't take with you."
Compounding this issue is a growing economy that is giving would-be big rig pilots better options in similarly skilled fields that do not require this kind of sacrifice, says Don Lefeve of the Commercial Vehicle Training Association.
"The good economy oddly enough is a bit of a headwind for recruiting drivers," Lefeve tells Reason. "People are choosing to go into professions other than trucking. It's either more home time, or a better wage."
A Wall Street Journal article from today notes that the trucking sector attracted only 5,600 jobs in February, while construction jobs grew by 61,000 and manufacturing by another 31,000.
Lefeve—who's organization represents truck driving schools—also notes the regulatory hurdles facing the industry, including prohibition on under-21 drivers servicing any interstate routes and state backlogs in certifying newly trained drivers.
The result of these hurdles is an aging pool of drivers who are not able to keep up with the demands of the industry. According to a 2017 International Transportation Forum (ITF) report, the average age for a truck driver in 2015 was 47.5 years old. That is four years older than the average U.S. worker in 2015, and three years older than the average truck driver in 2005.
So rather than killing a fledgling profession, self-driving trucks could instead be seen as offering an aging industry a way to automate positions humans are increasingly unwilling to fill.
Indeed, that same 2017 ITF report offered a number of different scenarios for how driverless trucks will impact the job market. Under more conservative estimates, the ITF estimates the effects of an aging work force and new workers being dissuaded from entering trucking will result in little job displacement. More "disruptive" scenarios predict a greater degree of machine substitution for human drivers on longer routes, which would lead to roughly two million lost jobs by 2030 in both Europe and America.
But the report also suggests that driverless trucks—by decreasing the costs of hauling freight—would result in an increase in demand for freight. This in turn could lead to an increase in the demand for local freight drivers, who transportation companies depend on to not just pilot vehicles, but also interact with customers, load and unload cargo, and choose the most expeditious local routes. In other words, automating long-haul trucking could result in more short-haul trucking jobs for human drivers.
An economic analysis done by Uber, which is currently experimenting with driverless freight trucks on Arizona highways, predicts a 400,000 increase in truck driving jobs as a result of the deployment of self-driving trucks.
Then there is the safety factor. Trucking is by far the most dangerous mode of freight transportation. According to the Bureau of Transportation Statistics, some 722 people lost their lives as a result of large truck accidents (defined as trucks over 10,000 pounds). That's compared to 514 people killed by freight rail, 12 people killed in water freight accidents, and the zero killed by U.S. air carriers.
Self-driving trucks offer the opportunity to lower these fatalities considerably. For O'Daire, that makes them well worth rooting for.
"I am out here every day and I see people do unbelievably stupid things trying to save a half second or a second off their commute," she tells Reason. "I would love to see a world in which people don't die from car accidents anymore."
As for what the emerging technology will mean for her own job, O'Daire is similarly cheery that more autonomous vehicles will be a blessing to truck drivers, at least for a while. "I think there is going to be a really great decade or so where it makes my job extremely easy before I lose the job entirely."