Hours After FOSTA Passes, Reddit Bans 'Escorts' and 'SugarDaddy' Communities
The great content crackdown has begun.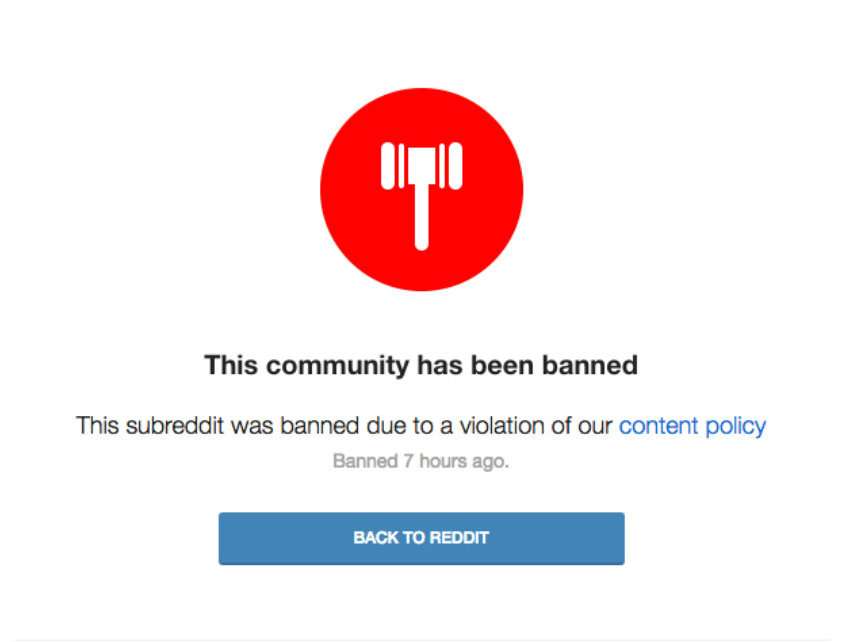 Sometime around 2 a.m. last night, Reddit banned several long-running sex worker forums from the platform. The move comes just hours after the Senate passed a bill making digital facilitation of prostitution a federal crime. Under the new law, social media sites and other hubs of user-generated content can be held criminally liable.
For months, sex workers have warned that the passage of "SESTA" or "FOSTA"—two similarly bad bills that were competing for dominance; FOSTA passed yesterday—would mark the end of all online forums for communication with clients, lawyers, or each other. To sex workers like Liara Roux, Louise Partridge, and Jiz Lee, Reddit's takedown of these subreddits confirmed their fears about the new legislation.
Even if individuals aren't targeted by law enforcement for placing ads, and even if individual cases brought by state prosecutors are struck down as unconstitutional, a lot of platforms will preemptively ban anything remotely related to sex work rather than risk it.
So far, four subreddits related to sex have banned: Escorts, Male Escorts, Hookers, and SugarDaddy. None were what could accurately be described as advertising forums, though (to varying degrees) they may have helped connect some people who wound up in "mutually beneficial relationships." The escort forums were largely used by sex workers to communicate with one another, according to Partridge. Meanwhile, the "hooker" subreddit "was mostly men being disgusting," according to Roux, "but also was a place that sometimes had people answering educational questions in good faith."
This sub had a slur in the name and was mostly men being disgusting but also was a place that sometimes had people answering educational questions in good faith. Instead of increased moderation and a name change, it was removed entirely today. Dead canary. pic.twitter.com/efAFMW9R4z

— Liara Roux (@LiaraRoux) March 22, 2018
If you visit the Reddit "Hooker" community now, you'll see a notice that "this subreddit was banned due to a violation of our content policy." The "Escorts" and "Male Escots" pages provides a little more detail: "This subreddit was banned due to a violation of our content policy, specifically, a violation of Reddit's policy against transactions involving prohibited goods or services."
Reddit yesterday announced changes to its content policy, now forbidding "transactions for certain goods and services," including "firearms, ammunition, or explosives" and "paid services involving physical sexual contact." While some of the prohibited exchanges are illegal, many are not.
Yet they run close enough up against exchanges that could be illegal that it's hard for a third-party like Reddit to differentiate. And the same goes for forums where sex workers post educational content, news, safety and legal advice. Without broad Section 230 protections, Reddit could be in serious financial and legal trouble if they make the wrong call.
Some have suggested that the new content policy, not FOSTA, is to blame for the shutdown of the sex-related subreddits. But FOSTA may also help explain Reddit's new content policy overall. (Reddit did not respond to my request for comment Thursday morning.)
FOSTA seriously chips away at Section 230, the federal provision that protects web publishers from being treated as the speaker of user-generated content. Proponents of FOSTA have insisted this is just a renovation of Section 230, not a demolition. But as Sen. Ron Wyden (D-Ore.)—who coauthored the Section 230 language in the '90s—noted yesterday, once you carve out a loophole for one bad thing (in this case, the change is allegedly meant to stop sex trafficking), it's easy for legislators and courts to carve out loopholes and justifications for everything.
After all, murder is pretty bad. And everyone's pretty jazzed up about the "opioid epidemic" right now. Guns, too. Do you think Congress can resist asking if websites that facilitate these crimes shouldn't be just as liable as those that broker sex?
In case it's not clear, Reddit's actions today in updating their policies prove that sites will react to SESTA/FOSTA quickly and in the ways we feared most. I don't want to be alarmist, but we are in danger of losing the ability to even talk about sex work in theory online.

— Liara Roux (@LiaraRoux) March 22, 2018
But as Wyden also pointed out yesterday, this strategy doesn't mean that more sex traffickers—or murderers, illegal arms dealers, etc.—will be caught and punished (and perhaps less overall, for a vareity of reasons). It just means treating websites like the criminals instead—which would make the government a lot of money, but do nothing for safety or justice.
"Section 230 was never about protecting incumbents," Wyden told his colleagues from the Senate floor Wednesday. Yet "despite the fact that section 230 undergirds the framework of the internet as we know it today, there's a signifficant effort to take it down and collapse it." The result will be "an enourmous chilling effect on speech in America," Wyden warned.
Looks like we're already seeing the effects.