Feds Announce Indictments of Russian Nationals for Attempting to Influence American Elections
Thirteen individuals and three companies accused of conspiracy against the U.S., wire fraud, and identity theft.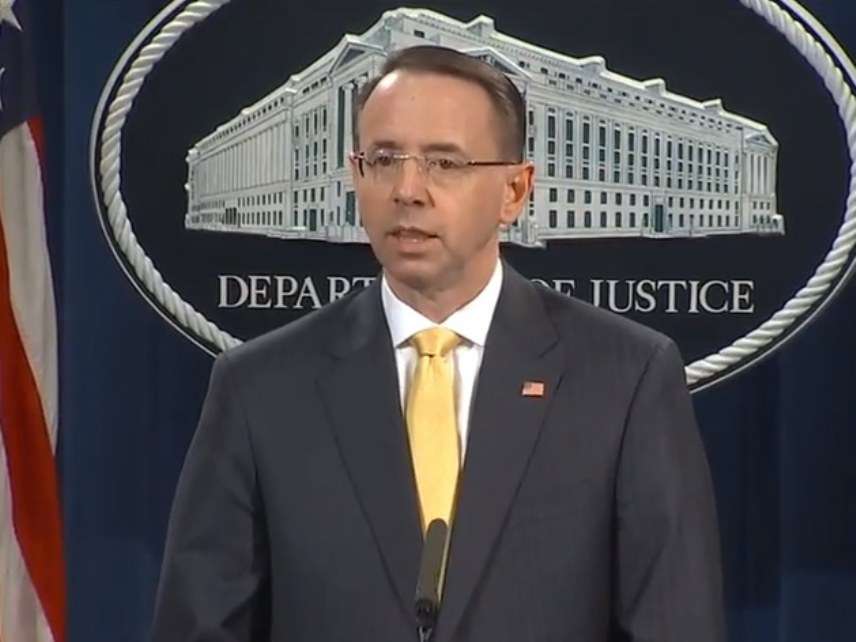 Today, Deputy Attorney General Rod Rosenstein announced a pack of federal indictments against 13 Russian nationals and three companies, accusing them of a conspiracy against the United States, wire fraud, and identity theft in efforts to influence American politics, including the 2016 presidential election.
The 37-page indictment by Department of Justice Special Counsel Robert Mueller was released this afternoon and quickly followed by a press conference by Rosenstein.
Here's a quick summary of the most important points:
These Russians, through a St. Petersburg-based company named Internet Research Agency, put together a massive, expensive project to try to influence the outcome of U.S. elections beginning in 2014.
The Russian defendants came to the United States to gather intelligence on political and social issues in the United States, but misled the U.S. government about their reasons for being in the country.
They used both fabricated and stolen identities to set up personas, social media accounts, and bank accounts for the purpose of making it appear that they were politically engaged American grassroots activists.
They then bankrolled advertising campaigns and rallies to influence the election outcome. The indictment makes it clear they believe the Russian influence campaign was primarily about disparaging Hillary Clinton and supporting Donald Trump. But they also note that the Russian groups even bankrolled an anti-Trump rally on the same day as an anti-Clinton rally to help create discord.
But it wasn't all just Trump and Clinton: "They engaged in operations primarily intended to communicate derogatory information about Hillary Clinton, to denigrate other candidates such as Ted Cruz and Marco Rubio, and to support Bernie Sanders and then-candidate Donald Trump."
The Russian defendants were directed to create "political intensity through supporting radical groups, users dissatisfied with [the] social and economic situation and oppositional social movements."
In the back half of 2016 they launched a campaign to try to discourage minority groups from voting in the presidential election at all or to vote for third-party candidates.
The Russian defendants worked with U.S. people to magnify these messages and push these rallies while keeping their identities a secret. They even communicated with the Trump campaign, but both the indictment and Rosenstein's press conference today made it clear that they have no evidence that these Americans ever knew they were dealing with Russians.
By deliberately concealing that they were Russians, this fraud prevented federal agencies like the Federal Election Commission and Department of Justice from enforcing laws and disclosure requirements for foreign involvement in domestic issues.
There is nothing in these indictments related to any evidence or allegations of hacking into election systems. The charges are all related to misleading the federal government and engaging in fraud. No cyberwarfare.
Rosenstein said at the press conference that there is no evidence that any of this behavior actually altered the election outcome. Jacob Sullum previously looked at the social media data and came away deeply unimpressed at the Russian effort's reach. Likewise, Jesse Walker took note that Russia's efforts to foment an anti-immigrant rally in Idaho did not appear to actually amount to much.
The text of the indictment tends to affirm that what Russia was doing here was magnifying already extant cultural rifts in order to make them louder and appear more significant.
Watch Rosenstein's press conference below:
UPDATE: President Trump tweets a response:
Russia started their anti-US campaign in 2014, long before I announced that I would run for President. The results of the election were not impacted. The Trump campaign did nothing wrong – no collusion!

— Donald J. Trump (@realDonaldTrump) February 16, 2018