More Charges Dropped in Multi-Year Prosecution of Bikers Indiscriminately Arrested in the Waco Mass Shooting Case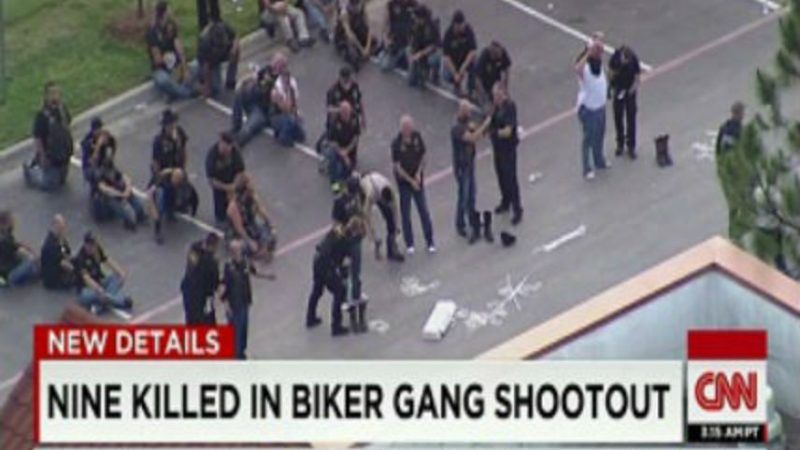 It has been nearly three years since a violent brouhaha between rival biker gangs and then waiting police broke out outside the Twin Peaks restaurant in Waco, Texas, an incident that left nine dead, 18 wounded, and 177 initially arrested.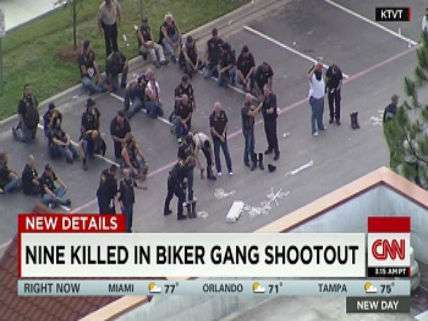 This week, the Waco Tribune reports, charges against 13 of the men were dismissed.
ABC News has some maddening background on the case:
Ballistics evidence showed that police bullets struck four bikers, killing at least two of them. The three officers involved in the shooting were no-billed by a grand jury after being cleared by an internal investigation.

Nearly three years later, only one biker, Dallas locomotive driver and Bandido chapter president Christopher "Jake" Carrizal, has been tried. Carrizal's November trial resulted in a mistrial when jurors were unable to reach a unanimous verdict. The second biker set for trial rejected a plea deal in December.

"The way people were arrested was fairly indiscriminate—it was predictable that some of these cases would be dropped," said Sandra Guerra Thompson, a University of Houston law professor, adding, "I wouldn't doubt if we see more."…

More than 100 bikers, including 11 whose cases were dismissed Thursday, have civil suits pending against Reyna's office and the Waco police department claiming that they were wrongfully arrested.

A federal judge in Austin had stayed the cases pending the outcome of their criminal cases.
Brian Bouffard, an attorney representing one of the bikers, is convinced that those charges were dropped this week because McLennan County D.A. Abel Reyna wanted to avoid having harmful testimony come to light at a scheduled hearing. Abel's office has been simultaneously recused from two other ongoing biker arrests in the case. And prosecutor Michael Jarrett says eight more pending cases against bikers arrested that day won't be going forward.
Jorge Salinas, one of the men whose case was dismissed, points out something worth remembering: Even if you aren't eventually convicted, casual arrests followed by insanely long resolutions can have destructive effects on people's jobs, finances, and living situations. Don Tittle, who is representing many arrested bikers engaged in the ongoing federal civil rights lawsuit against local officials, refers rightly to the "never-ending legal limbo in which they have found themselves trapped."
Bouffard was bold enough in a press conference to refer to D.A. Reyna as the very definition of the "domestic enemy of our Constitution" that his client Salinas, a decorated Marine combat veteran, swore an oath to fight.
According to the Tribune, Bouffard and other biker attorneys say Reyna only did the case-dropping and recusing "to prevent the adverse testimonies of former and current members of his staff, some of whom have reported alleged abuses of his office to Texas Rangers and the FBI."
"Abel Reyna arrested, charged, and indicted a very large number of these men for purely political reasons, apparently without any intent to take them to trial," said Bouffard.
Tittle, the lawyer in the civil rights suit, told the Tribune that "Reyna's lawyers have used the criminal cases as an excuse to prevent us from going forward with the civil cases. Sooner than later, I believe that a day of reckoning is coming for Mr. Reyna and the others that perpetrated this mass injustice."
Most of the arrested seem by available evidence to be guilty of little other than being in a place where violence broke out (and was then worsened by police behavior). For more, see a plethora of Reason clips on police and prosecutorial misconduct in this incident and its aftermath, including gag orders, insanely high bonds, no concern for the wounded, and unconscionable delays in actual prosecution.