Prosecute Former Spymaster James Clapper for Lying to Congress Now. Time is Running Out.
The former Director of National Intelligence lied under oath about warrantless NSA spying on American citizens.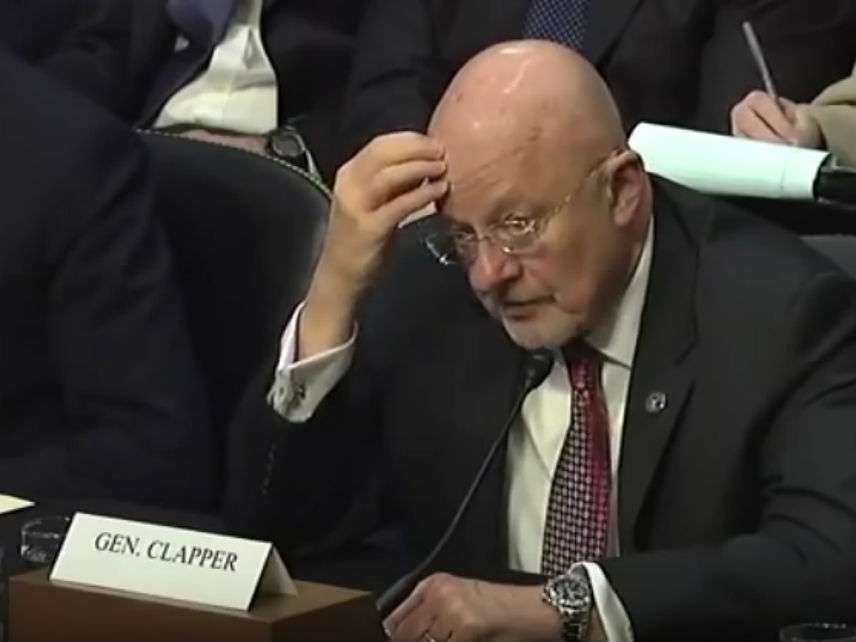 James Clapper, then the Director of National Intelligence, flat out lied to Sen. Ron Wyden (D-Ore.) at Senate hearing on March 12, 2013 when he was asked whether the National Security Agency collects "any type of data at all on millions or hundreds of millions of Americans." Clapper replied, "No sir. Not wittingly."
The fact that Clapper had wittingly lied to Congress was made clear just three months later by whistleblower and patriot Edward Snowden's revelations of the vast extent of the NSA's warrantless electronic spying on Americans.
Clapper should have been prosecuted for lying long ago. The statute of limitations on perjury will run out this coming March, so time is of the essence. The Washington Examiner cites numerous lawmakers urgently calling for the prosecution of Clapper including Representatives Thomas Massie (R-Ky.), Louie Gohmert (R-Tex.), James Sensenbrenner (R-Wis.), and Ted Poe (R-Tex.) who argues, "The time for the Department of Justice and the FBI to bring the accusations against James Clapper in front of a grand jury is long overdue. He and others who have held administrative power must be held accountable to the same laws that govern the people of the United States."
Evan Greer from the privacy activist group Fight for the Future tells the Examiner:
"James Clapper lied to Congress, and to the American people, about U.S. government surveillance programs that allow agencies like the NSA and FBI to constantly monitor all of us without due process or any suspicion of wrongdoing. Allowing the government to turn our computers and phones into spies that we take with us everywhere we go is detrimental to human rights and has a chilling effect on freedom of expression, but the worst part is that there is zero evidence that these programs have ever stopped a single violent attack."

"What makes these mass government surveillance programs so dangerous is that they're allowed to operate without any meaningful accountability or oversight," Greer added. "The fact that James Clapper is free to go about his life while Edward Snowden is still exiled is a travesty of justice."
Yes, it is.
Of course, when Clapper is found guility at trial (as he surely would be), the former spy chief should be sentenced to prison for five years for his perjury.
Watch below to see Clapper baldface lie to Congress: