The Phony Feminism of Kamala Harris
Harris only cares about other women's rights when those rights don't conflict with her career ambitions.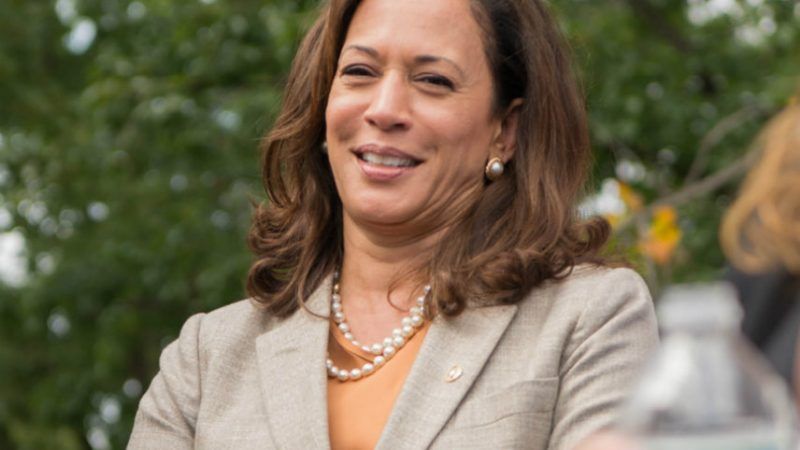 (Us Senate/ZUMA Press/Newscom )
Kamala Harris has long positioned herself as a feminist crusader. But both as attorney general of California and now as a member of the U.S. Senate, she has actively championed policies that deny women's agency, ratchet up female incarceration, and endanger those most vulnerable to sexual abuse. Along the way, she has shown an utter disregard for civil liberties and constitutional law—a tendency she will now get to take to the powerful Senate Judiciary Committee.
Harris' most prominent crusade in recent years has been against the classified advertising platform Backpage, which inherited much of the digital sex-ad market after the federal government forced MyRedbook.com to close and bullied Craigslist into shuttering its adult-ad section. Sex workers credit online advertising platforms with allowing them greater independence, reducing the need to rely on "pimps," and significantly curtailing risks to their safety by allowing for better screening of clients. But these platforms have become a big bulls-eye for grandstanding politicians, who have used the new visibility of prostitution ads to peddle sex-trafficking hysteria and make a name for themselves in the process.
In October of 2016, just before she faced voters in her Senate bid, Harris spearheaded the arrest of current and former Backpage executives on charges of pimping and conspiracy, under the (ultimately unsuccessful) theory that providing an open online platform for user-generated content made them responsible for any illegal activity committed by users who connected through the site. Federal law explicitly says otherwise—something Harris certainly knew, as she had petitioned Congress a few years earlier to change the law so that she and other prosecutors could target Backpage (and its deep assets) through state criminal justice systems. What's more, myriad federal courts have affirmed that prosecutions like the one Harris attempted are illegal.
A Sacramento County Superior Court rejected Harris' case against Backpage, ruling that "Congress did not wish to hold liable online publishers for the action of publishing third party speech and it is for Congress, not this court, to revisit." Undeterred, Harris—as one of her final acts as California's top prosecutor—filed nearly identical charges against Backpage in another California court, a move the First Amendment Lawyers' Association called "a gross abuse of prosecutorial discretion" and part of Harris' pattern of disrespecting due process and constitutional rights.
Meanwhile, an actual underage sex-trafficking scandal implicated dozens of police officers and other local authorities throughout the San Francisco Bay Area. Oakland went through two police chiefs trying to address it*, with a third doing only questionably better. People were pleading for the state to step in and oversee an independent investigation, since local governments seemed more motivated to quash a PR nightmare than punish public officials. Harris and her office refused to intervene.
Now, on Capitol Hill, Harris has joined such colleagues as Claire McCaskill (D-Mo.) and Rob Portman (R-Ohio) in attempts both to shut down Backpage and to amend federal communications law so that state prosecutors can punish websites for user-posted content or illegal actions arising from that content.
The whole episode fits with two oft-exhibited Harris habits: a willingness to skirt constitutional protections when it suits her agenda, and a public orientation toward high-profile "social justice" causes that masks behind-the-scenes moves that betray them. (From the beginning of her career, she's portrayed herself as a tough-on-crime progressive.) These habits are easiest to see when the issue involves sex work, but they extend far outside that realm.
Take the time Harris fought back against a California court ruling saying the state couldn't keep prisoners in overcrowded conditions and deny them medical care. Her reasoning? The state needed the slave labor provided by mass incarceration.
How about the time she sponsored legislation to ban sex offenders from using all social media? Or when she went to bat to keep Lonny Leon Rivera on the sex offender registry? Rivera's crime: In 1989, when he was 19, he had sex with the 17-year-old who is now his wife.
For all her big talk now on criminal justice reform, Harris fought to keep marijuana criminalized in California and resisted efforts to deprioritize the arrest of nonviolent drug offenders. She also pushed to send parents of high school students to jail for having more than three unexcused absences in a year, intervened myriad times on behalf of dirty prosecutors, and lobbied to keep using an execution method that the courts had deemed unconstitutional.
Still, much of Harris' worst work has come from her fake-feminist agenda to "help" women and girls by throwing them in jail for having sex. For at least a decade, she has fought against campaigns to decriminalize consensual adult prostitution in California, ignoring the ardent lobbying of sex workers, criminal justice reformers, and human rights advocates.
Meanwhile, under the guise of keeping marginalized women safe, she has spearheaded raids on immigrant-owned massage parlors in partnership with the Department of Homeland Security, an effort that failed to uncover the imagined "modern slavery" rings but did bring many undocumented workers into contact with people who can deport them. She also instituted a statewide program to get truckers to report suspected sex workers to police.
Harris' career exemplifies the worst of carceral feminism, and it demonstrates an enduring commitment to solve social problems like an old white dude in the 1980s would. Anyone who truly cares about protecting women's well-being and safeguarding civil rights should fear her ascension to the Senate Judiciary Committee.
*Correction: This article originally said mayors here when it should have been Oakland police chiefs.