Amash, Paul, and Others Trying to Stop Congress from Expanding Domestic Surveillance Powers
House to vote on a bill that would codify unwarranted searches of Americans' communications.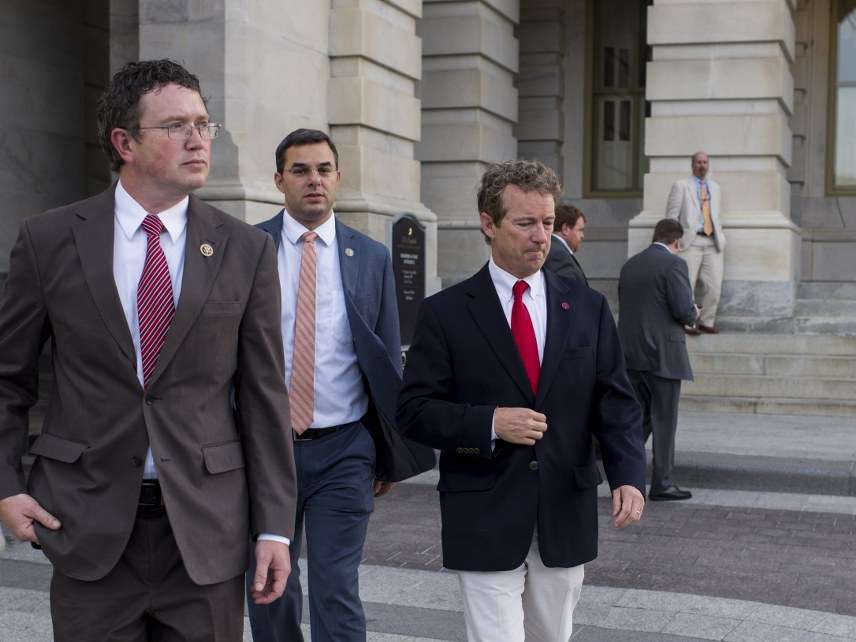 Rep. Justin Amash (R-Mich.) and a bipartisan group of 42 lawmakers are going to try to stop Congress from expanding the feds' ability to snoop on American citizens. If they fail, Rand Paul (R-Ky.) is threatening a filibuster in the Senate.
This week the House is considering legislation to renew Section 702 of the Foreign Intelligence Surveillance Act (FISA) Amendments. This law grants intelligence agencies the authority to snoop on foreign targets on foreign soil without warrants, overseen by a secretive FISA court.
This is done in the name of stopping espionage and terrorism. But the surveillance powers have also been secretly used on Americans to track down evidence of other crimes, without a warrant, circumventing both the Fourth Amendment and the FISA Amendments' stated intent.
"We think that is unconstitutional, hugely problematic, and we're here to defend the rights of the American people," Amash said this morning at a press conference attended by members of both parties in both houses of Congress.
Section 702 had been set to expire at the end of 2017 if it was not renewed. But several lawmakers refused to vote for its renewal unless it is reformed to protect Americans against warrantless surveillance. Unable to reach an agreement, lawmakers kicked the can down the road and just renewed Section 702 unchanged until January 19. Tomorrow, the House may take up one proposed renewal bill.
Unfortunately, the bill they're considering is absolutely awful. The FISA Amendments Reauthorization Act of 2017—pushed by the intelligence committees of both the House and the Senate—explicitly authorizes the exact violations of citizens' privacy that Amash and company are trying to stop. Rather than demanding that the FBI and NSA get warrants before they access Americans' private data and communications, it does the opposite: It gives the feds formal permission to snoop on citizens for a list of federal crimes without getting a warrant first.
Amash has introduced a substitute amendment in the House that would replace the text with the contents of the USA RIGHTS Act. This is an alternative bill sponsored by Sens. Rand Paul (R-Ky.) and Ron Wyden (D-Ore.) in the Senate and by Amash, Ted Poe (R-Texas), and Zoe Lofgren (D-Calif.) in the House.
The USA Rights Act would restrain the feds from using information collected in secret unwarranted FISA searches as evidence in court cases. It would also forbid "about" searches, where feds snoop on communications that are "about" a target as opposed to just communications to and from that target. And it would forbid "reverse targeting," where the feds snoop on foreign targets for the purpose of accessing the communications of the Americans talking to them.
At today's press conference, Paul said he would filibuster any plan to renew Section 702 without warrant protections for Americans. To judge from the turnout this morning, it looks like he won't be alone if he does.
I've written extensively about the difference between these two bills under consideration and what they do. If you need a refresher, check out this primer. Or read what Paul himself had to say at Reason about FISA reauthorization here.