Deregulatory Successes Point to Direction for Trump Administration
Slowing the flood of new rules and rolling back old ones keep some Americans in the president's corner.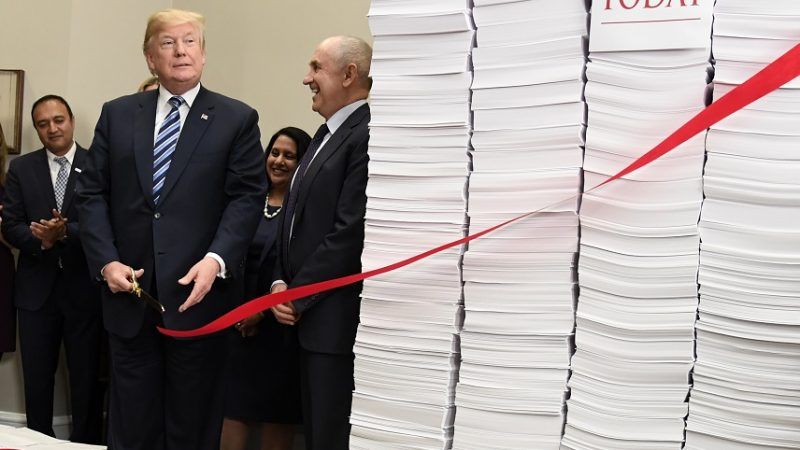 (MIKE THEILER/UPI/Newscom)
Even as CNN talking heads remain in shock that Donald Trump is actually president, and the man himself apparently sees social media as a means to go full drunk-uncle on an international scale, millions of Americans continue to support the current resident of the White House. FiveThirtyEight has Trump's approval ratings at 38.8 percent as I write, and an insight into why many Americans continue to put their faith in this president landed last week in the form of a Washington Post article on the relief felt by Iowa farmers over the Trump administration's push to roll back much-resented regulatory red tape.
"Obama set aside millions of acres of undeveloped land as national monuments—more than any other president—preventing huge areas from being mined, logged or farmed. Obama also implemented more regulations with a significant economic impact than any president in three decades, according to the George Washington University Regulatory Studies Center. Those actions were cheered by many Americans but widely viewed in rural areas as killing jobs."
Iowa, a farming state, notably went overwhelmingly for Trump in 2016 after supporting Barack Obama in both 2008 and 2012.
The Obama administration's controversial Waters of the United States rule received particular criticism for extending federal jurisdiction over unlikely wet patches of ground in ways that burdened the use of private property. The U.S. Court of Appeals for the 6th Circuit issued a nationwide stay against the rule in 2015, but memories linger. And so does resentment of politicians and regulators who seem clueless or even actively hostile to whole ranges of economic activity.
"The overwhelming number of proposed regulations on the nation's food system is unprecedented and promises profound effects on both the structure and competitiveness of all agriculture," Carl Shaffer of the American Farm Bureau Federation noted in congressional testimony during 2011 hearings. "EPA proposals are overwhelming to farmers and ranchers and are creating a cascade of costly requirements that are likely to drive individual farmers to the tipping point."
Business people who never touch a plow have similar concerns about regulation.
"The average small-business owner is spending at least $12,000 every year dealing with regulations," National Small Business Association President and CEO Todd McCracken commented upon the release of a survey of small business owners last year. "This has real-world implications: more than half of small businesses have held off on hiring a new employee due to regulatory burdens." In that survey, 58 percent of small business owners said federal rules were the most burdensome to their business, with a specific emphasis on the tax code and the Affordable Care Act.
Unsurprisingly, USA Today reported as Trump took office that "small businesses are hoping to see some high-profile Obama administration regulations scrapped."
The federal government was equally tough on the energy industry, issuing rules regarding hydraulic fracturing that were sufficiently overreaching that they were quickly blocked by the courts as being "in excess of its statutory authority and contrary to law." Those rules were officially rescinded at the end of December, prompting the market-friendly Las Vegas Review-Journal to exult, "President Donald Trump's deregulation agenda has perhaps been the defining accomplishment of his first year in office. "
Which is an interesting point.
Largely lost in headlines about Russians, campaign dirty tricks, and Trump's alleged shock at his own victory is his administration's follow-through on deregulatory promises. Soon after taking office in January 2017, Trump ordered federal agencies to make sure that "for every one new regulation issued, at least two prior regulations be identified for elimination, and that the cost of planned regulations be prudently managed and controlled through a budgeting process." That was followed by an order to conduct cost-benefit analyses of federal regulations. In September, the Office of Management and Budget instructed agencies to prepare budgets representing reductions in total regulatory costs.
"Compared to previous presidents, Trump's agencies have issued significantly fewer new regulatory actions and have even begun to look back at existing regulations with an eye toward cost-saving modifications or outright rescissions," wrote Susan E. Dudley, director of the George Washington University Regulatory Studies Center, after reviewing the results. "Whatever you think of Trump's chaotic first ten months in office, it is undeniable that he is moving aggressively to fulfill his campaign promises to reduce regulation."
To be clear, not everybody agrees that a deregulatory push is a good thing. The Washington Post piece on deregulatory sentiments among Iowans focused considerable attention on a dissenting farmer who contemplates a world with fewer inspectors, rules, and fines and doesn't like it one bit. "People don't like to be told what to do. I get that. But we do not even have close to enough regulations," he griped.
Echoing that sentiment, National Geographic frets that Trump's actions "roll back Obama-era policies that aimed to curb climate change and limit environmental pollution, while others threaten to limit federal funding for science and the environment."
"In order to stop this dismantling of government in the name of deregulated capitalism, we will need to act fast," warns the National Lawyers Guild, which cautions that "billionaire libertarians like Charles and David Koch…have been working toward this goal for over four decades."
Well, not all of us are billionaires.
Truthfully, too, many fans of deregulation oppose federal intervention only selectively. That dissenting Iowa farmer correctly noted that many of his regulation-hating neighbors happily benefit from farm subsidies and bio-fuel mandates--billions upon billions of dollars transferred from other Americans over the years, as tracked by the Environmental Working Group. The Farm Bureau may dislike rules mandated on its members by D.C., but it's a firm advocate of the idea that "we need more ethanol, not less, and living up to Congressional mandates is the place to begin."
Politicians who propose a freer market where farmers sell what consumers are willing to buy at mutually agreeable prices—meaning an end to subsidies and mandates--tend to have their heads handed to them when they visit agricultural communities.
Which is to say, people who want the government to leave them alone do themselves no favors when they add, "except, you should keep the goodies flowing!" It's not unfair to suggest that the goodies and the red tape are something of a package deal—and should all be done away with.
But whether or not people are consistent in what they want, there is an obvious constituency in this country for less government intervention in people's economic activity. To the extent that the Trump administration has held on to support, it's largely among people to whom it kept its deregulatory promises. That may provide guidance for how an administration that often seems directionless can regain its rudder. And it should offer a reminder to politicians of the future about Americans they ignore at their own peril.