As Sessions Moves Against State-Legal Weed, Vermont Lawmakers Approve Marijuana Bill
Vermont is close to becoming the first state in the country to legalize marijuana via legislation instead of relying on a referendum.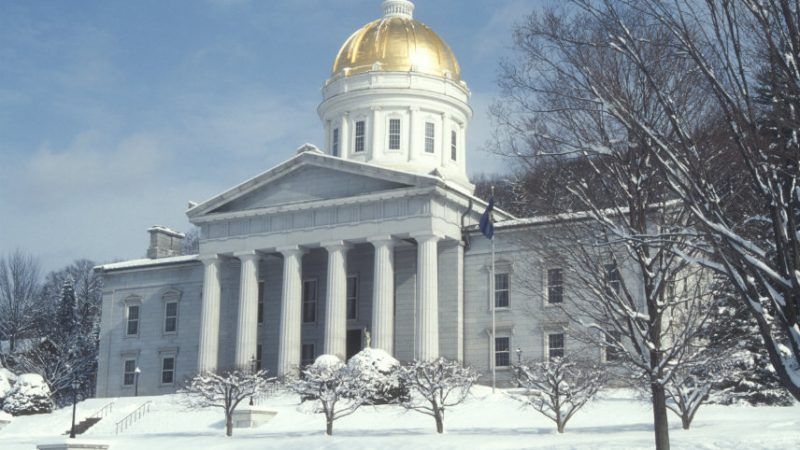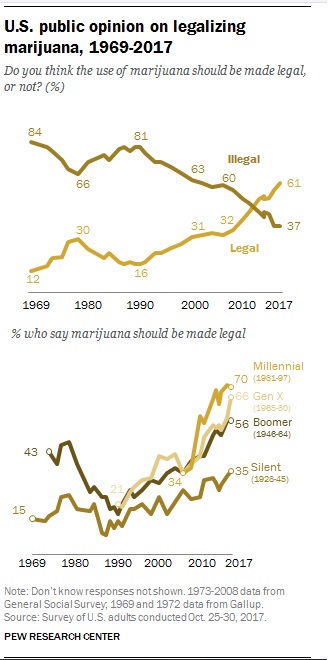 Just hours after Attorney General Jeff Sessions signaled a shift in how the federal government would view state-level laws legalizing the production, sale, and possession of marijuana, Vermont took a step toward becoming the ninth state to legalize weed for recreational purposes.
The Vermont House voted 83–61 last night to approve a bill legalizing the possession of marijuana, sending the measure to the state Senate where, according to local media reports, it is expected to pass.
The bill does not legalize buying and selling pot. A previous effort that would have created a market for recreational marijuana was vetoed last year by Republican Gov. Phil Scott. The bill approved Thursday is supposed to be a compromise with the governor's office, according to the Burlington Free Press, but Scott has not yet indicated whether he will sign the bill.
In the meantime, neighboring New Hampshire could move a marijuana legalization bill this month.
Coming as it did in the hours after Sessions announced plans to rescind the Cole Memo—the Obama-era guidance that essentially told federal prosecutors to leave marijuana businesses alone in states that had voted to legalize—it's easy to interpret the Vermont vote as an immediate flexing of federalism. But in reality, the Vermont bill has been subject to months of negotiations in Montpelier and the timing is coincidental. Indeed, some lawmakers suggested postponing yesterday's vote in light of the developments in Washington, the Free Press reports.
Still, Vermont's movement on marijuana is potentially important for two major reasons.
First, legalizing via legislation is an important shift in how states handle marijuana policy. Just as politics are downstream from culture, legislatures are downstream from voters' desires. Data from the Pew Research Center show that 61 percent of Americans now favor legal recreational marijuana, up from just 33 percent at the turn of the century. Even as those numbers have steadily ticked upwards, and even as voters have repeatedly demonstrated their preference for legal weed via referendum, state lawmakers have been unwilling to put their names on the line and vote for marijuana legalization. This week's developments in Montpelier suggest that voters' preferences and public opinion about marijuana are finally filtering down to statehouses.
Secondly, the bill's success even in the wake of Sessions' announcement could signal a backlash against the Trump administration that—counterintuitively—might boost the chances of legalization in other places. Tom Angell, editor of the online trade publication Marijuana Moment, points out that opposition to Sessions' move has come from all sides of the political spectrum. "Democratic and Republican House and Senate members who almost never talk about marijuana, except when asked about it, proactively released statements pushing back against Sessions," Angell writes. By trying to launch a crackdown, Sessions might finally force a resolution to the murky gray area between state and federal marijuana laws.
Legislators as geographically and ideologically diverse as Rep. Rob Blum (R-Iowa) and House Minority Leader Nancy Pelosi (D-Calif.) reacted to Sessions' announcement by calling for the feds to leave state-legal weed alone. And Sen. Cory Gardner (R-Colo.) announced he would delay nominations for Justice Department officials until Sessions offered a better explanation about what the policy shift will mean for states that have already legalized weed.
In many ways, the GOP backlash is more important than the actions of blue-staters like Pelosi or the Democrat-controlled Vermont legislature. For one, it's a signal that even some Republicans believe Sessions has stepped out of line. More importantly, Republicans control the vast majority of state legislatures and governorships at the moment. If there's going to be a real policy backlash against Sessions, it will have to come from Republicans—including Vermont's Gov. Scott.