Texas Cops Shoot and Kill 6-Year-Old While Shooting and Killing Woman They Were Chasing
Will apparently be investigating themselves.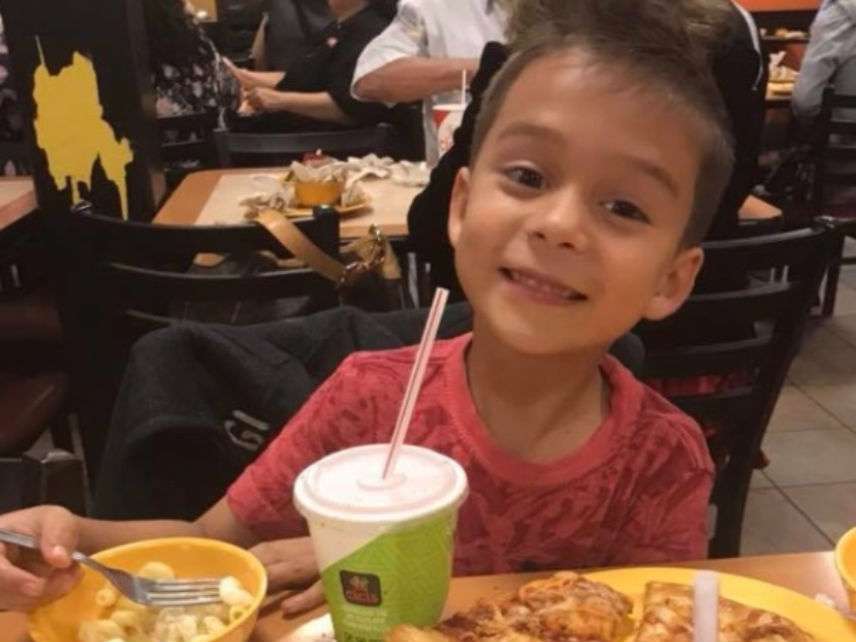 A two-hour search for and chase of a woman accused of stealing a car from a man she knew ended in front of a trailer home police say she was trying to break into. Sheriff's deputies fired an undetermined number of times at her, hitting her as well as 6-year-old Kameron Prescott, who was in the home.
The woman was pronounced dead at the scene, while the boy died after being taken to a hospital.
"I can definitively tell you that myself and all the deputies involved, there's not a single one us of that wouldn't trade places with this child," Bexar County Sheriff Javier Salazar told reporters late Thursday.
The Bexar County sheriff's department is investigating the shooting by Bexar County sheriff's deputies. Salazar said yesterday he hadn't yet talked to the four deputies involved and doesn't know why they shot.
Deputies claim that the woman had earlier pointed a gun at them at least twice—nogun was found on the scene or in a subsequent search. Police say the woman, who they have not identified, swam across a creek and ran through a wooded area before arriving at the trailer park where the police shooting happened.
Salazar noted his department permits deputies to use deadly force against anyone threatening them or others (police and eyewitnesses also say the woman threatened a number of people during her flight), but did not answer questions from reporters about how that policy might apply "if a home is in the line of fire," as the San Antonio Express-News reported.
Awareness of your environment is the fourth of the "Four Rules of Gun Safety."
As HunterEd.com puts it: "If you pull the trigger, you cannot take back the bullet! Everything and everyone in front of, near, and beyond your target is your responsibility. Make sure you have an adequate backstop and never shoot at a flat, hard surface or water."
A GoFundMe was set up for Kameron's family.