King County Cops Illegally Recorded Sex Stings
The good news? Many whose lives they tried to ruin are now off the hook.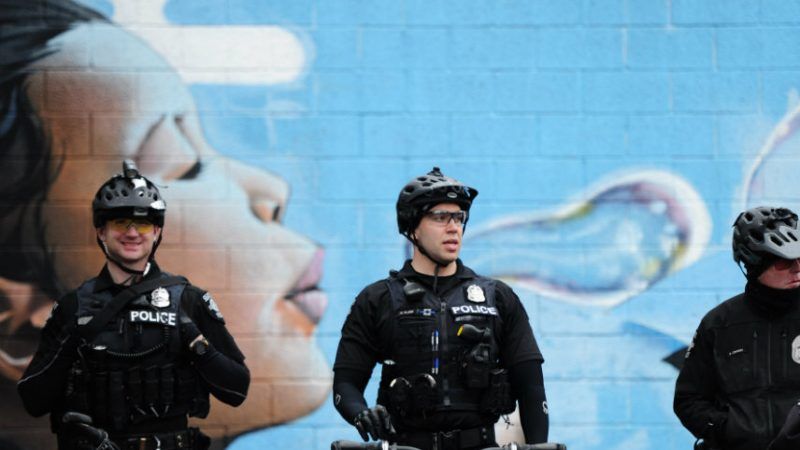 (Alex Milan Tracy/Sipa USA/Newscom)
Dozens of Seattle-area prostitution cases have been dropped after police were found to have illegally recorded the stings that led to these arrests.
With "Operation On Demand," the zealous sex cops of King County, Washington, nabbed more than 100 men last August. It was one of the area's now-typical "john stings": Police pretending to be sex workers posted online ads and arrested the people they fooled.
To conduct the sting, detectives set up camp for an entire week in a downtown Bellevue condo, just outside Seattle.
Those arrested ranged "from an unemployed heroin user…all the way up to a radio DJ and some people who are vice presidents of companies, high-tech workers," Bellevue Police Department Captain Marcia Harnden bragged at the time. All were charged with patronizing a prostitute, a misdemeanor.
But charges against more than half of the 110 arrestees were just dropped. Police had recorded conversations between the undercover cops and their prospective customers, and under Washington state law it's illegal to make an audio recording of a conversation without the consent of all parties recorded.
Detectives had set up hidden cameras around the condo where the stings took place, supposedly intending to record only video. "Unfortunately, audio conversations were unintentionally captured between the suspect and the undercover officers in 61 of the 110 cases," the city said in a statement this week.
"We don't know where this malfunction occurred, we don't know if it was an operator or mechanical problems and that's what we're trying to triage right now," Bellevue Police Department Chief Steve Mylett told Seattle Weekly. "We don't know specifically where this will fall to but I can tell you I'm very convinced this was unintentional."
Bellevue police initially blamed the mistake on their partners in the King County Sheriff's Office.
Mylett has continued to insist in every interview that this operation was about stopping "human trafficking," even though no traffickers were caught, no victims existed, and the only people arrested were looking to pay a consenting adult for sexual companionship. "Rest assured, there will be future undercover operations such as this one to achieve our goal," he said.