Amash, Massie, and Other Congress Members Demand Standalone Vote on Federal Surveillance Laws
Can they get past the FBI vs. Trump narrative to talk about snooping on the rest of us?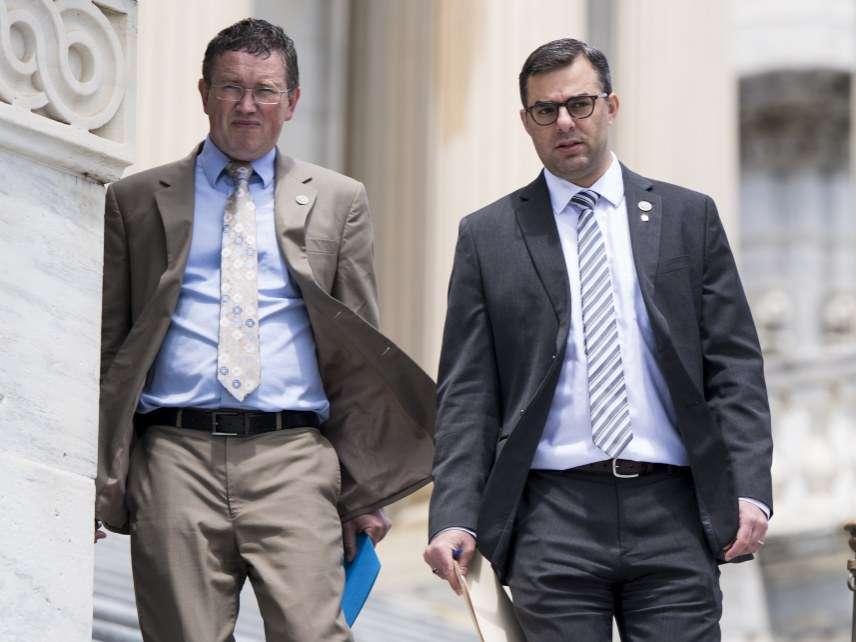 Some federal intelligence surveillance powers are going to expire in just over two weeks, and a pack of congressmen and -women want to make sure that a renewal isn't simply shoved into an end-of-year spending bill.
These 35 legislators have signed a letter to Speaker Paul Ryan (R-Wis.) and Minority Leader Nancy Pelosi (D-Calif.) calling for the House to consider renewal of this surveillance law separate from any other legislation. The list includes two names familiar to Reason readers, Reps. Justin Amash (R-Mich.) and Tom Massie (R-Ky.). Amash took the lead and put out a press release promoting the request.
Section 702 of the Foreign Intelligence Surveillance Act (FISA) Amendments expires at the end of 2017. This part of the law authorizes the use of unwarranted secret surveillance against foreign targets outside of the United States. But it has also been used to collect data and communications from American targets within the U.S., again without warrants and without the citizens' knowledge.
There have been pushes to put more concrete restrictions in Section 702 preventing the FBI and National Security Agency (NSA) from collecting and maintaining domestic communications without a warrant. There have also been rival pushes to either renew the law as it is or even declare that these agencies have the legal authority to snoop on Americans without warrants for certain crimes. (I went through the details of the bills bouncing around in this post.)
The letter to Ryan and Pelosi reads in part:
There may be temptation to attach reauthorization of the FISA Amendments Act to a large end-of-year legislative package, but doing so would undermine representative democracy by effectively precluding most members of Congress from being heard on the important issues it raises and preventing the public from finding out where their representatives stand. It also could further undermine public trust in the intelligence community by suggesting that one of its most heavily used statutory authorities could not have been reauthorized under regular order. None of these outcomes is desirable, and all are easily avoided by bringing reauthorization to the floor as a standalone bill.
There are some Democrats in the mix, such as Reps. Jared Polis (D-Colo.) and Zoe Lofgren (D-Calif.), but about two-thirds of those who signed the letter are Republicans. The Republican leadership and the White House are the ones attempting to push through reauthorization without discussion or changes, so this GOP resistance is an important signal. Bloomberg notes that the House Freedom Caucus just warned not to attempt to sneak Section 702 reauthorization into a disaster relief bill to help people in Florida, Texas, and Puerto Rico recover from hurricane damage.
In the end, though, this Republican resistance is precisely why reauthorization is probably going to get shoved into an omnibus "must pass" bill. It seems very unlikely that standalone Section 702 can pass through the House without the stronger civil liberties protections that both the party leadership and the White House explicitly do not want.
Meanwhile, any actual public debate over surveillance has become entangled in controversy over the circumstances by which the FBI snooped on people in President Donald Trump's campaign and whether biases against Trump and in favor of Hillary Clinton played a role in the surveillance. This whole case could have served as an example of exactly how these powers can be abused for political purposes and therefore should be scaled back, but that's not how it's playing out.
If Section 702 is not renewed by the end of the year, the White House says it believes federal intelligence agencies can continue to use the snooping authorities the law grants until April before having to shut it all down.
This post was corrected to remove the reference to a member of Congress who was incorrectly identified as the drafter of a disaster relief bill. He is not and was passing along to the press information he had heard about the possibility of Section 702 reauthorization being attached.