Treating Drug Overdoses As Homicides May Be Deadly
The Drug Policy Alliance documents an unjust prosecution trend that makes opioid fatalities more likely.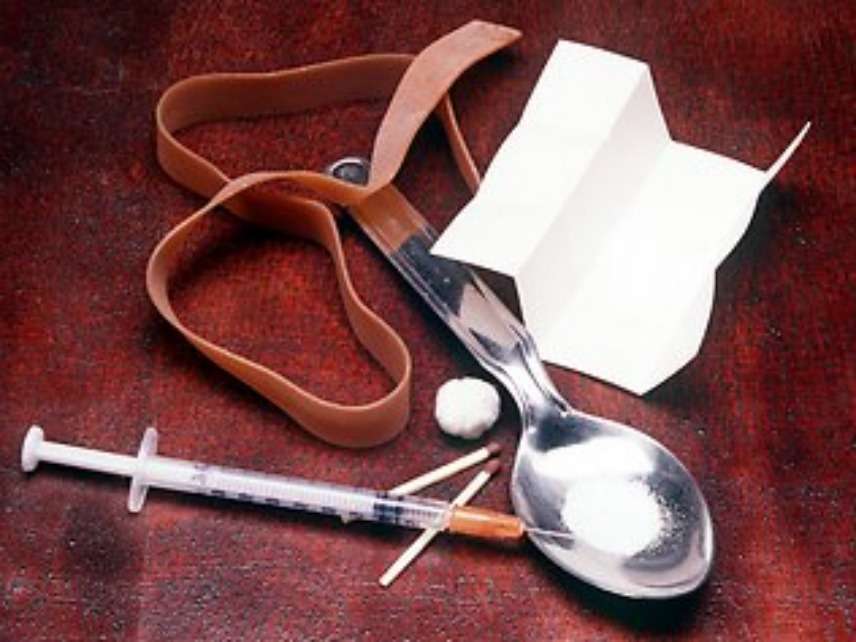 Because prompt medical attention is crucial in saving people from potentially fatal opioid overdoses, 40 states and the District Columbia have enacted "911 Good Samaritan" laws that shield bystanders from some drug-related charges when they call for help. But as a new report from the Drug Policy Alliance (DPA) notes, a countervailing legal trend undermines efforts to keep drug users alive by encouraging homicide prosecutions when they die.
"The most common reason people cite for not calling 911 in the event of an overdose is fear of police involvement," says the report, which was written by DPA senior staff attorney Lindsay LaSalle. "The only behavior that is deterred by drug-induced homicide prosecutions is the seeking of life-saving medical assistance." Treating fatal overdoses as homicides therefore makes them more likely.
DPA found that 20 states have laws that specifically address drug-induced homicide, while others "charge the offense of drug delivery resulting in death under various felony-murder, depraved heart, or involuntary or voluntary manslaughter laws." Possible sentences range from two years to life, which is the minimum penalty in six states. Under federal law, drug distribution resulting in death or serious injury is punishable by 20 years to life in prison.
These laws have been on the books since the 1980s, but prosecutions seem to have risen sharply in recent years, judging from mentions in news stories, which by DPA's count more than tripled between 2011 and 2016, from 363 to 1,178. Prosecutions were reported in all but four states and were especially common in the Midwest. The highest counts during this period were in Wisconsin (882), Ohio (577), Illinois (486), and Minnesota (433). The surge in prosecutions looks like a reaction to the dramatic increase in heroin-related deaths since 2010, a trend fostered by the crackdown on prescription narcotics and the increasingly common use of fentanyl, a highly potent synthetic opioid, as a heroin adulterant or substitute.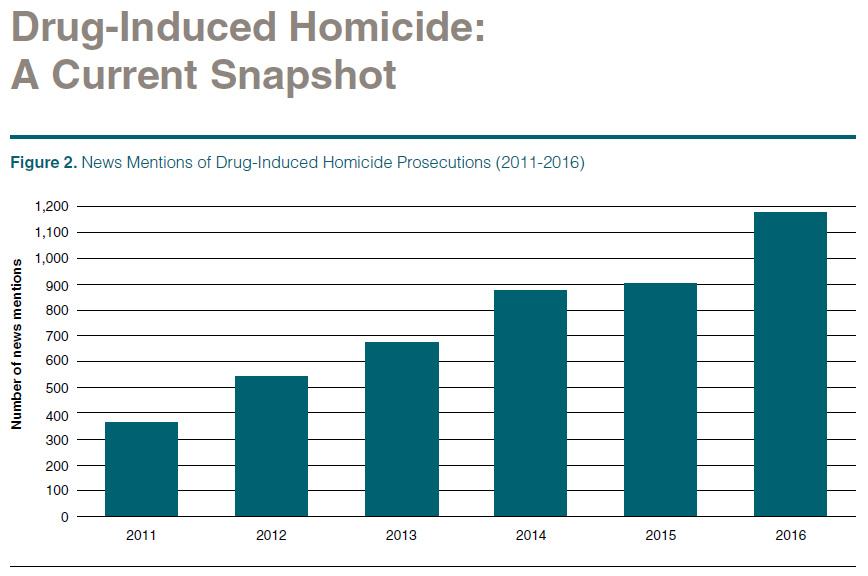 Although politicians may claim that drug-induced homicide prosecutions are aimed at high-level dealers, the targets are usually people close to the decedent. Their role in "distributing" the drug may be limited to buying it for someone else or sharing a stash. When money changes hands, the dealers are often selling just enough to finance their own habits. "The vast majority of charges," LaSalle writes, "are sought against those in the best positions to seek medical assistance for overdose victims—family, friends, acquaintances, and people who sell small amounts of drugs, often to support their own drug dependence."
LaSalle cites several studies to support that conclusion. A 2002 analysis of 32 drug-induced homicide prosecutions, published in the New Jersey Law Journal, found that "25 involved prosecution of friends of the decedent who did not sell drugs in any significant manner." According to a 2017 report by a Wisconsin TV station that looked at the 100 most recent prosecutions for drug-induced homicide in that state, "nearly 90% of those charged were friends or relatives of the person who died, or the lowest people in the drug supply chain." When the Chicago Tribune examined drug-induced homicide cases filed between 2011 and 2014, it found "the defendant was typically the last person who was with the person who overdosed."
These trends make sense when you consider the practical challenges of tying a defendant to a batch of drugs that figured in someone's fatal overdose. The last link in the supply chain or a fellow drug user is an easier target than someone who never met the decedent. But prosecuting those closest to people who die from overdoses (or, more typically, from combinations of drugs) is perverse as a strategy for minimizing fatalities, since the legal exposure discourages bystanders from calling 911.
This legal strategy is also unjust, treating accidents as if they were deliberate. LaSalle notes the case of Michael Millette, a small-time New Hampshire dealer/addict who got 10 to 30 years for selling a friend heroin that turned out to be fentanyl. The friend took more than recommended, injected it rather than snorting it, and died in a gas station restroom. "I didn't know it was fentanyl or even what fentanyl was," Millette told LaSalle. "Somebody told me it was heroin, and I'm not a chemist. I have a ninth-grade education. I can't test this stuff and say this is or it isn't heroin."
LaSalle cites a bunch of other cases where punishment for a drug-related death was clearly disproportionate to the defendant's culpability, if not cruelly gratuitous. Lindsay Newkirk got three years in Ohio because her father died after she injected him with heroin from the same batch she had just used. Jennifer Johnson got six years in Minnesota because she let her husband, who had been drinking, have some of the liquid methadone she had been prescribed. Later he drank more of the methadone without her knowledge. "To make an example out of me, when the case is that I lost my husband, I think is really a disgusting thing to do," she told MPR News.
Jarret McCasland was sentenced to life without parole in Louisiana after he shared heroin and cocaine with his girlfriend, who died later that night. "Though they painted Jarret as a 'depraved drug dealer' at his trial," LaSalle says, "police and prosecutors agreed that the drugs came from other sellers, but indicated that they felt no obligation to pursue those people."
Erik Brown got 23 years in Illinois for giving a friend a tenth of a gram of heroin in exchange for a quarter gram of "bath salts" while the two men were partying in a motel room. When the friend passed out, Brown was afraid to call 911 because of all the drugs in the room. Jim Porter, then the U.S. attorney for the Southern District of Illinois, cited Brown's failure to call 911 as a reason for prosecuting him, apparently unaware of the irony.