Feds Keeping Homeland Secure with Fake Sex-Trafficking Busts
As America deals with terrorist attacks and mass shootings, DHS and the FBI are busy enforcing misdemeanor vice laws.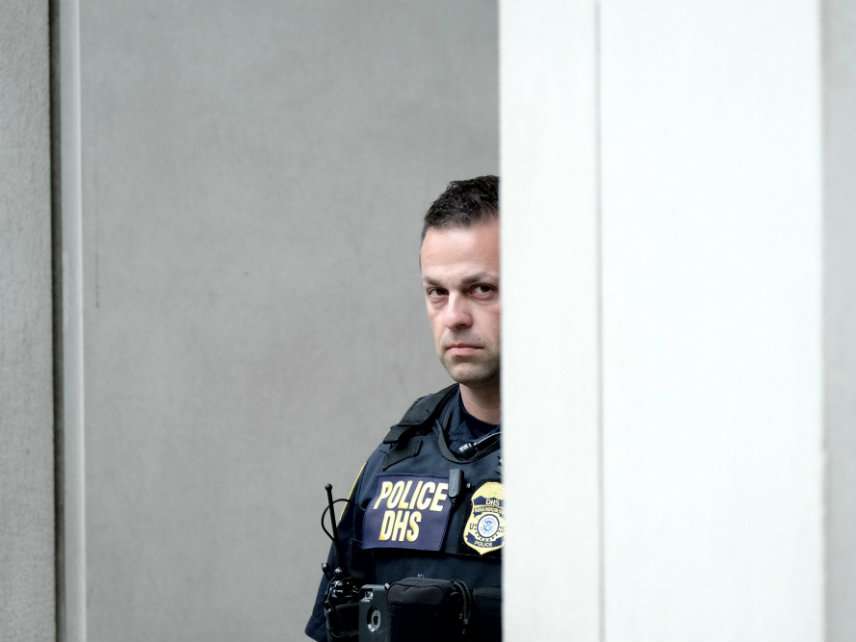 As America debates how to handle terrorist attacks like the one in New York City yesterday, the U.S. Department of Homeland Security (DHS) and the FBI are busy helping small-town police arrest people for prostitution and marijuana.
In Louisiana this week, the FBI helped arrest—and publicly ridicule—57 men who responded to fake (adult) prostitution ads. Meanwhile in North Carolina, DHS has pitched in to help round-up people with small amounts of marijuana or cocaine on them.
Local media described the DHS efforts as a "human trafficking case." But the only offenses any suspects were arrested for were drug possession, driving with a revoked license, and parole violations—all state-level offenses, and mostly misdemeanors.
The stunt—which the Burlington Times-News describes as a "covert investigative/outreach operation focusing on human trafficking"—took place Monday with assistance from the Alamance County Sheriff's Office, the North Carolina Bureau of Investigation, North Carolina Alcohol Enforcement, police officers from three local departments, and a group called Alamance for Freedom. About 30 law enforcement personnel were involved, according to the sheriff's office.
What this alliance did was just an old-fashioned prostitution sting, with undercover detectives luring sex workers to appointments with a "customer" and cops pouncing when they arrive.
It yielded no human-trafficking arrests, no children were found, and no victims of sex trafficking were rescued.
Nonetheless, police still found cause to arrest some of the people they lured to their "secure location." Two women, ages 22 and 46, were charged with possession of cocaine and possession of drug paraphernalia; the younger woman was also booked for driving with a revoked license. A 22-year-old and a 31-year-old were arrested for misdemeanor marijuana possession. Two other individuals were arrested as well, both for probation violations.
CBS North Carolina reported it as "a human trafficking ring" bust.
Alamance County Sheriff Terry Johnson has been using human trafficking for a while now to garner good PR for his department—which certainly needs it. In 2012, Johnson was the subject of a Department of Justice lawsuit for allegedly targeting Latinos. North Carolinans compare Johnson to disgraced Arizonan Sheriff Joe Arpaio.
Just last week, Johnson settled with a former deputy for $600,000 in a lawsuit alleging that the deputy was fired in retaliation for his testimony against the sheriff in the federal civil rights case. In addition, Alamance County has paid more than $400,000 over the past three years in lawsuits from former staff.
But as long as Johnson slaps "human-trafficking bust" on his shenanigans, he doesn't need to actually catch any traffickers, or any illicit sex at all, to trigger hero headlines from local press.
At least Johnson's motivations here make sense, even if they don't make him commendable. But why are we, week after week, wasting federal resources on enforcing small-town misdemeanor vice laws?