Cyrus Vance Is a Product of Dangerous One-Party Rule
When elected officials regularly run unopposed, there's no democratic accountability.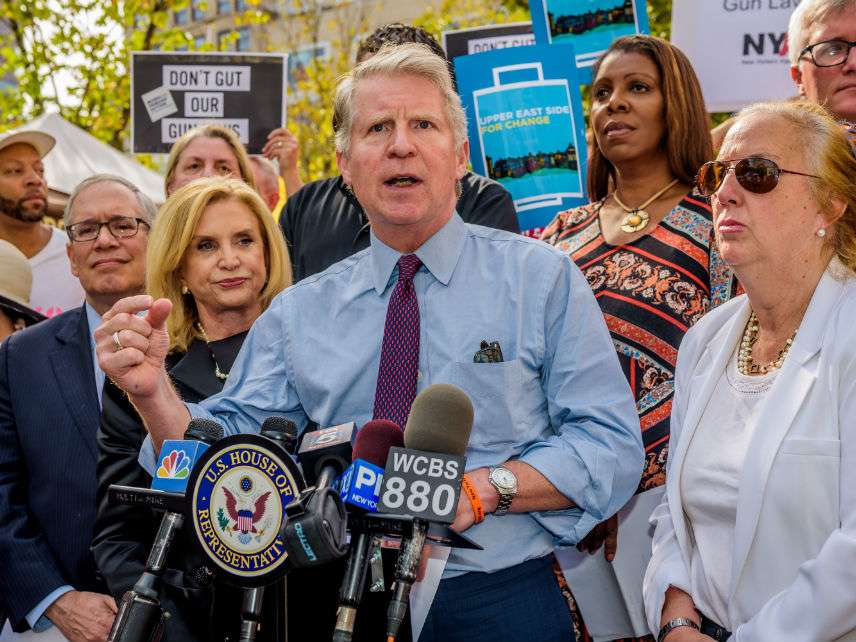 It's been a bad month for Manhattan District Attorney Cyrus Vance. First there were reports that he declined to indict Ivanka Trump and her brother Donald Jr. for allegedly misleading prospective real estate buyers, but not til after Vance had received a large donation from Donald Sr.'s lawyer. Then Vance turned out to have had the same damning audio recording of Harvey Weinstein admitting to groping a woman's breasts that The New Yorker published Tuesday, yet he declined to pursue the case.
The Manhattan DA's office has more than 800 investigators on its payroll and took in more than $12 billion from asset forfeiture since 2009. It was more than capable of doing the work that Ronan Farrow did for The New Yorker, but it didn't.
In a normal election, this kind of two-punch October Surprise would be more enough to sink a candidate. But New York City doesn't have normal elections. Republicans offer largely token opposition in citywide races, and most of the borough-wide races (save for Staten Island) are the same way.
While New York City allows "fusion tickets," where a candidate runs on the line of more than one party, no third party has taken advantage of this recently to mount a credible challenge to Democratic rule.
This is the result: A district attorney faces serious questions about his ethics and his prosecutorial decisions, in a case that's getting massive attention in the news cycle, yet he has little fear of it costing him his job at the ballot box in a few weeks. (A write-in challenger is now trying to mount an effort against Vance, but the task seems close to impossible.)
Last year Vance's office handled 80,000 cases, according to its annual report. That includes 67,246 arrests for misdemeanors and violations—touted as a victory because it represented a 27 percent drop from 2010, when there were 92,585 arrests for misdemeanors and violations.
The DA's office also touted its work on "crimes against women." Needless to say, that didn't mean investigating powerful men who abuse their positions; it meant analyzing "online advertisements placed by prostitution services, which enables prosecutors to identify patterns which lead to the discovery of both victims and perpetrators of human trafficking."
Cyrus Vance was first elected in 2009. He ran against a number of other candidates in that year's Democratic primary, but he has not faced any real opponents since then. That kind of lack of opposition makes accountability exceedingly difficult. Vance's 2016 annual report insisted he was committed to criminal justice reform, but without the pressures and checks of competitive politics, that's hard to verify.
Vance's strong job security also undermines his excuses for taking money from lawyers tied to subjects of his investigations. He has denied any quid pro quo, insisting the contributions were "unfortunately, a part of running for office." But they're not. Even in competitive races, it's morally bankrupt to argue that you have to take money from everyone because your opponent is raising money too. When an incumbent faces no serious opposition, it's beyond preposterous.
But why would Vance worry about saying something patently ridiculous? It's not like New Yorkers have any other choice.