45 Percent of Americans Say There Is Too Much Government Regulation of Business
What's wrong with the other 55 percent?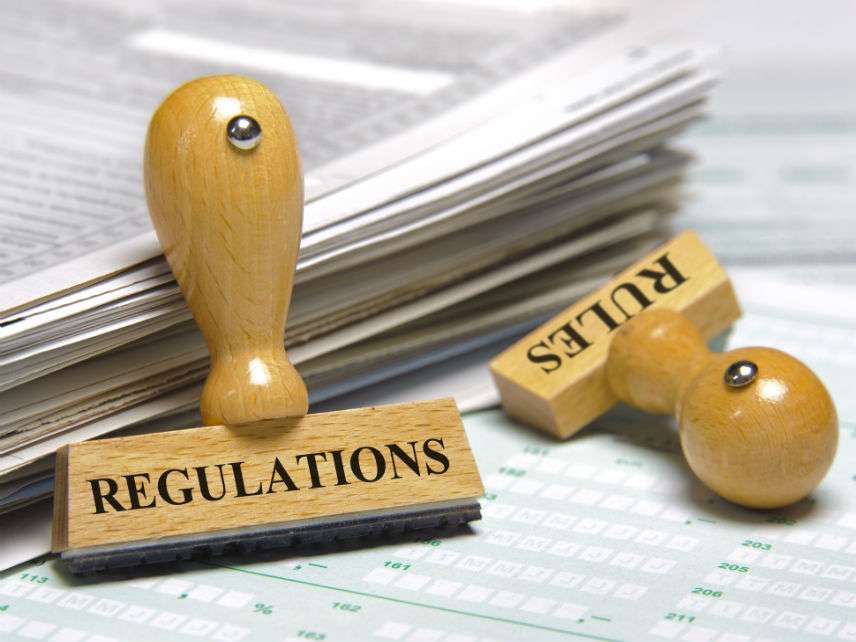 A new Gallup Poll reports that "for the 12th year in a row, more Americans say there is 'too much' government regulation of business and industry than say there is either 'too little' or 'the right amount.'" More specifically: Forty-five percent say there's too much, 23 percent say too little, and 29 percent say things are just right.
While the streak is unbroken, this is down from the 2011 peak, when 50 percent believed there was too much regulation. Among Republicans, 68 percent now believe regulation is too high; only 20 percent of Democrats do.
I'm with the 45 percent. A study last year from the Mercatus Institute estimated that since 1980, federal regulations have slowed growth so much that economy is 25 percent smaller than it could have been. That means American per capita income is $13,000 lower than it would have been otherwise.
And federal regulators aren't the only impediments to betterment. State and local rules, such as licensing laws and land use controls, make it hard for Americans to leave low-productivity regions to enter booming job markets. One recent study calculated that without the excessive zoning restrictions U.S GDP would have been 8.9 percent higher, which translates into an additional $8,775 in average wages for all workers.
In January, President Donald Trump signed an executive order requiring that for "every one new regulation issued, at least two prior regulations be identified for elimination." Some reports do suggest that the Trump administration has significantly slowed the federal regulatory juggernaut, whereas others point out the difficulty in making such assessments.
None of this means it is impossible for a regulation to provide more in benefits than it cost. But the data strongly suggest that we're well past the point of diminishing returns.