Corker Against World War III Now That Trump Is for It
Corker is a longtime defender of American intervention and war in the Middle East, and now wants to supply billions in weapons to the Saudis and Ukraine.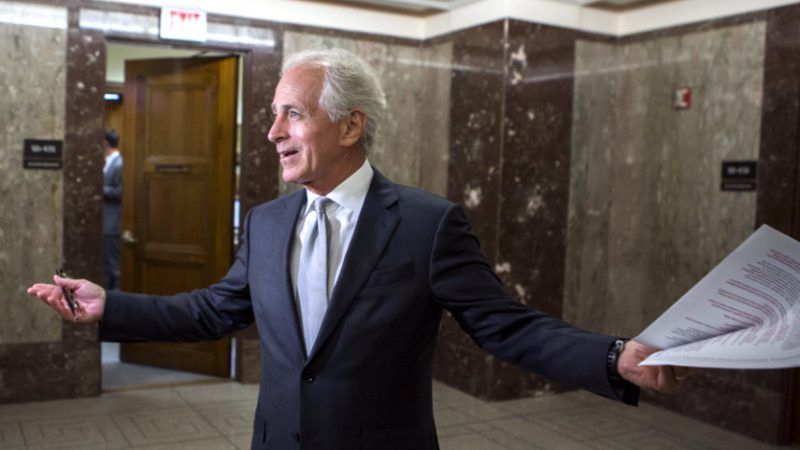 (Alex Edelman/ZUMA Press/Newscom)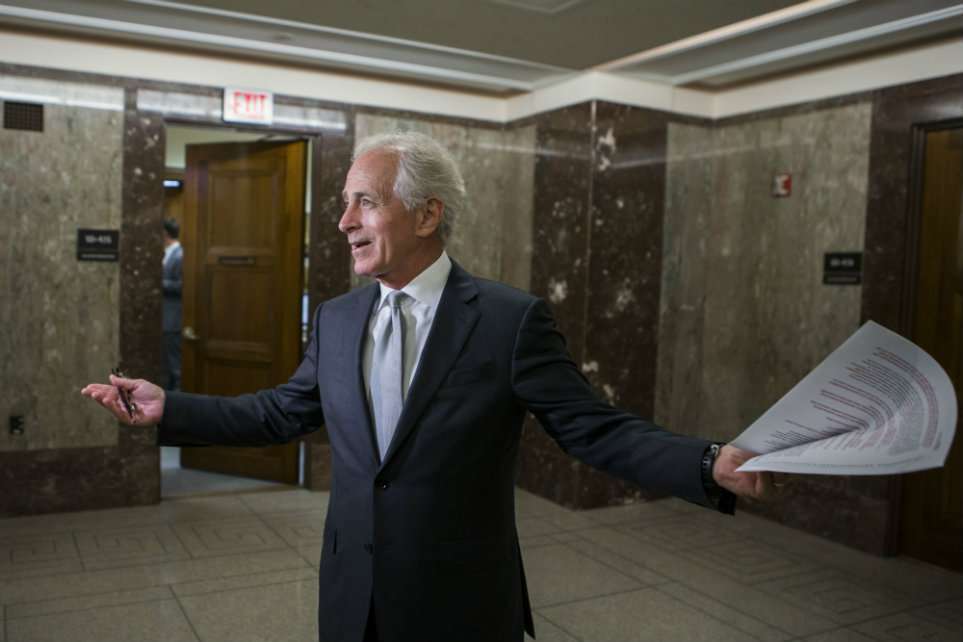 Sen. Bob Corker is getting a lot of kudos from progressives for his recent criticisms of President Donald Trump. On Sunday, the Tennessee Republican called the White House an "adult day care"—you know, the kind of place where people stick elderly people with dementia—and said the president is steering America toward "World War III."
Corker "admits what others won't say about Trump," cooed Vanity Fair, in what has been a common framing: He's a maverick!
But despite this show of supposed resistance, there's not really much daylight between Corker and Trump. Corker supported Trump during the 2016 election (and has voted with him 90 percent of the time since, for what it's worth). And he hasn't always been so averse to World War III. He's a longtime defender of American intervention and war in the Middle East, and now wants to sell or supply billions worth of weapons to Ukraine and Saudi Arabia.
I. Love. Bob. Corker. https://t.co/TZ3HRojBvZ

— Joe Scarborough (@JoeNBC) October 8, 2017
This tweet from @SenBobCorker has become an instant hit on Twitter. My feed is filled with retweets and reactions.https://t.co/JEYZhoBWur

— Peter Daou (@peterdaou) October 8, 2017
Golden throne tweet response, level awesome. https://t.co/RIbKsSZukr

— PaiysleeResists? (@Paiyslee) October 8, 2017
Tough but fair. https://t.co/C14wZ3ehRl

— Neera Tanden (@neeratanden) October 8, 2017
A Republican Senator.

(FYI—Corker supported gutting Obamacare and so much other ugliness. He's not a hero, but the tweet is wild.) https://t.co/qVpWGRobHW

— Shaun King (@ShaunKing) October 8, 2017
The senator spoke at Trump campaign rallies leading up to the Republican National Convention in July 2016, said Trump could could "change the trajectory of this country" for the better, and lamented the "caricature" that "the media" was making of him.
That Corker began speaking out against Trump once Trump took aim at him isn't exactly a display of heroism.
Though their animosity has been ongoing for a few months, Corker's latest comments come in the wake of Trump calling him a "negative voice" in Congress who was "largely responsible for the horrendous Iran deal." In a series of Sunday-morning tweets, Trump also said that Corker "begged" for Trump's endorsement but he had said "NO," that Corker couldn't win without the endorsement, and that he had also rejected Corker's pleas to be Secretary of State.
And it's not just that Corker has been, at best, very slow to see Trump's shortcomings. A rich construction company owner before being elected, Corker also came to power with a little help from feeding racial resentment. He supported access to legal abortion until it wasn't fashionable for him to do so anymore, and is willing to buck party lines for pet big-government policies.
Last May, "a Republican who knows Corker well" described him to Politico as an independent "tough guy" who was "frustrated by being in the Senate and not getting anything done," "not afraid to buck the old guard," and "no dummy: He jumped out on the Trump thing early."
And then when it was no longer politically advantageous, he jumped off—at least publicly. As James Fallows writes at The Atlantic, Corker's comments may be "doing more than his colleagues have," but they're not worth much if not followed by some sort of concrete distancing actions.
Maybe Corker could start by pushing for limits on executive power—for changes that would make it harder for Trump, or any other president, to cause an international catastrophe. Or at least he might stop backing foreign-policy moves that could have their own globally catastrophic consequences.