'We Own This Property…It's Ours Until We Are Done'
Cops raid the wrong house...again.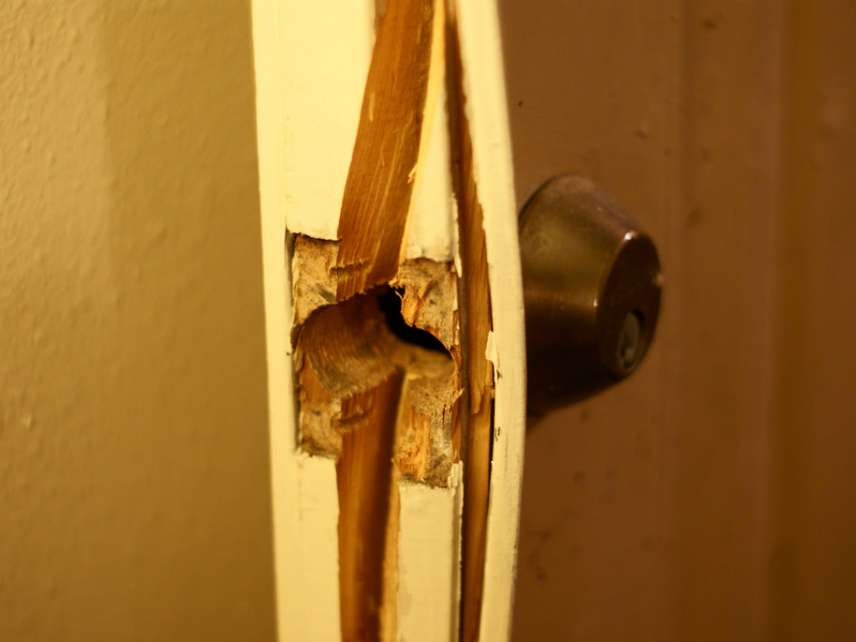 The Fourth Amendment requires police to obtain a warrant before searching a private home. It also requires that the home they end up searching is the one they actually have the warrant for.
Sheriff's deputies in Van Buren County, Iowa, were golden on that first requirement when they raided Michael Owings' house on June 27 for suspected drug possession. They did indeed have a warrant.
Unfortunately for them—and for Owings—their warrant allowed them to search the house of one Gary Shelley, Owings' neighbor.
In a suit filed yesterday in U.S. District Court, Owings accuses Van Buren County Sheriff Deputy John Zane and four unnamed deputies of displaying a "gross disregard" for his constitutional rights by conducting "a flagrantly illegal entry of his private residence."
The story began on June 26, when Zane carried out a traffic stop. In the course of the stop, he got a tip that illegal drug use and distribution might be going on at Shelley's residence, a two-story farm house on rural Heather Avenue. Police promptly got a warrant for Shelley's house. But they showed up at Owings' mobile home, about a third of a mile up the road.
Owings was not home at the time, but his lawsuit says there were several signs that cops had arrived at the wrong house. One was an actual sign prominently listing the address at the gate of the property. Another was a name plate reading "Owings" located next to the front door.
Undeterred, the deputies forced their way into the home, where they encountered further evidence that they were in the wrong place, including prescription bottles and bank statements bearing Owings name. To top it all off, Owings' mother and girlfriend arrived while police were still tearing through the place; they flat out told the officers that they had the wrong house.
According to the lawsuit, deputies responded by saying, "We own this property…it's ours until we are done."
The search turned up no illegal activity, and the police eventually cleared out, though not before removing items from the house and damaging the property.
Sadly, wrong-address raids are not unusual in the United States. Many of these cases lead to tragic consequences. Back in July, police in Southaven, Mississippi, killed Ismael Lopez while looking for an assault suspect at the wrong address. In 2015, Miami cops "destroyed" the home of 90-year-old woman while searching for drugs they never found. In 2012, while conducting a wrong-door raid in St. Paul, Minnesota, police killed the family dog and then forced three handcuffed children to sit by their dying pet while officers smashed up their home.
Owings is demanding compensation for the damage done to his property, for the violation of his Fourth Amendment rights, and for emotional distress. A court date has not been set.