What Does Child Porn Smell Like? DHS Is Training Dogs To Sniff it Out
Meet Charlie, a two-year-old dog with "game-changing abilities," according to law-enforcement types.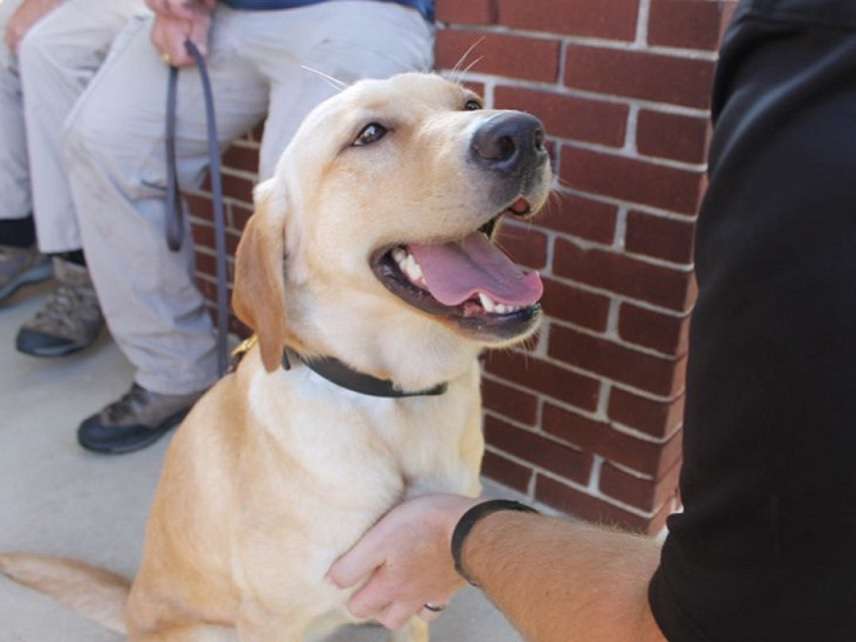 To paraphrase the astronomer Arthur Eddington, not only is law enforcement more insane than we imagine, it's more insane than we can imagine. Indeed, when the feds aren't wasting time failing to decipher the lyrics to "Louie, Louie," they are training dogs to sniff out…child pornography. No kidding:
"Today we're announcing a new weapon in the war against child victimization, child exploitation," [Delaware County (Pennsylvania) District Attorney Jack] Whelan said. "And the name of that weapon, the name of that special tool, is Charlie."…

Marlon V. Miller, a special agent in charge of Homeland Security in Philadelphia, said Charlie has "game-changing abilities."

"As technology advances, devices become smaller and smaller, and criminals are better able to hide the elements of their crime," Miller said.

That's where Charlie comes in. During her training, the K-9 located a micro-SD card — roughly the size of a fingernail — under a carpet.
According to Philly.com, Charlie—a female yellow Labrador retriever—is an "'electronic-detection forensic K-9.' The first of her kind in Pennsylvania and one of fewer than two dozen nationwide, Charlie will be deployed with the Internet Crimes Against Children Pennsylvania Task Force, tasked with sniffing out small hidden electronics, from CD-ROMs to flash drives, in suspected predators' homes."
The Department of Homeland Security (DHS) paid $9,500 for Charlie, plus another $1,100 in taxpayer-funded training. But if you think the benefits of having a dog that can root out SD cards with porn on them ends there, you'd be wrong. Charlie is also a good friend to the cop, Nat Evans, who handles him: "I've got a pet at home and I've got a buddy that comes with me to and from work," Evans told Philly.com, adding that the dog is "therapeutic" for him too.
This sort of thing is, in a word, idiotic. And unscientific.
As Jacob Sullum reported in 2013, dogs trained to sniff out contraband (in most cases, drugs) are wildly inaccurate and often poorly trained at all. Those reports you read about dogs being able to magically sniff out this or that substance are pharmaceutical-grade bunkum. In a 2005 case involving drug-sniffing dogs, writes Sullum,
[Supreme Court Justice David] Souter said, "the infallible dog…is a creature of legal fiction." Souter cited examples of dogs accepted as reliable by courts that had error rates of up to 38 percent. He added that "dogs in artificial testing situations return false positives anywhere from 12.5 to 60 percent of the time."

If anything, Souter gave drug-sniffing dogs too much credit. A 2011 Chicago Tribune analysis of data from suburban police departments found that vehicle searches justified by a dog's alert failed to turn up drugs or drug paraphernalia 56 percent of the time. In 1979 six police dogs at two public schools in Highland, Indiana, alerted to 50 students, only 17 of whom possessed contraband (marijuana, drug paraphernalia, and cans of beer), meaning the false positive rate was 66 percent. Looking at the performance of an Illinois state police K-9 team during an 11-month period in 2007 and 2008, Huffington Post reporter Radley Balko found that the dog sniffed 252 vehicles and alerted 136 times, but 74 percent of the searches triggered by those alerts did not find measurable amounts of illegal drugs. Similarly, a 2006 study by the New South Wales Ombudsman in Australia, an independent agency analogous to the U.S. Government Accountability Office, looked at more than 10,000 searches of people triggered by dog alerts and discovered that 74 percent of them found no illegal drugs. More-recent data from New South Wales indicate an even higher error rate: 80 percent in 2011.

Those numbers look almost respectable compared to the results of a 1984 operation in which Florida state police stopped about 1,330 vehicles at roadblocks and walked dogs around them. If one dog alerted, another was brought in, and vehicles were searched only if both dogs indicated the presence of illegal drugs. That happened 28 times, but those searches yielded just one drug arrest. In other words, even when two dogs both signaled the presence of drugs, they were wrong 96 percent of the time.
It turns out that dogs mostly respond to their handlers and routinely infer when they should alert on a car, or a school locker, or a piece of luggage. That didn't stop the Supreme Court in Illinois v. Caballes from ruling "the use of a well-trained narcotics-detecting dog…during a lawful traffic stop generally does not implicate legitimate privacy interests," effectively giving cops an extraordinarily long leash to run around the Fourth Amendment. In 2014, the high court further ruled a police dog's alert is enough to trigger a search and that a defendant would need to prove that a given mutt is particularly bad at its job. If you think holding human cops accountable is tough, it's even more difficult when it comes to K-9s. The only good news on the sniffing-dog front came in 2015, when the Supreme Court ruled that prolonging a routine traffic stop so that police could let a dog wander around a vehicle was unconstitutional.
But that was then and now is now and we really need "electronic-detection forensic K-9s" because now that pot is being legalized everywhere, well, we don't want to send all these pooches off to the Hotel Terminus for Dogs or something.