Plainclothes Cop Caught on Video Pointing Gun, Threatening Motorcyclist.
If a cop does something he's not supposed to, why isn't he fired immediately?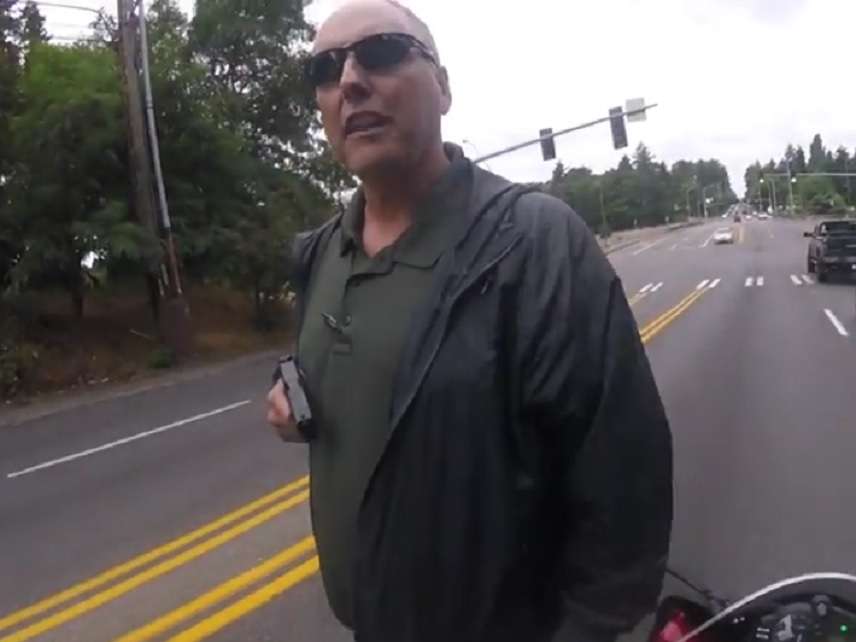 A video posted to YouTube shows a plainclothes detective in King County, Washington, approach a motorcyclist with his gun already drawn and accuse him of reckless driving and speeding before identifying himself as a cop.
"Give me your driver's license or I'll knock you off this bike," the detective tells the motorcyclist, Alex Randall, later threatening to "dunk him" if he moves his bike.
The detective ignores multiple requests by Randall for permission to take off his helmet and turn off his bike to hear him better.
The detective identifies himself as police only when Randall tells him he's sorry that he gets panicked when there's a gun drawn on him. At that point the cop had already pulled the man's wallet out of his pocket.
Eventually, the detective gets around to asking Randall why he was driving 100 miles an hour. Randall doesn't give an answer—and why would he given the road rage the detective had just displayed?
The detective does not write Randall any citations, even though he tells Randall what he allegedly did was an "arrestable offense" and that he could impound his bike if he wanted to.
Randall says he's filed a complaint with the sheriff's department and the county's Office of Law Enforcement Oversight. "I am still conducting an independent investigation and will make a follow up video once it concludes," Randall writes in the description of the YouTube video he posted.
King County Sheriff John Urquhart insists it is never appropriate for his officers to wield a service weapon in that way. Urquhart, however, decided to place the detective, who has not been identified, on administrative leave rather than fire him.
"There's nothing standard about approaching a driver with a pistol out. That should not have happened," Urquhart told the local Fox affiliate. He also stressed he hadn't yet gotten the detective's side of the story.
Randall says Urquhart called him personally to apologize. But how sorry can the sheriff be? If he's truly interested in reducing this kind of behavior, monitoring YouTube for viral videos and then handing out administrative leaves isn't sufficient. The process for disciplining and dismissing cops who show a reckless abandon for the rules they are supposed to follow, ought to be taken seriously.
You can watch Randall's YouTube video here: