Governors Challenge Jeff Sessions' Tendentious Questions About Legal Pot
By asking states to regulate marijuana better, the attorney general concedes that prohibition is gone for good.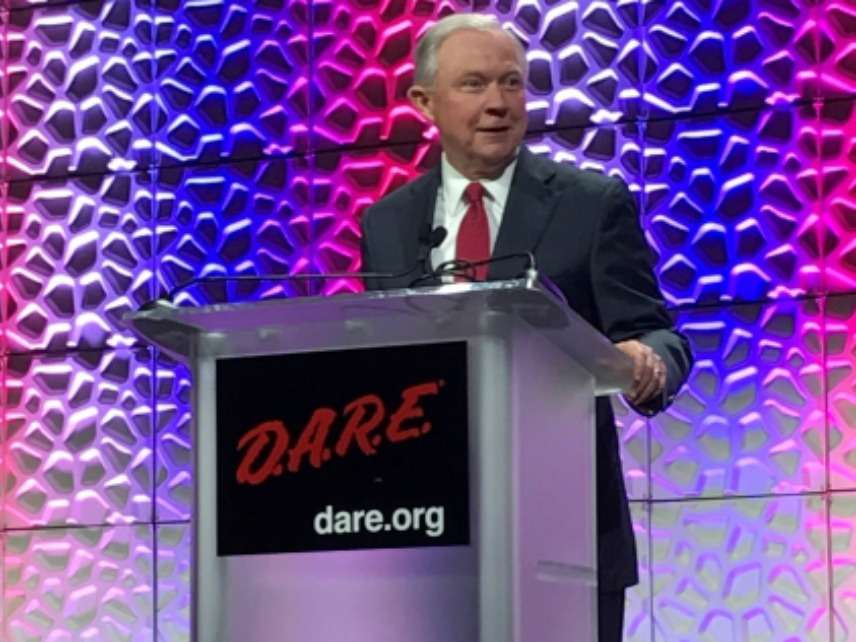 Officials in Washington and Alaska are pushing back against Attorney General Jeff Sessions' tendentious questions about the consequences of marijuana legalization in those states, and similar resistance is likely from Colorado and Oregon. The exchange suggests how complicated it may be for Sessions to find reasons to crack down on state-licensed marijuana businesses without explicitly reversing the Obama administration's policy of leaving them alone unless they implicate "federal law enforcement priorities."
On July 24, Sessions sent letters to the governors of Alaska, Colorado, Oregon, and Washington, the first four states to allow recreational use of marijuana. He argued that legalization had led to serious problems and asked what state officials planned to do about them.
The letters relied heavily on reports from High Intensity Drug Trafficking Areas (HIDTAs), regional task forces that are committed to opposing legalization and skew information with that goal in mind. In his letter to Washington Gov. Jay Inslee and Attorney General Bob Ferguson, for instance, Sessions asked "how Washington plans to address the findings in the Northwest HIDTA report, including efforts to ensure that all marijuana activity is compliant with state marijuana laws, to combat diversion of marijuana, to protect public health and safety, and to prevent marijuana use by minors."
In their August 15 reply, which was obtained by The Cannabist, Inslee and Ferguson say some of those findings are "outdated, incorrect, or based on incomplete information." Sessions, for example, quoted a 2016 HIDTA report as saying that Washington's medical marijuana market "is considered 'grey' due to the lack of regulation and oversight." But that report preceded legislation that required all dispensaries to shut down or obtain licenses and comply with state regulations.
Inslee and Ferguson also complain that "your letter repeatedly fails to distinguish between marijuana activity that is legal and illegal under state law," as when it cites explosions at illegal THC extraction labs or mentions the Northwest HIDTA's claim that Washington marijuana has been found in "43 other states" without specifying whether any of it it was obtained from state-licensed suppliers. In fact, Inslee and Ferguson note, "this statistic covers several years before our recreational sales even began."
Sessions' numbers regarding stoned driving are equally unilluminating. "Several of the statistics quoted in your letter on the increasing incidence of marijuana DUIs are distorted by the fact that the testing regime has changed with state legalization," Inslee and Ferguson say. "Prior to marijuana legalization, blood testing for THC at suspected DUI traffic stops was substantially less common. Consequently, comparable statistics do not exist." Another complication is that a positive test for THC does not necessarily mean the driver was impaired.
In their August 14 reply to Sessions (which was also obtained by The Cannabist), Alaska Gov. Bill Walker and Attorney General Jahna Lindemuth raise an even more decisive objection to Sessions' numbers. "Pointing to our 2015 Annual Drug Report, your July 24 letter questions whether our regulatory framework adequately protects federal interests," they write. "As an initial matter, the statistics in the 2015 report cannot be fairly attributed to the industry since sales from state-licensed businesses did not begin until 2016. The report simply does not speak to the success or failure of the new regulatory framework."
Sessions, like the HIDTAs on which he relies, is obviously eager to impugn legalization, so eager that he does not let facts or logic get in his way. But since he is ostensibly engaged in a collaborative effort with state officials, he can expect to be challenged whenever he goes beyond what we actually know about the consequences of legalization. That dialogue could continue for years, since it really is too early, just three years after legal recreational sales began in Colorado and Washingston, to draw firm conclusions on this subject.
For the time being, Sessions is continuing to enforce the 2013 memo from Deputy Attorney General James Cole that suggested state-legal cannabusinesses needn't worry about federal prosecution unless they do something that undermines DOJ enforcement priorities such as preventing underage consumption, interstate smuggling, and drugged driving. The difference is that Sessions is making a show of asking states what they are doing to address those priorities.
Given the Cole memo's deliberate ambiguity, Sessions could use it to justify a broad crackdown on the newly legal cannabis industry. Instead of going after pot shops that violate state law by selling to minors, for example, he could say the potential for diversion from adult buyers makes all marijuana merchants legitimate targets. Likewise with interstate smuggling: Sessions could decide that even growers who who are not deliberately supplying the black market are contributing to the problem by producing marijuana that ends up in other states. And although retailers have no control over how people use the products they sell, Sessions could say it is their fault whenever one of their customers drives while stoned. If Sessions insists on the complete elimination of those problems, as Mike Riggs observed a couple of weeks ago, he is asking states with legal marijuana to do the impossible.
But Sessions does not seem inclined to take that position, which would be tantamount to scrapping the Cole memo altogether. Such broad interference would be politically perilous, and Sessions probably would not like the practical results either, since eliminating conspicuous cannabusinesses would only make the market harder to control. State officials will continue to maintain, as both of these letters do, that licensing and regulation serve federal interests better than a return to the black or gray market would, and Sessions is not even trying to dispute that point. By asking states to regulate better, he implicitly concedes that prohibition is gone for good.