African Americans Are Eight Times More Likely to Be Victims of Homicide Than Whites, Says CDC
The murder rate fell from 9.8 per 100,000 residents in 1991 to 4.5 in 2014; it's estimated at 5.3 for 2016.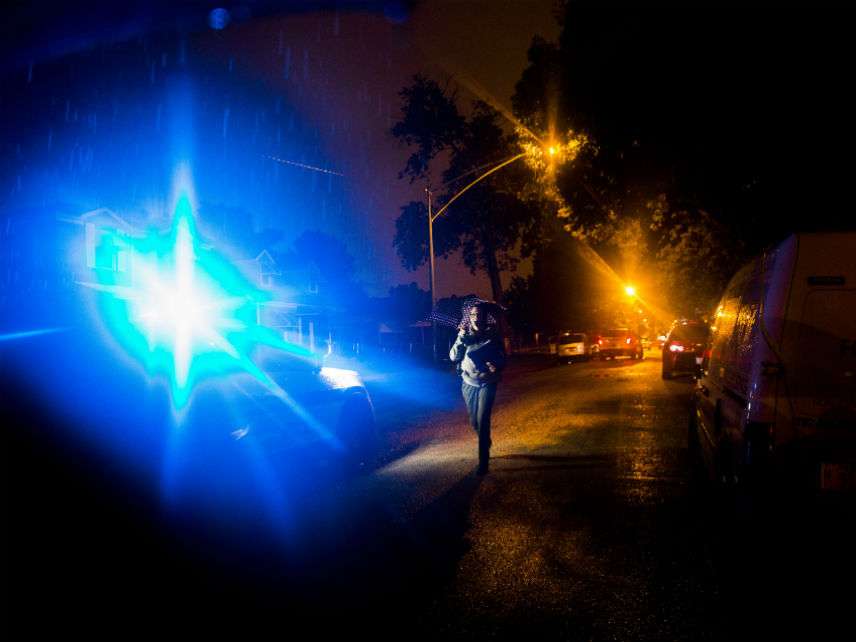 Black Americans are eight times more likely than white Americans to be the victims of a homicide. That's just one of the less-than-cheery bit of news the Centers for Disease Control (CDC) has reveals in "Age-Adjusted Rates for Homicides by Race/Ethnicity—United States, 1999-2015," where it notes:
During 1999–2014, a general decline in homicide trends for non-Hispanic white, non-Hispanic black, and Hispanic populations occurred, followed by a significant increase in the rates for all three groups between 2014 and 2015. In 2015, homicide rates were 5.7 deaths per 100,000 for the total population, 20.9 for non-Hispanic blacks, 4.9 for Hispanics, and 2.6 for non-Hispanic whites.
The good news is that U.S. homicide rates declined steeply over the past three decades. As the Bureau of Justice Statistics reports, the homicide rate increased from 4.6 per 100,000 U.S. residents in 1962 to 10.2 per 100,000 in 1980. The rate then fell to 7.9 per 100,000 in 1984, rose again to another peak in 1991 at 9.8 per 100,000, and then started plunging back down. It reached a nadir of 4.5 per 100,000 in 2014 before rising back to 5.7.
How does the U.S. fare in comparison with other countries? Our Southern neighbors are for the most part doing much worse than we are. The homicide rate in Venezuela is now estimated at 90 per 100,000 citizens; the rate in El Salvador fell from 103.1 in 2015 to 80.9 per 100,000 last year; the rate in Honduras has dropped from 86.5 in 2011 to 60 per 100,000 in 2015. Mexico's 2016 murder rate, at 16 per 100,000, is comparatively low, but murders there surged to over 2,000 in May, the highest for any month in the last two decades.
On the other hand, Canada's 2015 homicide rate was just 1.7 per 100,000 residents. The average in the European Union hovers around 1 per 100,000 residents. The World Bank calculates that the global murder rate is about 5.3 per 100,000 Earthlings.
While homicide victimization rates fell among blacks and Hispanics fell during the past three decades, they have remained persistently higher than the rate for whites. At the 1991 peak, black Americans were murdered at a rate of 39.3 per 100,000; the Hispanic toll stood at 6 per 100,000; the white rate was 5.5 per 100,000. As the CDC data show, the murder rates for both black and white residents have essentially been cut in half, whereas the Hispanic rate is only about 20 percent lower. As a result of the differential in dropping murder rates, the gap between black and white homicide victimization rates fell more than 50 percent.
Why are homicide victimization rates so much higher in the African-American community? The University of Missouri-St. Louis criminologist Richard Rosenfeld addressed the question in a 2016 study of murder rates in several big cities. He considered three possible explanations, which are not mutually exclusive: an expansion of urban drug markets fueled by the heroin trade; a greater number of prisoners being released into the nation's cities; and a "Ferguson effect" in which the police respond to protests by de-policing. Rosenfeld concluded that the data that might underpin any of these hypotheses were inconclusive.
How can we get back on the track toward falling murder rates? One good first step would be to end the drug war, as my colleague Eric Boehm has suggested. That would eliminate at least some of the violence associated with the black market for drugs, which may account for as much as 25 percent of all homicides.