Missouri Attorney General Hawley Files Desperate and Deceptive Motion to Dismiss Backpage Lawsuit
AG Josh Hawley's "new evidence" against the U.S. company is actions carried out by foreign contractors for foreign websites.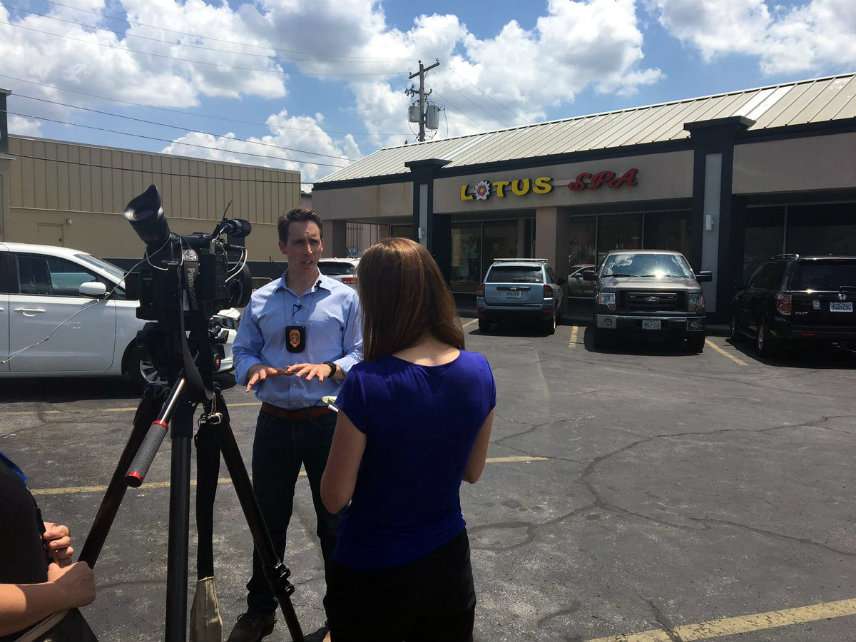 Missouri Attorney General Josh Hawley claimed he has "new evidence" showing that the classifieds site "Backpage has directly and actively promoted illegal sex trafficking."
But the only thing new is Hawley's level of desperation and deceit.
Hawley, who was elected attorney general last November and has U.S. Senate ambitions, is the latest in a long line of state law-enforcement authorities to seek attention by scapegoating an online ad platform and subjecting it to unconstitutional demands. Craigslist was the test case, but Backpage has become the enduring target of state prosecutors because it hasn't been hesitant to fight back—and in almost all cases, win.
Despite the hysterical antics from elected officials, there has never been any evidence that Backpage leaders knowingly promoted forced or underage prostitution, nor that they've behaved in ways that would exclude them from the immunity provided to open publishing platforms under federal law.
Among the "new" evidence that Hawley submitted to the U.S. District Court for the Eastern District of Missouri is a January report from the Senate's Permanent Subcommittee on Investigations. Despite the senators having access to all of the internal Backpage data and hosting a theatrical in-person inquiry, they found nothing sufficient to spur a criminal investigation or any charges.
Hawley also submitted the transcript of an audio recording seized from Philippines company Avion, in which an Avion employee contacts a London sex worker. Hawley also played the call reporters at a press conference.
What does not get so much as a mention in Hawley's motion is that this call and all of the adult-ad generation done for Backpage involved only non-U.S. employees of Avion advertising on non-U.S. platforms. None of it has any bearing on his current case.
A state attorney general cannot attempt to prosecute foreign contractors for ads created and posted in foreign countries. And it is legal for Backpage contractors to generate adult ads abroad, where the rules governing web-publishing platforms and legal liability for content vary (and prostitution in certain forms may be legal).
Hawley's actions here should be seen for what they are: a sneaky attempt to build credibility in his illegal crusade.
Not long after he took office in January 2017, Hawley attempted to compel Backpage to surrender a trove of internal files and information. His order was not part of any criminal investigation but rather a civil investigative demand—a kind of subpoena attorneys general use to investigate potential consumer fraud.
In a letter to Backpage CEO Carl Ferrer, Hawley wrote "the Attorney General of the State of Missouri believes it to be in the public interest that an investigation be made to ascertain whether [agents of Backpage.com] have engaged in or are engaging in any merchandising practices declared to be unlawful" under the state's merchandising practices law.
Backpage lawyers responded with a motion to block Hawley from enforcing the order and "from further pursuing or threatening other action against Backpage. It was "based on Backpage's statutory immunity from state law claims based on its activities as an online publisher and distributor of third-party content, and on Backpage's constitutional rights under the First, Fourth, and Fifth Amendments."
Hawley fired back this week with a motion to dismiss Backpage's suit and a public relations offensive. "I have filed a motion against Backpage.com containing explosive new revelations," the attorney general tweeted from his official account on Tuesday.
"My message to Backpage is this: The truth is coming for you," stated Hawley in a press release. "We have evidence including audio recordings, photos and various documents. You cannot hide from the truth. And I will not stop until the full truth about Backpage's involvement in trafficking is exposed and those responsible are held to account."
The St. Louis Post-Dispatch later that day dutifully reported Hawley had audio of "a woman who works for Backpage.com … speaking to a woman who has posted an ad elsewhere offering underage sex. The Backpage employee tries to get her to post the ad to Backpage."
Not only was the caller not a Backpage employee, the person posting the ad is underage only in Hawley's imagination. On the call, an Avion employee talks to someone who was advertising their services on the U.K. classified-ad site Viva Street under the heading "Sexy, Naturally Super-Busted, Discreet in South Kensington Lolita." Hawley claims that this ad must have been for a child because Lolita "is of course … a universal word for for the commercial sex trafficking of underage victims."
Hawley has provided no evidence to back up the absurd assertion. In the real world, "Lolita" is one of many terms—like "new" and "barely legal"—that young adult sex workers employ to market themselves.
Viva Street, like Backpage, requires all ad posters to be at least 18-years-old and watches for images that appear to contain underage individuals. Avion employees were given ample instruction from Backpage to avoid ads featuring minors or other illegal content.
Hawley also presents no other evidence that suggests the sex-trafficking of minors.
Documents provided by Hawley to the court do show that Avion contractors were assigned several roles, with some soliciting (G-rated) job ads from competitors sites in the U.S. and abroad; some soliciting escort and erotic-massage ads from and for foreign websites; and some screening ads for prohibited words or terms (such as direct references to sex for money). This is similar to what reporters from The Washington Post reported in July, in an article Hawley cites in his argument. (For some scrutiny of the Post findings, see my earlier post.)
Avion agents were assigned to scour Backpage competitor's sites in countries across Europe for posts fit to transfer to Backpage domains in these countries. Agents were to copy ad-content from the the other sites into a draft Backpage ad, then email the ad's poster with an option to activate their first Backpage ad for free.
As with previous prosecutorial overreach aimed at Backpage, Hawley has been using the salacious nature of some of these ads as a stand-in for actually proving that they represented anything illegal (or actionable by state prosecutors). Alas, this approach often works on the public (and press), who are primed with "human trafficking" and then presented with legal sex-work ads as evidence. Luckily, our courts have not been so easily confused thus far; let's hope Missouri's Eastern District court follows suit.