Oregon Town Cracks Down on Pot-Selling Robotic Blonde Mannequins
A constitutionally dubious ordinance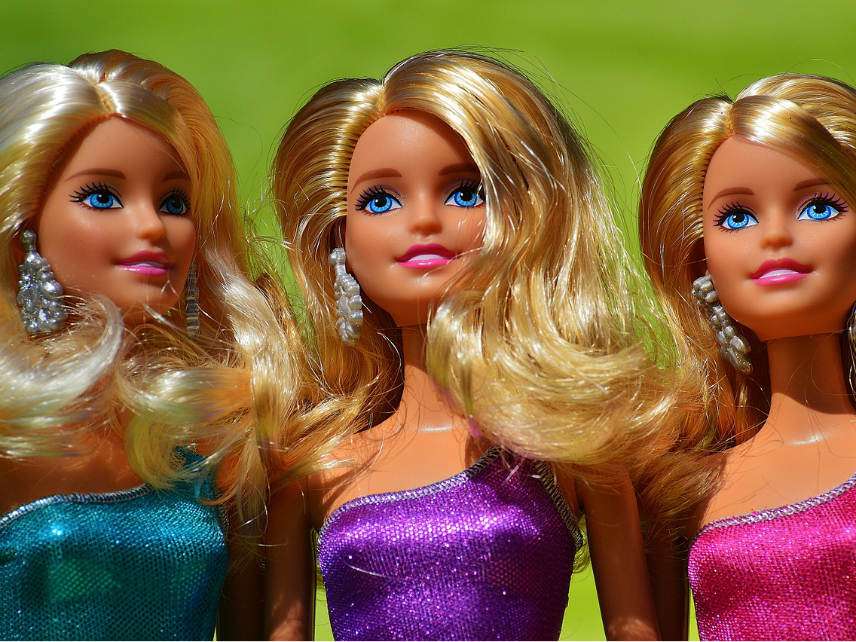 The new trend in the Pacific Northwest is cracking down on marijuana dispensary mascots. First there was the Washington cannabis bill that banned costumed mascots and inflatable arm-flailing tubemen from advertising for cannabusinesses. Now the town of Wood Village, Oregon, is fining Aaron Michelsen, owner of NW Compassion Medical Center, $2,000 for the two buxom, sign-wielding mannequins he had stationed outside his store.
Michelson was told his blonde mannequins—which wave signs reading "got chronic" when plugged in—ran afoul of Wood Village's recent sign ordinance, which among other things bans "portable signs." Michelsen netted another $1,000 fine for a placing a prohibited rooftop sign atop his cupcake store, which is ingeniously located in the same building as his marijuana dispensary.
City Manager Bill Petersen told the Portland Tribune that the fines were not about persecuting pot, insisting that they were a neutral enforcement of a statute that was "being uniformly applied regardless of the business type." But Wood Village's ordinance does in fact create different standards for different business types. The portable sign provision that got Michelsen in trouble, for instance, creates exemptions for real estate businesses, political campaigns, and garage sales.
Not only is that not uniform regulation, it's also likely unconstitutional.
"When you have an ordinance that regulates who can use a type of medium or signage, that is presumably unconstitutional," says William Mauer, an Institute for Justice attorney who has litigated similar cases in the past.
The Supreme Court took up this issue in 2015, when it heard the case of Reed v. Town of Gilbert. A small Arizona church had sued over a local sign ordinance that allowed it to deploy temporary signs only in the 12 hours prior to any church service. It also required those signs be no larger than six square feet. Meanwhile, temporary political signs could be set up at any time and could be 32 square feet. This, the Court ruled unanimously, was unconstitutional. Justice Clarence Thomas declared the ordinance a "paradigmatic example of content-based discrimination."
Wood Village's ordinance seems to have many of the same problems as the Gilbert one, specifying the different sign sizes and number of display days that are allowed for temporary signs, depending on whether they for a construction site, garage sale, political campaign, or real estate.
Part of the point of the First Amendment is to prevent such petty restrictions on expression. The City of Wood Village should recognize this and let Michelsen's life-sized, drug-pushing barbies do their work unmolested.