Damning New Report Shows How Oakland Cops Covered Up Their Sexual Exploitation of a Minor
Making matters worse, the report concludes, was "the tone at the top."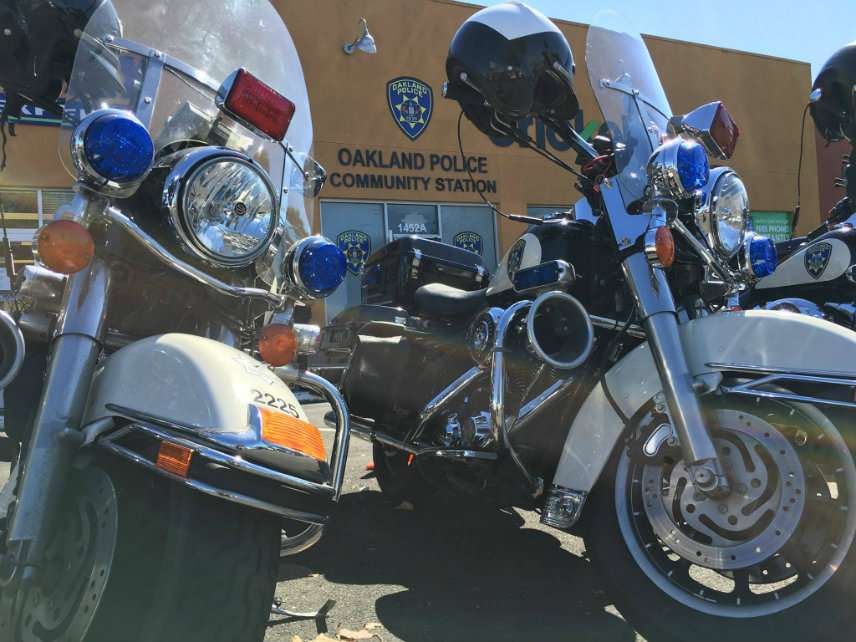 While Kamala Harris was bringing trumped-up child-exploitation charges against a classifieds website, a cadre of California cops was actually paying, pimping, and passing around an underage girl for sex and getting away with it. A damning new report explains the extent that the Oakland Police Department (OPD) was involved with the girl, who goes by the pseudonym Celeste Guap, and also details OPD leadership's myriad attempts to make the scandal disappear.
Throughout the investigation of the cops, Guap, now 19, was treated like a suspect. One investigator even called Guap a "whore." Others accused her of lying and later misrepresented her statements to their bosses.
On Monday, a federal judge rebuked the City of Oakland and its police for the "severely mishandled" investigation. Since 2003 the OPD has been subject to federal oversight, thanks to racially biased policing, excessive use of force, and a refusal to comply with attempts at reform. The Guap case came along just as the Oakland police were starting to show some signs of improvement—and quickly "scuttled the city's attempt to get out from under 15 years of federal court supervision," notes NBC.
'I Was 17'
The probe started after the September 2015 suicide of Officer Brendan O'Brien. In a note, O'Brien described Guap as the catalyst for his decision. He said they had met through Facebook earlier that year and struck up a relationship—a nonsexual one, he claimed, though Guap said differently—that ended when she threatened to expose it.
Screenshotted conversations found on O'Brien's phone (he left his passcode in his suicide note) show Guap texting with O'Brien and at least one other officer. In these conversations, Guap—the daughter of an OPD police dispatcher—claims to have "been involved" with many OPD cops, including O'Brien, while she was still legally a child. She would later tell investigators that she first started sleeping with local police officers when she was 14 years old.
On her 18th birthday, Guap told O'Brien that another officer—referred to in court documents as Officer B—was now her boyfriend, that he knew she was involved in prostitution, and that he claimed to want to help her but she didn't believe him. A few weeks later, she sent O'Brien screenshots she had sent Officer B's wife, in which Guap had shared her conversations with Officer B and wrote simply, "I was 17."
After O'Brien's suicide, OPD's Criminal Investigation Division (CID) began looking into the matter—then quickly dropped it.
The only witness CID interviewed was Guap. It "did not follow up on any leads stemming from that interview and did not seek out witnesses or documentary evidence," according to federal investigator's report on the situation, which was released in late June and is known as the Swanson Report. Investigators quickly wrote off Guap as "not credible" and "failed to pursue her allegations vigorously in part because of who [Guap] was and how she responded to being interviewed by OPD."
Here's how the Swanson report sums up a recorded video of CID's one and only interview with Guap (emphasis mine):
[I]n the course of the interview, [Guap], who the investigators knew had turned 18 only one month before, named Officer C as someone with whom she had had sex. When asked where their encounter took place, [Guap] said, "What if it was in public? Could he go to jail? I don't want him to go to jail….I don't want him to catch a [public indecency] charge." She also referred to Officer B as her "boo."

At one point [Guap] cried while describing an incident in which she video-called a former OPD officer because she "needed his help." She said the officer "saw everything that happened to me, and he just watched it, and then he didn't like me [any] more." The investigators pushed [Guap] to describe what the officer saw happen to her, but [Guap] refused to tell the investigators, because she said she knew the officer was a mandated reporter and did not want to get him in trouble….

When the lead investigator told [Guap] that Officer O'Brien wrote in his suicide note that everything [Guap] said would be a lie, [Guap] told him that they had the texts, including those in which [Guap] told Officer O'Brien she was near his house. The investigator also told [Guap] that her threats to expose Officer O'Brien for having sex with her while she was underage were one of the main catalysts for Officer O'Brien's suicide. The victim later identified both of these tactics as ones that made her disinclined to share information. She felt the investigators implied she would not be believed, and if she were, she would cause additional officers to hurt themselves.

[Guap] then acknowledged having had sex with several OPD officers but said she had been 18 at the time. When the investigator pointed out that [Guap] had been 18 for only one month, [Guap] said she had sex with three OPD officers during the week of the interview.

At a break in the interview, when investigators stepped out but [Guap] remained in the room, she called a friend on her cell phone. She continued to be recorded while the investigators were out of the room, and she could be viewed on a monitor in another room. On the call, [Guap] said the investigators were asking her about her "relationships with" OPD officers, but she intended to "deny, deny, deny" to avoid getting officers in trouble….After the break, [Guap] told the investigators that she did not want to "snitch" because then OPD officers would not "fuck with" her, and she had a relationship with someone in the Department who thought he was her "only one" and who would think poorly of her if he learned about "all this." [Guap] asked the investigators, "Can't I just say it's not true and we move on with our life?"

At one point, the investigator again reminded [Guap] that her threats to expose Officer O'Brien had been a catalyst for his suicide, and the investigator wanted to prevent another officer from hurting himself if [Guap] were to get mad at them. [Guap] picked up her phone and told the investigator she would delete all her messages with officers so that she could not blackmail them in the future. [Guap] then began deleting her messages with officers, covering the names of the individuals but stating they worked for OPD. The lead investigator told [Guap] not to delete the messages and asked to see them, but [Guap] continued to delete the messages, counting out the officers one by one as she deleted her messages with each. In total, [Guap] appeared to have deleted her messages with at least six officers. Finally, the second investigator changed the subject, and [Guap] turned her focus away from her phone.
After this interview, CID determined no criminal activity had taken place and referred the investigation to the Internal Affairs Division (IAD). CID's summary of the case claimed that Guap had "made it clear" nothing inappropriate had taken place.
A Tale of Two Interviews
Internal Affairs was equally dismissive. Just one investigator was assigned to the case, and he "spoke to [Guap] only by phone, gathered no electronic evidence, ignored important leads and the advice of a Deputy City Attorney, and ultimately concluded the appropriate result was that only one officer should be disciplined."
"Throughout the [one phone] interview, the investigator's tone alternated between frustrated, angry, and patronizing," according to the Swanson Report. "The investigator's first line of questioning was to establish that [Guap] was a prostitute. The next line of questioning was to discuss [Guap]'s mother, her position in the Department, and what she knew about [Guap]'s involvement with officers. Both lines of questioning caused [Guap] to become upset and concerned that she or her mother were in trouble."
In addition to asking questions the wrong questions, IAD failed to follow up on the right ones.
For example, at one point the investigator discussed the allegations that [Guap] had made…[and] asked [Guap], "What about you telling the investigators you had sex with him in public or on top of a car or something like that?" [Guap] said, "Oh I did admit to it? Oh god, yeah I did."

The investigator did not clarify that [Guap] was confirming that she had had sex with Officer C in public. Nor did the investigator attempt to gather other details, such as when and where the incident had occurred. [Guap] later confirmed Officer C had sex with her when she was an adult. The investigator asked if Officer C knew [Guap] was a prostitute, and [Guap] said she thought everyone knew.
After this call, in October 2015, no one from IAD attempted to contact Guap again until the court intervened.
"In contrast with the interview of [Guap]," the Swanson Report notes, "the IAD investigator's tone with the subject officers was friendly and non-confrontational." Here is its summary (emphasis again mine):
In their interviews, Officer B and Officer C both admitted to exchanging messages of a sexual nature with [Guap], and Officer B admitted that he sent [Guap] a picture of his penis. Both officers denied ever having met [Guap] in person. Both officers named other OPD officers who had had contact with [Guap] through Facebook.

The investigator failed to ask follow-up questions during several key moments of Officer B's interview. For example, Officer B admitted to knowing that [Guap] rented a hotel room to have scheduled sex with eight men. Officer B said he knew [Guap] was an "escort," that "escorting" was still how [Guap] made her money, and that [Guap] had "started through Craigslist." Eventually a second IAD investigator who was participating in the interview asked Officer B whether [Guap] solicited him to have sex with her for money, saying, "You know she's a whore…."

Officer B denied being solicited to have sex for money but did not deny knowing [Guap] was, as the IAD investigator put it, "a whore." Officer B told the investigator that he was trying to "help" [Guap] to "give up that life" and to encourage her to get a "real" job. When Officer B later admitted to sending [Guap] a picture of his penis, the investigator did not…press Officer B as to why he would send a picture of his penis to someone he claimed to be "mentoring."
After this interview, the IAD investigator downgraded Officers B and C from suspects to witnesses. After a supervisor raised concerns, and suggested moving them back to suspects, the investigator replied that he was "thinking about how that would affect the department." The investigator would later ignore questions from an Oakland city attorney assigned to review his report.
A few weeks later, the IAD Commander informed sent instruction that "[C]hief wants the O'Brien caper finished."
'Good' Victims
The chief wouldn't get his wish. When the federal monitor got wind of the situation, in March 2016, U.S. District Judge Thelton Henderson ordered an official investigation into OPD's handling of the case. The result was the Swanson Report.
Initially, the IAD commander "excused the lack of sustained findings or probing investigation by telling the Monitoring Team and other members of OPD that the City Attorney's Office had advised IAD that the behavior was off-duty conduct and therefore could not be pursued in the investigation." According to two witnesses, Chief Sean Whent also blamed city prosecutors. But city attorneys never gave that advice to the IAD commander, to Whent, or to "anyone in IAD, at least as it related to this case," the court found. "Instead, OCA's advice, documented in emails and suggested edits, was to probe deeper with Officer B and other officers before determining whether the conduct merited discipline."
A new IAD lieutenant was assigned, and by using "more appropriate and effective investigative techniques than the original IAD investigator, treating [Guap] as a victim and expressing no judgment of her work as a prostitute or her use of drugs," the investigator "fairly quickly developed a rapport with the witness," leading to additional information and Guap giving IAD access to her cell phone.
Officers B and C were placed on administrate leave. The chief was forced to resign. "By the end of the completed IAD investigation, 12 then-current and former officers were disciplined as a result of their misconduct" the court notes. A parallel investigation from the District Attorney's Office led to criminal charges against four OPD officers.
Several police officers from neighboring Bay Area departments were also investigated and disciplined.
The Swanson Report slams CID and IAD for "not investigat[ing] more thoroughly in part because of an implicit but evident bias against the victim, based on the type of victim she was: one who initiated contact with the officers in question, who was involved in prostitution, and who used drugs and dealt with mental health issues." It goes on:
In our interviews, officers involved in CID's investigation continued to mischaracterize the content of [Guap]'s CID interview, describing her as having unequivocally denied any sexual relations with OPD officers, though that was not the case. They focused on [Guap]'s sometimes erratic behavior rather than on the realistic possibility that she had been exploited by OPD officers and that that exploitation was a cause of her erratic behavior….

Put simply, CID and IAD wrote off this victim. This is perhaps not an isolated occurrence, since witnesses from within and outside the Department described a hierarchy of victimhood that led some in OPD to prioritize cases involving "good" victims over victims with more complex histories.
Making matters worse, the report concludes, was "the tone at the top." Chief Whent "sent an unmistakable signal that this case was not a priority."
Before the feds stepped in, civil rights lawyers and California residents had been pleading for then-Attorney General Kamala Harris (now a U.S. senator) to open an independent investigation into the situation, since it spanned several police departments and involved allegations of coverups. During this same period, Harris was on a showy and unconstitutional crusade against executives at Backpage, claiming they were complicit in the sexual exploitation of teen girls. A judge dismissed the charges against Backpage execs while chastising Harris for her overreach; Harris responded by refiling nearly identical charges in another California court.
But she never responded to the petitions and pleas asking her to look into systemic sexual exploitation by state agents in Oakland.
At Monday's hearing—the first time in nearly five years that Oakland lawyers have been summoned to federal court to discuss the city's policing problems—Henderson declared it apparent that "after 14 years of reforming this department," there was still much work to be done. "It's clear these allegations would not have been full investigated but for the court's intervention," he said.
The judge is expected to issue a written order this week that will require Oakland to reform policies related to cops who are accused or suspected of crimes. He may require the city to publicly identify which senior police officers were involved in botching the Guap investigation.