Reason Wins 5 Southern California Journalism Awards
Everything from best political/government reporting to best satire, plus 5 silver medals and 9 bronzes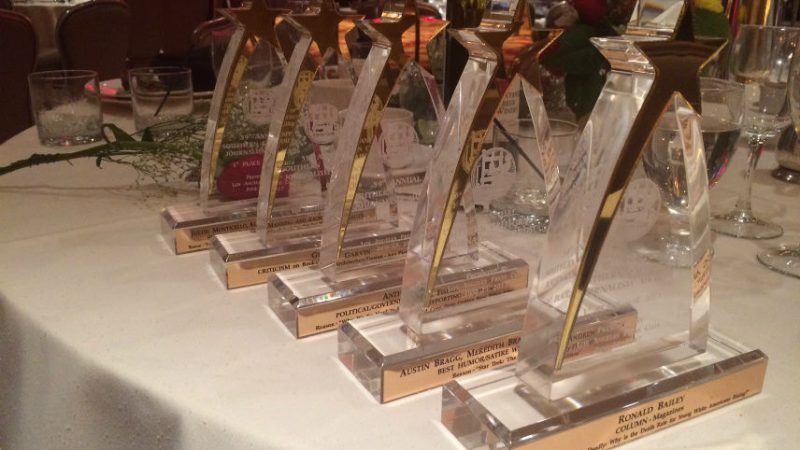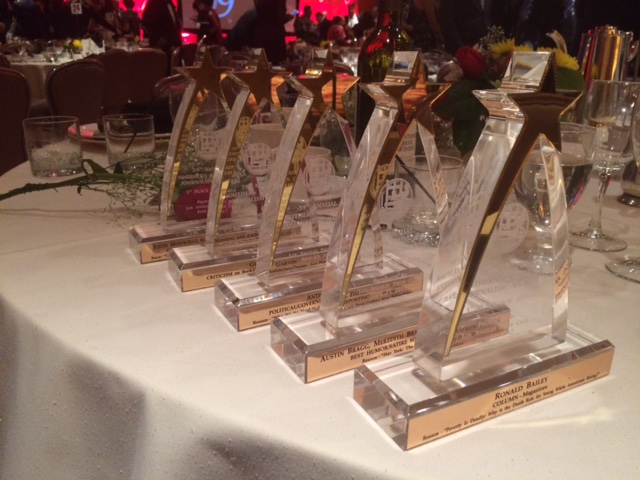 Last night, the Greater Los Angeles Press Club held its 59th annual Southern California Journalism Awards, honoring works prepared in 2016 by journalists and organizations working between San Diego and Santa Barbara, and handing out special honors to more national figures as well. So it was that in an evening kicked off by Los Angeles Mayor Eric Garcetti and closed by longtime NBC News reporter/anchor Andrea Mitchell (with some Jake Tapper and Conan O'Brien in between), the very first professional award presentation included a large-screen image of Andrew Heaton as Captain James T. Kirk, nurturing a tribble.
This was, ladies and gentlemen, the Best Humor/Satire Writing of 2016, of any type and in any venue ("cross-platform," for short)—"Star Trek: The Libertarian Edition," by Austin Bragg, Meredith Bragg, and Andrew Heaton:
The judges said: "Austin Bragg is absolutely hilarious, and his satiric self-deprecating look at Libertarianism though the lens of Star Trek has gone where no other humor entry has gone before. Hysterical in any star system. We watched it several times and saved it for future views."
Another cross-platform winner was Anthony L. Fisher, for Best Political/Government Reporting, with his "Why It's So Hard to Stop Bad Cops From Getting New Police Jobs: Efforts to track decertified cops are stymied by police union pressure and local control." Said the judges: "This was a remarkably diverse and very interesting field of contenders. But Anthony Fisher's exploration of the political and governmental hurdles which can keep bad cops on the street rose to the top. It was meticulously researched and reported without being dry. The clarity of Fisher's writing took what could have been a dense—or a sensational—topic and instead turned into a thoughtful analysis. It is a take on policing that has not received as much attention as pieces on police abuses, even though Fisher's story certainly shed light on how an officer could escape consequences for such abuses. A clear public service to Fisher's readers."
A third top-performing cross-platformer was Glenn Garvin for Best Criticism on Books/Art/Architecture/Design, with "Was Patty Hearst Brainwashed? A new look at an old kidnapping case misses one of the most important elements of the story." The judges ruled: "Garvin's well-written and snarky criticism of Toobin's book on Patty Hearst and questioning of conventional views as to whether Hearst became a real revolutionary or feigned being one results in his provocative observation that she may have been 'brainwashed' like Korean War soldiers."
The great Reason Science Correspondent Ronald Bailey won Best Magazine Column, for "Poverty Is Deadly: Why is the death rate for young white Americans rising?" Judges mused: "Mortality and life expectancy. By no means are they frequent topics for discussion—or even reflection. But Ron Bailey brings them to the forefront in his well-researched, thoughtful column on rising middle aged mortality rates, along with some intriguing conjecture about possible reasons for the trends. Our compliments to Ron for his fascinating column about a 'literally' deadly serious topic."
And rounding out our first-place prizes was Best TV Documentary Under 25 Minutes, by Justin Monticello, Alex Manning, and Zach Weissmueller, for "This L.A. Musician Built $1,200 Tiny Houses for the Homeless. Then the City Seized Them." It was a special treat to watch a particularly damning clip from that knowing that Mayor Garcetti and his staff might still be in the room:
"Excellent storytelling," deemed the judges. "Presented both the city's effort and this citizen's effort. We enjoyed learning about this big hearted, conversation-starting, empathetic problem-solver."
Reason also racked up five second-place finishes and nine thirds. And the silver medalists were:
* Jim Epstein, Best Educational Reporting, for "Brownstone Brooklyn's Racial Divide: Why Are the Schools So Segregated?"
* Jesse Walker, Best Obituary/In Appreciation of an Artist, cross-platform, for "Merle Haggard, RIP: A Great American Voice Has Died."
* Veronique de Rugy, Best Magazine Column, for "Marco Rubio's Sweet Protectionism: The 2016 hopeful gives the feds cover to keep propping up Big Sugar."
* Eric Boehm, Best Online Sports News/Feature/Commentary, for "The New Vikings Stadium Is a Broken Window Metaphor Come to Life: Vandalism at the Minnesota Vikings new stadium turned the $1.1 billion glass structure into a hulking metaphor about the folly of publicly-funded ballparks."
* Jason Keisling, Best Illustration or Graphic, for "Should the U.S. Government Build a Death Star?"
The nine bronze medals include Best Website, Traditional News Organization and Best Group Blog, as well as:
* C.J. Ciaramella, Best Public Service News or Feature, print or online, for "Why Are Detroit Cops Killing So Many Dogs? A Reason investigation reveals widespread, unchecked violence against pets during drug raids—including two officers who have shot more than 100."
* Shikha Dalmia, Best Minority/Immigration Reporting, cross-platform, for "Muslim in America: A Trip to Two of the Most Islamic Cities in The U.S."
* Robby Soave, Best Online News Story, for "Romeo and Juliet and Sexting: 17-Year-Old Faces Child Porn, Assault Charges for Consensual Sex with Girlfriend: 'They said that all they were going to do was delete the photos from the phone, so I blindly signed a paper allowing them to access it.'"
* Elizabeth Nolan Brown, Best Online Investigative Story: for "The Truth About the Biggest U.S. Sex Trafficking Story of the Year."
* Katherine Mangu-Ward, Best Magazine Commentary, for "Trump vs. Clinton vs. Everything Good: 'Don't argue about it. Build the alternative.'"
* Justin Monticello, Alex Manning, Zach Weissmueller, Best TV Human Interest Feature, for "This L.A. Musician Built $1,200 Tiny Houses for the Homeless. Then the City Seized Them."
* Zach Weissmueller, Alex Manning, Justin Monticello, Best TV Entertainment News or Feature, for "Axanar: The $1 Million Star Trek Fan Film CBS Wants to Stop":
Nine other Reason pieces were nominated for L.A. Press Club awards but did not medal; you can read more about them here. Our 2016 output was also honored in April with a record-for-us three first place prizes at the Western Publishing Association's annual "Maggie" Awards.
This work would not be possible without your support, whether through loyal subscriptions, tax-deductible donations, chipper commenting, or just by exerting your eyeballs and eardrums. Not an hour goes by that we don't scheme about how to improve the quality and reach of our journalism. Thank you for egging us on.