Congress Wants to Let Cops Wiretap Sex Workers, the CDC Study Them, and Homeland Security Screen Them
A batch of frightening new bills take aim at all sorts of civil liberties under the guise of stopping sexual exploitation.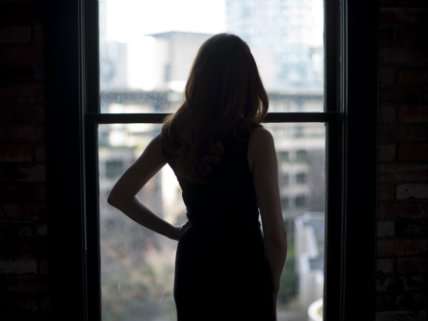 So far this year, federal lawmakers have introduced more than 30 bills related to "sex trafficking," which many in government now define to mean all prostitution. This week alone brought three new efforts. And following the familiar pattern of the drug war, these measures mostly focus on giving federal law enforcement more "tools" to find, prosecute, and punish people for actions only tangentially, if at all, connected to causing harm.
One such measure would expand state and local government authority "to seek wiretap warrants in sexual exploitation and prostitution cases" (emphasis mine) and mandate the Centers for Disease Control and Prevention and National Institute of Justice conduct a "study on the long-term physical and psychological effects of the commercial sex trade." It would also give the Department of Homeland Security a mandate to develop protocols "for implementation across federal, state, and local law enforcement" on how to screen people "suspected of engaging in commercial sex acts" for the possibility that they have been trafficked. The screening process would also be applied to people suspected of working in violation of any labor regulations, including occupational licensing rules.
Homeland Security would also train crimefighters nationwide on how to investigate prostitution customers for their alleged "roles in severe trafficking in persons." And Attorney General Jeff Sessions would be required to instruct law enforcement across the land that their efforts to fight human trafficking must "include a demand reduction component"—i.e., must target prostitution customers. Sessions would also have to declare "that commercial sexual exploitation is a form of gender-based violence," opening the way for possible hate-crime enhancements for anyone who tries to pay for sex.
This bill, known as the Abolish Human Trafficking Act (S. 1311), was introduced by Sen. John Cornyn (R–Texas) on June 7 and already has 12 co-sponsors, including such prominent politicians as Marco Rubio (R-Fla.), Bob Corker (R-Tenn.), Dianne Feinstein (D-Calif.), and Amy Klobuchar (D-Minn.). In a statement, Rep. Klobuchar invoked a rise in the number of calls received by the National Human Trafficking Hotline—a government-funded telephone service that fields everything from unfounded anonymous tips about suspected streetwalking to general requests for information, with a vast number of calls coming from government officials—as evidence that the supposed sex trafficking epidemic is growing.
A companion bill (H.R. 2803), sponsored by Republican Reps. Ted Poe of Texas and Ann Wagner of Missouri, was introduced in the House on Wednesday. A statement from Rep. Poe said his bill would stop "modern slavery" by giving law enforcement the tools to stop "dastardly criminals from exploiting others, whether they be the buyer or seller."
The official soundbites from almost all of these bills' co-sponsors mention the benefits for cops and prosecutors, showcasing our government's lopsided approach to sexual exploitation. While lip service is paid to the "victims," it's law enforcement agencies that get all the consideration and tools—tools that help them conduct ever more intrusive investigations in the service of less and less deserving targets, wring whatever money and assets they can from defendants, and collect laurels as they ship convicts off to fill federal-prison beds.
Here are a few more key things that S. 1311 and H.R. 2803 would do:
Add sexual abuse, human trafficking, and "transportation for prostitution or any illegal sexual activity" to the crimes which could establish someone as part of a "criminal street gang."
Enhance maximum penalties—not for folks who actually force others into sex or other work, mind you, but for those who transport people for "immoral purposes," anyone who interferes with or impedes a sex trafficking investigation in some way, and anyone who entices, persuades, or induces someone into a situation where traffickers victimize them. The bill would raise the maximum penalty for the latter from 20 to 30 years, and the maximum penalty for obstruction from 20 to 25 years. It would also stipulate that anyone found guilty of a Mann Act violation—that is, of transporting for immoral purposes—could see his maximum term of imprisonment tripled if he had a prior sex-offense conviction of any kind.
Permanently authorize the Obama administration's Federal Human Trafficking Advisory Council.
Place "Human Trafficking Justice Coordinators" at every U.S. Attorney's Office in the country and in the Department of Justice.
Let federal law enforcement take people's property if they can't otherwise pay required fines.
The third June bill, known as the Trafficking Victims Protection Act of 2017, was introduced by Senate Judiciary Committee Chairman Chuck Grassley (R-Iowa) and is co-sponsored by Feinstein, Cornyn, and Klobuchar, among others. The authorities "have made some strides in combating [trafficking] since the passage of the original Trafficking Victims Protection Act, or TVPA, over 15 years ago," Grassley said in a statement. "The bill I'm introducing this week updates and extends a number of these programs."
American efforts to "eradicate" the sex trade have shown little promise in the nearly two decades since their federal institutionalization with the original TVPA (and its regular reauthorizations), but—alas—that isn't slowing the pace at which lawmakers aggressively pursue more of the same.
Grassley's bill cobbles together a host of changes that give federal prosecuting agencies more power. Among other things, it would create a federal mandate to fight "sextortion" (without defining what this means); ask the quasi-governmental National Center for Missing and Exploited to assist the government in identifying "misleading domain names" and "misleading words or digital images on the Internet"; and more than quadruple annual appropriations for grants related to these activities.
These bills come on the heels of eight new sex-trafficking bills introduced in Congress in May: the Sex Trafficking Demand Reduction Act, the Empowering Law Enforcement to Fight Sex Trafficking Demand Act, the Enhancing Detection of Human Trafficking Act, the Secure our Skies Act, the Empowering Educators to Prevent Trafficking Act, the Put Trafficking Victims First Act, the Department of Homeland Security Blue Campaign Authorization Act, and a "bill to require the Attorney General to designate Human Trafficking Coordinators for Federal judicial districts." In April, federal lawmakers introduced the Allow States and Victims to Fight Online Sex Trafficking Act (discussed in more detail here), the Frederick Douglass Trafficking Victims Prevention and Protection Reauthorization Act, and two versions of the End Banking for Human Traffickers Act, from Rep. Edward Royce (R-Calif.) and Sen. Elizabeth Warren (D-Mass).