Mandating Menu Labeling is Foolish, Not 'Easy'
Despite claims by supporters, requiring calorie counts is neither easy nor sensible.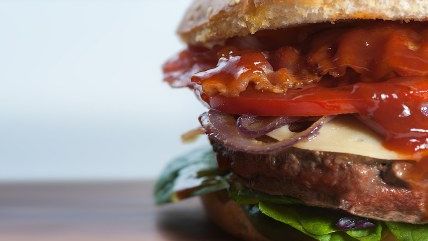 This week, New York City—the first place in America to require chain restaurants to post calorie information on their menus—expanded the reach of its menu-labeling law.
The city is now "the first municipality to require grocery and convenience stores with more than 15 outlets nationwide to clearly display calorie counts for prepared foods and beverages and have additional nutritional information available upon request," reports New York's Fox 5. "The rules will apply to about 1,500 food retailers."
This expansion is a microcosm of a larger, ongoing debate in Washington over the fate of federal menu-labeling rules.
In a column last month, I correctly predicted the agency responsible for implementing the rules, the FDA, was likely to delay—once again—implementing enforcement of its menu-labeling rules. The agency delayed enforcing the rules—which were mandated by Congress under 2010's Affordable Care Act—for one year, just days before enforcement was set to begin.
I oppose mandatory menu labeling for many reasons. For one: it's ineffective. Research has shown that posting mandatory calorie counts on restaurant menus doesn't help people make better choices.
One key sticking point in Washington is whether the federal rules should apply (as they now do in New York City) to grocery and convenience stores, along with pizza chains. This week, the USA Today editorial board weighed in on the issue. Apparently, the USA Today editors have never seen a less intractable problem than devising and complying with menu-labeling rules.
"It's not rocket science," the USA Today editors note. It's "so seemingly simple."
Isn't it even a little bit difficult? Nope.
"[H]ow hard can it be to post a small sign over each offering with a calorie count?" they ask. "Not very."
The alleged simplicity of devising and complying with menu-labeling rules is a common argument in support of them. If it's so easy to provide calorie information, then certainly one place that must have figured it out is the Breaking News Café, located inside USA Today's Mclean, Va. headquarters.
I called this week to ask.
The woman who answered the switchboard at Gannett (USA Today's parent company) at noon on Thursday said she could not connect me with the cafe because she did not have their updated number. But she volunteered to me that she has not seen calorie information during the times she has been in the Breaking News Café. (She then connected me with catering, where the phone rang a few times before I was disconnected.)
I did a bit more poking around. While many of the two-dozen or so photos of the cafe show food on sale, I did not see any calorie counts displayed. Maybe this is because the calorie information just isn't there. Or it could be because the information is present but goes unnoticed (which would track with research that most people don't even see calorie counts on menus, hence defeating their very purpose). Or maybe there's a long, sad trail of unanswered internal memos from USA Today's editors demanding calorie counts be displayed at the Breaking News Café.
I don't know. (No one responded to my Thursday email to the editorial board.) One thing I do know, though, is that the USA Today editorial gets at least one key fact wrong about menu labeling when it argues the FDA rules place "no burdens on small business, as the law applies only to chains with 20 or more outlets."
As I've written time and again, that's not how it actually works. Franchisees—small-businesspeople who own one or more restaurants that USA Today argues should be subject to the rules, such as your local Domino's franchisee—could be forced to comply with the rules. A small businesswoman who owns one Pizza Hut location, for example, would have to pay perhaps thousands of dollars to buy one or more new menu boards if the FDA applies its rules to small businesses like hers.
Ultimately, despite the claims of menu-labeling supporters, it's neither easy nor cost-free nor effective to force food sellers to add calorie counts to their menus.
We should scrap this menu-labeling nonsense. While the FDA is an easy target, the agency can't act alone. Congress passed a law requiring the FDA to create a menu-labeling regime. If Congress wants to repeal one part of Obamacare that doesn't work, it can and should start with menu labeling.