Judge Orders Oakland Cop to Trial; Says He Was 'Like a Pimp' to Exploited Teen
Former Oakland cop Brian Bunton is one of dozens of area police officers who've been implicated in the sexual exploitation of "Celeste Guap."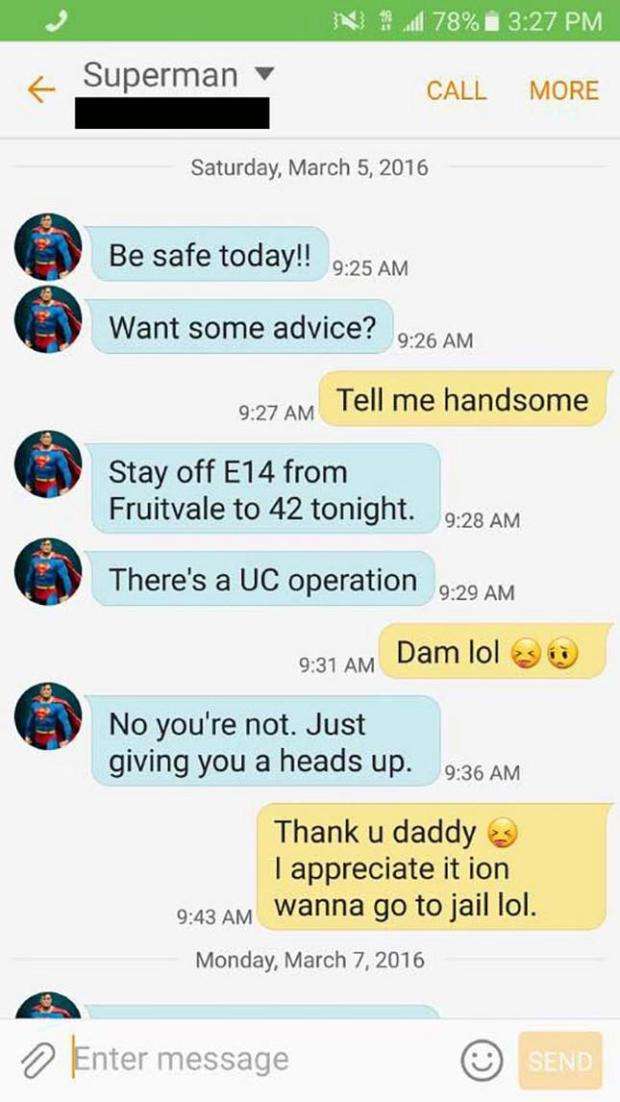 The prostitution and sexual exploitation scandal that shook Oakland and nearby California police agencies last year could finally see an officer on trial. An Alameda County judge ruled last Thursday that there is sufficient evidence to try former Oakland Patrol Officer Brian Bunton on charges of felony conspiracy to obstruct justice and misdemeanor engaging in prostitution.
Bunton, who just retired from the Oakland Police Department (OPD) in March, was "actually pimping her like a pimp would," Judge Thomas Rogers said of the teenager at the center of this case.
Known as Celeste Guap in initial media reports, the girl was just 17 years old when Oakland cops started passing her between them—a few paying customers, most extorting sex in exchange for helping her avoid arrest—according to her testimony and a good deal of corroborating evidence. Bunton is accused of extorting sex from Guap in exchange for tips about local stings, giving her advice on how to better market herself in the sex trade, and encouraging other officers to get in touch with her.
Now 19, Guap testified in court last week for the first time since officers were arrested on criminal charges last year. Here's how the East-Bay Times described it:
The 19-year-old woman at the center of the sex scandal fidgeted and pulled on her hair in apparent nervousness as she testified….Her finger trembled as she identified Bunton in court. She vomited into a garbage can by the witness stand after describing a hotel room encounter with the defendant and then kept on testifying.
In response to questioning from Bunton's lawyers, Guap admitted that Bunton had never explicitly demanded that she have sex with him in order to avoid arrest. But Judge Rogers didn't buy the defense's suggestion that this exonerated Bunton of wrongdoing. "When [Guap] said that there wasn't agreement, that was a legal conclusion," the judge said. "She knew what she was getting out of it. He knew what he was getting out of it."
Guap told the court that she started having sex for money when she was 12, had sex with four Oakland police officers while underage, and was 18 when she met Bunton while he was on patrol. She testified that after around a month of texting, he showed up at a hotel room where she was working and she gave him a blow job, after which he warned her about a local sting operation.
"Thank you, daddy, I appreciate it, I don't want to go to jail," Guap replied in the text.
Even if Burton didn't verbally threaten to arrest Guap himself or sic his colleagues on her, she knew damn well he had the power to do either. The threat didn't need to be made explicit. It existed based on the very nature of their relationship; under no circumstances can someone meaningfully consent to sex with someone who has the power to take away your liberty if you refuse. Especially if also has a state-supplied weapon at his disposal.
To make matters worse, there wasn't even a prostitution sting that night; Bunton had made it up. When Guap learned this, and came to suspect he was setting her up with other cops in his department, she threatened to turn over their texts to Internal Affairs.
Bunton claimed he merely wanted to help keep her "off the streets." His attorney, Dirk Manoukian, argued to the court that Bunton did engage in prostitution but was innocent of conspiracy.
Guap's exploitation by local police started in February 2015 with former Oakland officer Brendan O'Brien and allegedly extends to nearly 30 cops and other law enforcement officials in Oakland, San Francisco, and nearby cities. Since she came forward in August 2015:
O'Brien committed suicide;
11 OPD officers were disciplined, with four ultimately fired, in an OPD internal investigation;
four Richmond Police Department officers were fired;
longtime Oakland Police Chief Sean Whent resigned and the city cycled through two more chiefs in a little over a week; and
Guap was sent by law-enforcement to addiction treatment in Florida and subsequently jailed on—then cleared of—felony assault charges.
An investigation of officers in Contra Costa County led to the district attorney admitting that "several police officers had sexual relations with an admitted prostitute" but deciding not to press charges because "none of the sex was in exchange for money or anything of value."
Seven officers—one from Livermore, one from Contra Costa County, and five (including Bunton) from Oakland—were indicted on criminal charges last year for their conduct with Guap.
Charges against one of the men, Warit Uttapa (who faced a misdemeanor charge of conducting an unauthorized search of a criminal justice database) have since been dropped, with the Alameda County District Attorney's Office citing "certain facts regarding the accessed information" that had come to light and precluded the filing of criminal charges.
Former Oakland police Sgt. Leroy Johnson plead no contest to one misdemeanor count of failing to report child abuse and was sentenced in January to three years' misdemeanor court probation. In February, former Livermore Officer Daniel Black plead no contest to one misdemeanor count of lewd conduct in public in a deal that involved prosecutors dropping five other misdemeanor charges against him (including lewd conduct, engaging in prostitution, and giving alcohol to a minor). Prosecution is ongoing for former Oakland officers Giovanni Lo Verde and Terryl Smith.