996 Sex Workers Busted in FBI's Last 'Operation Cross Country,' Says Comey
That's 332 times as many sex workers arrested in the stings as people indicted on federal charges involving a minor.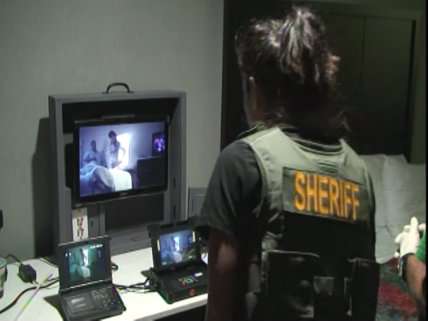 Before his sudden dismissal last week, one of the last things FBI Director James Comey did in office was testfiy before the Senate Judiciary Hearing about the agency's "programs and priorities for the coming year"—including Operation Cross Country, the annual FBI-led prostitution roundup that I covered in Reason's March issue. Publicized as an attack on child sex-trafficking, Operation Cross Country (OCC) mainly targets adult sex workers and their would-be clients. And according to Comey, last year's bust yielded nearly double the number of prostitution arrests as Reason previously estimated.
In Operation Cross Country 10, which went down over several days in October 2016, the FBI coordinated stings in 135 cities, with participation from 55 FBI field offices and agents of 400 city, county, state, and federal law-enforcement agencies, including Immigration and Customs Enforcement (ICE) and Homeland Security Investigations. Their efforts yielded just 10 federal indictments as of May 2017, and only three cases involving any actual juveniles. In those cases, none of the victims—two 17-year-old girls and one 15-year-old girl—allege abduction, abuse, threats, forcible detainment, or other mistreatment of any kind at the hands of the defendants.
Meanwhile, police and FBI agents arrested 996 "adult prostitution subjects" in OCC 10, according to Comey's May 3 testimony. That's 332 times as many sex workers arrested in the stings as people indicted on federal charges involving a minor.
Granted, there were some "pimps" arrested on state and local charges. But these were reserved for cases that didn't involve minors and, in almost all cases, excluded adult victims as well. Pimping and related charges—like promoting prostitution, deriving proceeds from prostitution, aiding and abetting prostitution, keeping a bawdy place, etc.—don't require injury to any particular party, and can be levied against anyone who drives an adult to a prostitution appointment, posts ads for a sex worker (even if they're also in the ads), or is otherwise involved in one iota of a commercial sexual transaction between consenting adults.
Comey also noted in his recent testimony that 1,254 "johns"—prostitution customers—have been arrested as a part of OCC since it was launched in 2008. He did not say how many customers were arrested last year specifically, but my tally yielded at least 175 solicitation arrests in OCC 10.
Comey also failed to say how many prostitution arrests have been made throughout Operation Cross Country overall. But we do have this year's official tally, along with FBI arrest numbers from the first few operations: 290 prostitution arrests in OCC 1, 518 prostitution arrests in OCC 2, around 600 prostitution arrests in the fourth iteration, and 661 prostitution arrests in the fifth. If we assume arrests in years where we are missing data mirror the previous operation's tally (an assumption that almost certainly lowballs things, as the eighth and ninth operations were much bigger than the fifth), we wind up with something like 6,227 prostitution arrests.
Remember, Operation Cross Country has taken place just 10 times, for less than one week each iteration. But the FBI and Homeland Security also help with similar local stings all year long. In emailing with FBI field-office representatives about last year's sting, several mentioned that it was just one small part of ongoing collaboration to the same effect. Since we have no reason to assume these operations yield radically different results than OCC, it suggests the 6,227 sex-worker arrests spearheaded by the FBI between June 2008 and October 2016 are just the tip of it.