Who's Laughing Now? Larry Krasner, Whose DA Candidacy Philly Police Union President Called 'Hilarious,' Wins Democratic Nomination
He's been standing up to the police union for 30 years, his campaign chair told Reason.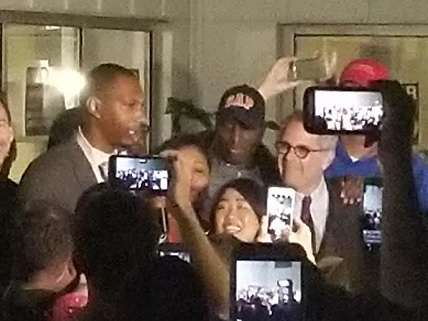 John McNesby, president of the Fraternal Order of Police in Philadelphia, called civil rights attorney Larry Krasner's candidacy for district attorney "hilarious" in February. But last night Krasner won the Democratic nomination, earning 38 percent of the vote, almost twice as much as his next nearest opponent in a 7-way race that saw a turnout 50 percent higher than 2009, the last time the contest was without an incumbent.
"I hope he has a good night," Krasner told reporters when asked if he had anything to say to McNesby after his primary victory.
Krasner's victory (in a city where Democrats outnumber Republicans 7 to 1) and the enthusiasm illustrated in the increased turnout represent a dramatic shift from the kind of "tough on crime" and "law and order" politics that have historically played well in Philadelphia, from Frank Rizzo to Lynne Abraham, the four-term Philly district attorney dubbed the "deadliest DA." for the frequency with which she sought the death penalty, and who left office in 2010.
Abraham's zeal for the death penalty came despite Pennsylvania executing just three people since the re-instatement of capital punishment in 1976, none of whom were prosecuted while she was DA.
The waste of resources ($2 million a year to keep 200 inmates on death row, Krasner told C.J Ciamarella in an April interview) on this kind of symbolic tough on crime hard line was one of the points made during Krasner's campaign.
Asked about whether the campaign was worried about the FOP working to defeat them in November, Mike Lee, the campaign chair, told Reason that "as citizens, we're always concerned how the FOP spends its resources to influence politics, but you can rest assured that Larry's record of standing up against the FOP for the last 30 years will continue through November and the future, were he to be elected."
Krasner's campaign hit on a range of criminal justice reform issues, including ending mass incarceration, discontinuing cash bail, reducing the use of asset forfeiture and preventing seized loot from funding the DA's office.
Krasner worked as a public defender in Philadelphia for six years, including two at the federal public defender's office, before opening a private practice focused on criminal defense and police brutality in 1993. His campaign was supported by a coalition of activists, grassroots groups, the ACLU, and other organizations, some of which he's defended.
It was also backed by Philadelphia Justice and Public Safety, a super PAC funded by Georg Soros, which spent $1.45 million on the campaign, including a massive ad buy in late April that had some of the other candidates respond with negative ads portraying Krasner as unsympathetic to crime victims.
A number of Soros-backed reform-minded district attorney's candidates have won elections in the last year or so (but not, as an earlier version of this post indicated, the prosecutor who defeated Angela Corey in Florida). Krasner dismissed questions about Soros' influence on the election.
"The reality is George Soros wasn't there 30 years ago when I came to the opinion that the death penalty was wrong, when I was representing protesters for exactly the same ideas that are part of my platform," the Democratic nominee told reporters. "No disrespect to Mr. Soros, who I have never met, or to his organization, but the bottom line is I've held these views for a long time and I've shown throughout my career that I mean them," Krasner said, calling himself "humbled, honored, and lucky" to be the Democratic nominee for DA.
"We're going to move things directly towards justice, we're going to move on more of a prevention model, " Krasner told reporters when asked how his district attorney's office might look if he wins the general electionn. "We're going to remember that the district attorney's office does not exist in isolation and that where there is unnecessary incarceration, it necessarily destroys schools, and it destroys the rehabilitation of people of the medical condition of addiction, and it destroys individual families and neighborhoods in ways that are also destructive of the economy and it goes on and it goes on."
Krasner told reporters he believed many police officers agreed with his views.
"I think everybody realizes that the vast majority of police officers in Philadelphia are really good people who got into this job because they want to do justice," Krasner said. "Like me, they hate bad police officers, and they need the backing of law enforcement to make sure that the good police officers are promoted, that the good officers have room to do their jobs, that the good police officers are safe, and that the bad police officers who endanger them and who cause there to be disrespect and a rift between police and the community are out of the way."
Among his supporters, the smart justice campaign director for ACLU said the group reached out door-to-door to 11,000 members in the city, while Lev Hirschhorn of Reclaim Philly told Reason his grassroots group, formed by Bernie Sanders volunteers after the 2016 presidential primary, knocked on 60,000 doors and talked to 12,000 voters, including 25,000 in the last four days.
At the end of his campaign, Krasner responded to the description of him as a kind of "Bernie Sanders" of Philadelphia, telling The Intercept that he did feel like "the Bernie in the race."
"Ain't nobody perfect but neither am I, so I think it's great. They stood for change from the outside," Krasner told The Intercept. "When we look back, we have to admit that the old Vermont Jewish socialist septuagenarian would have won. Because he did represent an outside perspective that got channeled in the worst way towards Donald Trump."
Hirschhorn said his group encouraged Krasner to run after he represented them when they were arrested while protesting. "We knew that this was the guy who should be the next district attorney, and we told him that, and then he ran."
The Reclaim Philly organizer also told Reason he believed Donald Trump had an influence on the election.
"People saw that Jeff Sessions was attorney general and knew that we needed something different in Philadelphia," he said. "So we voted for Larry Krasner."
The current district attorney, Seth Williams, was indicted on federal bribery and corruption charges in March.
I voted for Krasner.