Detroit Cops Raid an Innocent Family's Home at Gunpoint on Bogus Sex-Trafficking Tip
Maria Navarete says police told her "shut up, you have no rights" as they handcuffed and pinned down her and her children.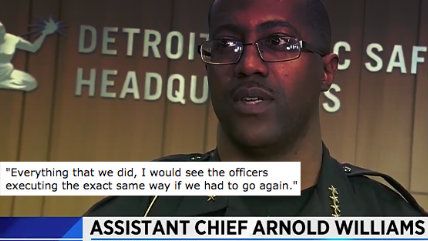 (modified screenshot (quote added) from NBC Local 4 Detroit news)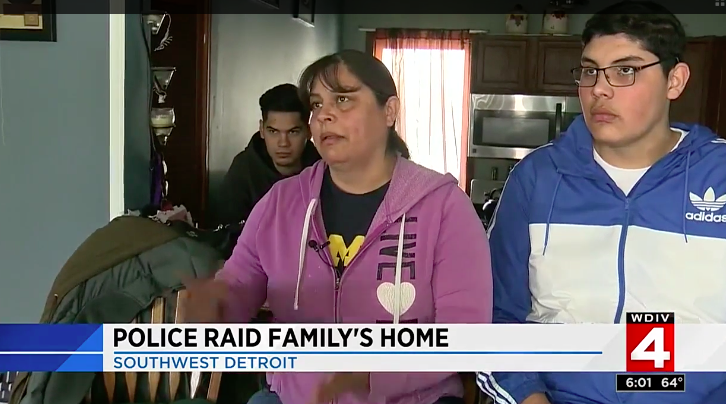 In the high days of America's militarized war on drugs, baseless and botched home raids have become a defining feature—with often disastrous consequences. Now we're seeing the same sort of overzealous enforcement efforts in the fight against forced prostitution. This week, Detroit police raided an innocent family's home after receiving a faulty sex-trafficking tip and then seeing two teens enter the house.
One of the teens was the family's 13-year-old daughter, who lived there. She wound up face-down and handcuffed on the floor, along with the rest of her family, after cops cut through a locked gate outside the southwest Detroit home and entered with their guns drawn.
"Everybody's like, 'Don't move, don't move or we'll shoot you,'" Noel Navarete told local 4 News. His brother Isaias, 18, said he was in the bathroom when police kicked down the door.
According to family matriarch Maria Navarete, police told her to "shut up, you have no rights" when she asked what was happening. She claims police never showed her or anyone in the household a warrant.
Police apologized, explaining that a mysterious heroin-addicted woman in a local hospital said she and several underage girls had been held against their will and forced into prostitution; the woman (visually) identified the Navarete's place as where it went down. That night, police began observing the house, soon witnessing two girls get dropped off by an SUV and go inside. Apparently, that was enough to warrant a furtive, middle-of-then-night raid on the place.
"Everything that we did, I would see the officers executing the exact same way if we had to go again," Assistant Police Chief Arnold Williams told 4 News. He said the investigation into potential human-trafficking rings nearby was ongoing.
In efforts to catch imagined "pimps" and human traffickers, officials have long considered the liberty and rights of adult sex workers (and their customers) to be an acceptable sacrifice. The rest of us were really never far behind.