Congress's Big Bad Week and Europe's Continued Decline: The New Fifth Column
Discussions of GOP spending, police abuse narratives, and the French elections, with guest James Kirchick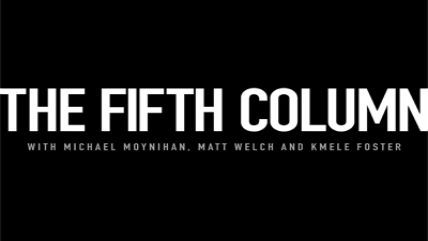 The backslapping in the White House rose garden had only just ceased up when Kmele Foster, Michael C. Moynihan, and I broke out the Sam Adams and top-shelf listener-whiskey for some insta-analysis of the latest Affordable Health Care Act. (Speaking of which, read Reasontastic takes on such from Peter Suderman, me, Eric Boehm, and Elizabeth Nolan Brown.) We also get into this week's GOP-led federal spending increase, the uncommon threads attempting to link a spate of recent police-abuse stories, and how President Donald Trump may be negotiating from a position of strength with Republican lawmakers.
In addition, The Fifth Column welcomed to its airwaves James "Jamie" Kirchick, author of the new book The End of Europe: Dictators, Demagogues, and the Coming Dark Age. We talked French elections, Brexit, the decline of institutional democratic socialism, the mechanics of Russian infiltration into Central Europe, and what a Kirchickian foreign policy would look like vis-à-vis Estonia. Listen to the whole sprawl here:
And make sure to check out Nick Gillespie's interview with Kirchick last month on the Reason podcast.
You can locate Fifth Column at iTunes, Stitcher, Google Play, wethefifth.com, @wethefifth, and Facebook.