Florida Lawmakers Impose Harsh New Mandatory Minimums for Fentanyl
The Sunshine State ratchets up the drug war.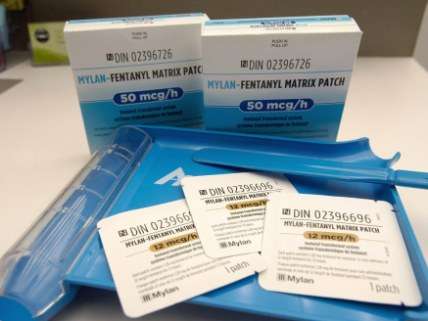 Score yet another win for drug war panics. Florida lawmakers, in response to the increasing number of deaths caused by opioid overdoses, are pursuing a tactic we know is not effective: mandatory minimums.
Today Florida's Senate has added the opioids fentanyl and carfentanil to the list of drugs that will send possessors to prison for a mandatory minimum sentence of three years and possibly much much more.
The three-year minimum is triggered by possession of four grams of the drug, which typically ends up being about seven or eight pills after it's mixed for consumption.
When considering HB 477, the Senate originally agreed unanimously to amend it to give judges a "safety valve" to give less than the mandatory minimum in certain cases, such as when it was clear the defendant was not a trafficker or didn't realize they had bought a drug (like Xanax) on the street with fentanyl in it.
But when HB 477 returned back to the Florida House, lawmakers stripped that safety valve right back out. The drug warriors insisted that these mandatory minimums would catch drug traffickers, not addicts. In reality, that's simply not true, because the law doesn't differentiate between pure fentanyl and fentanyl mixtures. As Families Against Mandatory Minimums (FAMM) notes, four grams of pure fentanyl would indeed be thousands of doses on its own, but the law actually states that it just needs to be a "mixture" containing the forbidden substance.
Senators warned that without the safety valve, the mandatory minimums are going to drag in users, not just dealers. From the Tampa Bay Times:
State Sen. Jeff Brandes, R-St. Petersburg, was among those putting up the biggest fight, warning that if a few grams of carfentanil is mixed in a water bottle, the weight jumps and that person could face 25 years in prison for just a few grams. Someone thinking they just had a few grams would be facing significant time in prison unknowingly he argued.

"Addicts have no idea what they are buying," he said.
Unfortunately, the Senate decided to go along with the House and approve the legislation with the safety valve stripped out. More Floridians face long prison terms over this law. Even further, the law also allows prosecutors to charge a person with first degree murder if they provide these drugs to another person who then dies of an overdose.
Sadly, we already know full well that mandatory minimum sentences in Florida drags in thousands of offenders for long prisons terms for low-level offenses. Lauren Krisai and C.J. Ciaramella crunched the data for Reason and calculated that the vast majority of people in prison for opioid "trafficking" were low-level users or dealers. Read their heavily researched analysis here.