Texas Cop Who Shot and Killed Jordan Edwards Fired
Can appeal termination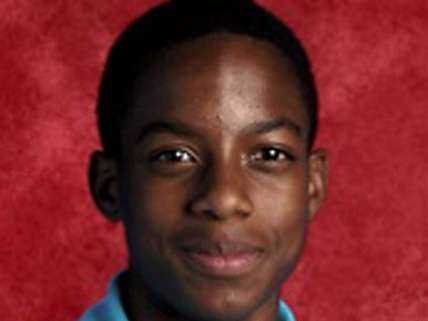 The Balch Springs, Tex., police officer who shot into a car full of teenagers, killing Jordan Edwards, a 15-year-old passenger, has been fired, according to NBC News. He was identified as Roy Oliver.
The police chief, Jonathon Haber, told the media Oliver was being fired for violating department policies, and that he would be able to appeal the decision. Haber did not explain which policies Oliver was fired for violating, citing the appeal as the reason.
Earlier this week, Haber withdrew police claims that the officer had shot at the car because it was backing up "aggressively" toward cops. That account of events was contradicted by the body camera footage, which Haber said showed the car driving away from officers when Oliver shot.
"In a hurry to get the statement out, I misspoke," Haber said on Monday, according to NBC News. "I take responsibility for that."
Oliver and other officers were responding to a 911 call over "underage kids drunk walking around," and wrongly assumed those were the kids in the car. Cops say they heard gunshots, and the surviving teenagers said they left the house party because they heard gunshots too.
The attorney for the Edwards family said they were "grateful" a decision had been made to fire Oliver and thanked the police chief for "commendable strides toward justice."
According to the attorney, Lee Merritt, other officers needed to be disciplined as well. The attorney said Jordan's older brother, 16, was detained by police overnight but not given a reason or charged, and was not informed police had killed his brother until being released.
"The officers who extended this nightmare for those children ought to be properly reprimanded as well," a family statement read, according to NBC News. "Our family is working hard to deal with both the loss of our beloved Jordan and the lingering trauma it has caused our boys."
Such swift terminations are generally only possible where police unions have not been granted the power to negotiate the kinds of contracts that produce rules that protect bad actors. The damaging role police unions play in accountability and police-community relations is evident in the kinds of statements they make after shootings and about protests over police brutality. Activists associated with Black Lives Matter launched a campaign to track union contracts a year and a half ago.
Such collectively bargained rules, prevalent in larger cities (the Cleveland police union, for example, still trying to spin the police killing of 12-year-old Tamir Rice, is considering suing toy gun makers), thwart accountability by shifting power from voters and democratically-elected officials to government employees and unelected bureaucrats. The appeals process will reveal how much of a problem that is in Balch Springs.