Read More Profiles of People Crushed by Florida's Draconian Opioid Laws
A Reason investigation found Florida's opioid trafficking laws put low-level offenders in prison for decades. Here are more of their stories.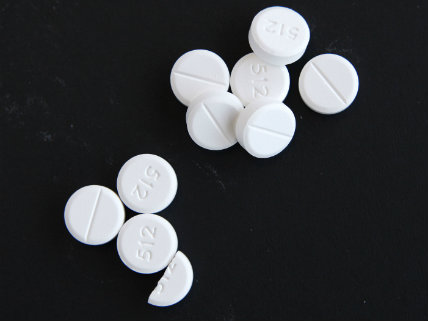 On Tuesday, my colleague Lauren Krisai and I published an investigative report finding the mandatory minimum sentencing laws passed by Florida in the late '90s to crack down on oxycodone and hydrocodone traffickers actually ended up addicts and low-level sellers in prison for decades.
For our story, the challenge wasn't finding cases. It was wading through the huge number of them and figuring out which to highlight. As of December 2016, there were more than 2,300 Florida inmates serving time for trafficking opioids.
We decided to focus on inmates over the age of 50 with little or no prior criminal history. Even under those parameters, though, we were buried in cases. There are about 435 elderly inmates in the Florida prison system serving time for opioid trafficking, and of those, 53 percent had never been to prison before.
In the end, we simply had too many cases to fit into one story, all of them unique but disturbingly similar in general outline. Here are some more of their stories.
There was Leslie Hill, who took the stand in a wheelchair at his trial. He was 59 years old when he sold 25 hydrocodone pills to a confidential informant in front of a convenience store. Hill was convicted and sentenced in 2013 to a mandatory minimum of 15 years in prison.
Or there was the case of Tony Cox, who sold 50 of his prescription hydrocodone pills to an undercover officer in a Gold's Gym parking lot for $200. Cox wrote to the judge that he was trying to help his cancer-ridden mother pay rent. He was sentenced in 2012 to 12 years in prison. He will be 64 years old when he's released in 2021.
Donna Griffin took a seven-year plea deal after she was arrested for trafficking hydrocodone in 2013. Griffin and a friend had stopped at a house to buy Vicodin, and afterward their car was pulled over and searched by police. According to police reports, officers found an unlabeled pill bottle in Griffin's purse. Griffin says in a letter—and one of her nieces, Diane Ianuale, also says—that most of the pills belonged to the other person in the car, but because they were on her person, Griffin was charged with trafficking.
"She was a user, not a seller," Ianuale says in a phone interview. "She hurt her back years ago, and the doctor started her on a pain prescription. It just went downhill from there, for 20 years."
Ianuale says Griffin's public defender was switched three days before she was supposed to go to trial. "She literally met with him one time, and he told her take the seven years," Ianuale says. "She was just scared to death."
Griffin is now 57, a mother of three, and has seven grandchildren. "That's the difficult part," Ianuale says. "It's been hell for our whole family….She has been addict for many, many years, but she was still a good mother."
We also heard from younger inmates.
Florida inmate Matt Davis wrote in a letter to Reason that he and his brother were dope sick when they agreed to buy 300 oxycodone pills from their dealer in 2011. Davis was 24, a college student, and says he got addicted to opioids after a doctor prescribed them to him following a car accident.
Their dealer turned out to be a confidential informant. "I was charged alongside my brother with trafficking Oxycodone over 28 grams, which was actually about equal to the one-month prescription I usually got," Davis writes. "I was just going to put them in my prescription bottle from the previous month. So now I'm a drug trafficker for buying pills to use."
Davis and his brother ended up taking 10-year plea deals offered by the prosecutor. At trial, he would have been facing a 25-year mandatory minimum sentence if convicted.
"It will cost $250,000 to lock me up for 10 years," he writes. "If they wanted me to quit drugs, why didn't I get a chance at rehab? Actually, there is a drug program in prison, and [the Florida Department of Corrections] says I don't meet the qualifications. Even though I'm in here for drugs! This whole thing is a big, sick joke. Some kind of sick scam."
Davis says he's going to be a prison reform advocate when he gets out in two years.
If Florida keeps laws on the books like the ones that put him behind bars—and it's now considering passing new, similar laws to go after fentanyl—Davis will have plenty of work, and plenty of fresh inmates to work on behalf of.