University Keeps Painting of Sexy Captain America Beheading President Trump, As Well It Should
Hillary Clinton makes a cameo.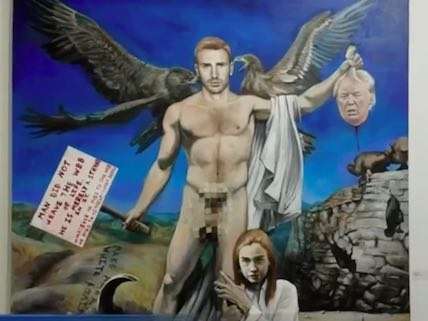 The University of Alaska Anchorage has taken no action against a professor's painting, which depicts a shirtless Chris Evans—the actor who plays Captain America in the Marvel films—holding the severed head of President Trump as Hillary Clinton clings to Evans' leg.
Good.
Though the painting makes some people uncomfortable—for a variety of reasons—good art is supposed to challenge accepted notions and unsettle social norms. It has an important role to play in mocking powerful people, particularly government figures. That's doubly true for art housed at a public university, where free expression is an ironclad value.
And yet, according to Campus Reform, the painting—which currently can be found in the university's fine art gallery—has generated numerous complaints. Paul Berger, a former UAA professor who identifies as a conservative, told a local news station that he questioned whether it was appropriate.
"Had the roles been reversed, and it was Obama's head hanging there, I think the outrage would be fantastic," said Berger. "As a free speech advocate, everyone has a right to express their opinion the way they want to express them. But as a parent and a citizen, there's a discussion. In a university setting, what's appropriate?"
Well, who's the snowflake now?
Conservatives like to chide liberal students for getting offended about everything. But many conservative members of campus are easily offended as well. If someone claimed that a painting of Trump being beheaded was triggering, or made the person feel unsafe, it would be just as ridiculous as someone else claiming that chalk messages like "build the wall" and "stop islam" were triggering or emblematic of an unsafe campus.
Kudos to UAA for not bowing to pressure, and keeping the painting—which, by the way, is kind of awesome.